Facebook. Twitter. LinkedIn. These are some of the biggest websites in the world. They're also websites that any business owner can use to promote themselves. And yet, far too often, we see clients who don't even rank on those sites for their own brand names. It's 2021. There's no excuse not to use all of the tools at your digital disposal to get ahead in the game.
Ranking your social media profiles for your brand name is extremely important. You might not think that your customers are on social media, but we promise you they are. You might not feel like you can get many sales from a site like Twitter, but that's not important.
What matters is that these sites are powerhouses of clout, value, and, most importantly, trust.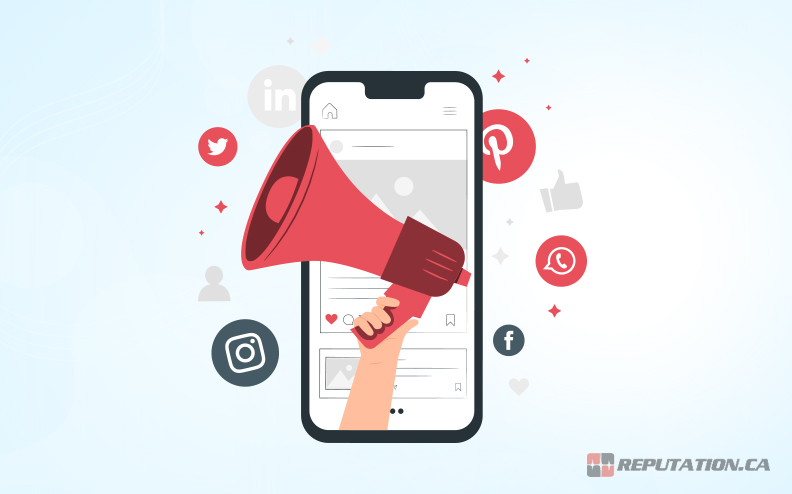 When a user searches for your brand name, what will they find? Ideally, of course, they'll find your website. You should hope they can also find your social media profiles. You have to think about what they'll find if they don't find your social profiles, as well.
What happens if they don't find social profiles?
Other content takes the fore. This content might be yours, but it might be coverage of you from news sites or journals, which may or may not be flattering. It can even be negative press.
Other brands can show up. Your biggest competitors probably have comparison pages where they pitch themselves against you. They may have affiliates that promote similar content. If your content isn't ranking for your brand name, theirs is.
A lack of social profiles is a lack of trust signals. Users want to know that you're invested, you're established, and you're reachable. Social media gives them that verification. They can check to see what others are saying about you and use social channels to reach you if they need to. When they don't show up, they have to wonder why not.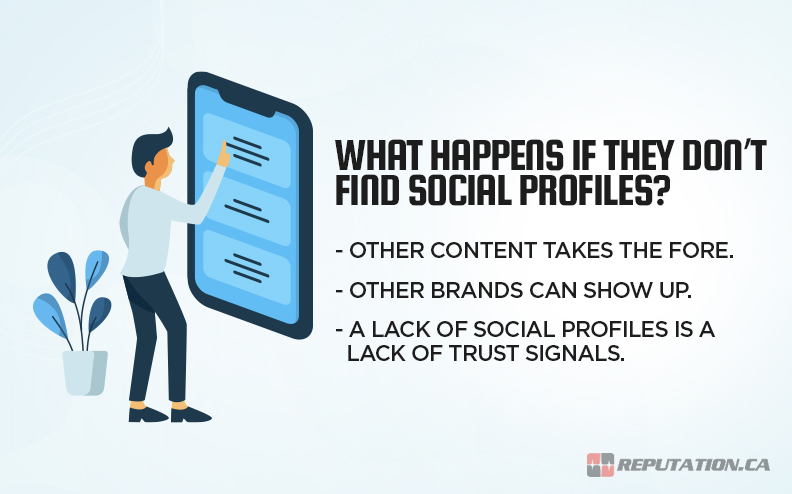 There's no reason not to get your social profiles to rank and every reason to do it. What are you waiting for? An instruction booklet? Well, good news: we have one for you right here.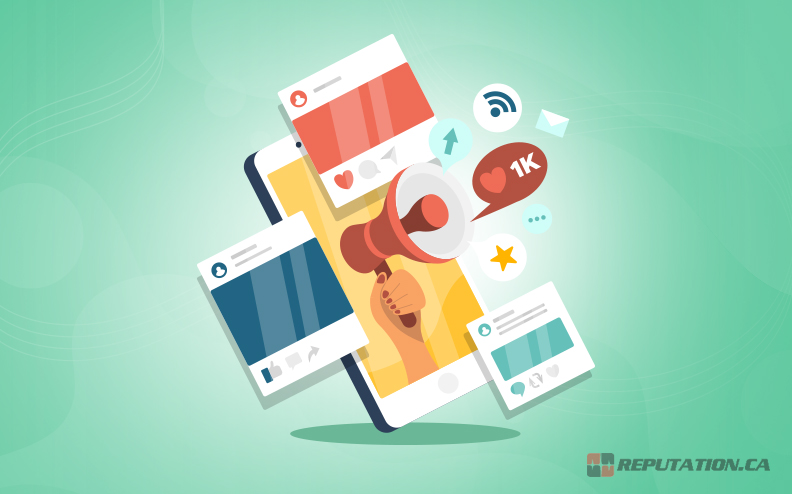 Ranking social media profiles for your brand name isn't very hard. After all, sites like Facebook and LinkedIn are massive and have a ton of SEO power on their own. It's not like ranking your website. You can piggyback off of the existing influence of the social networks. It's quite easy. Here's pretty much everything you need to do in most circumstances.
Optimize your business description.
Social networks give you a profile field where you can write a description of your business. On Twitter, you only have a few sentences. On Facebook, you can write whole paragraphs. On LinkedIn, you have plenty of space to write different aspects of your company profile.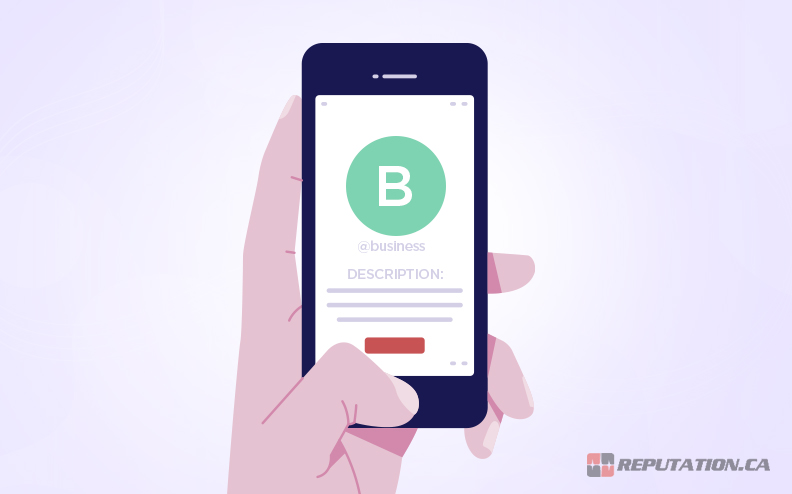 The trick is to fill these out. Fill them out properly, according to guidelines for the site, and using best practices for SEO. Make sure you use your brand name, keywords, and information about your brand. Here are guides for the three most important social networks you can use.
These are trusted companies in marketing, and they know what they're doing. Follow their guides, and you'll be 95% of the way there.
Ensure NAP consistency between profiles and website.
One of the most important parts of maintaining a business presence across the internet is information consistency. Name, Address, and Phone (NAP) consistency is crucial. Sites that aggregate business information, including Google, will use information in your NAP to verify that various profiles are related to you.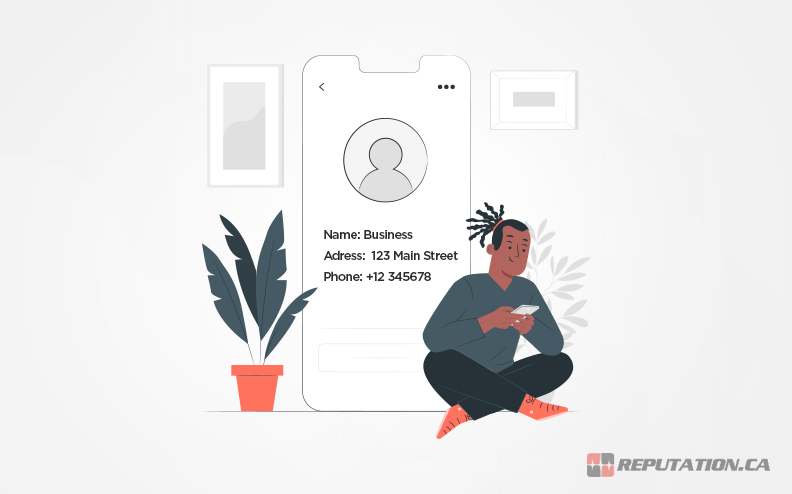 If you have NAP drift – that is, you have different formats or variations to information – your related profiles can be demoted. After all, Google might not know that three different variations of your brand name all refer to you. That's why it's important to ensure that anywhere you post your NAP online, it's exactly the same everywhere.
Link to your website from your social profiles.
Part of leveraging trust in a social media profile is making sure that anyone who visits the social profile can know that it's your profile. In the modern world, you often run into many small businesses in various locations around the world, all with similar or even identical names. However, since websites can't be duplicated, the website becomes a verification link. Users find a social profile and check the website. If it's your website, they know they're in the right place. They can then judge the social profile in the right context.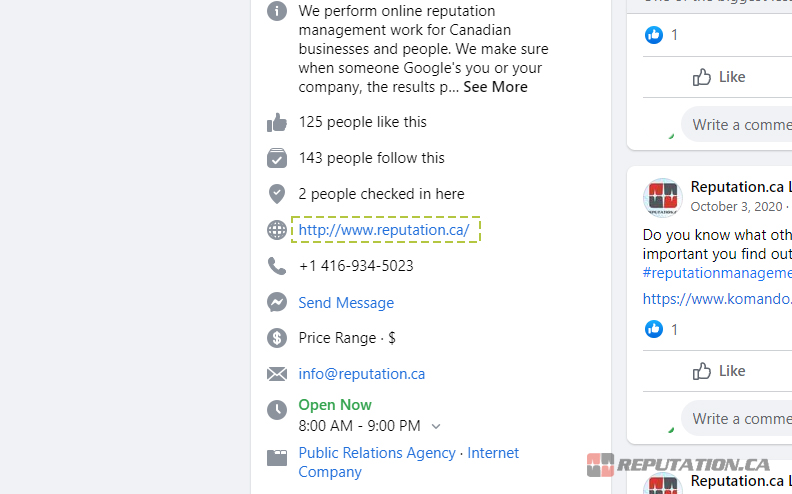 In most cases, you will want to link to your homepage from your social profiles. Sometimes, if you have a special offer, you can link to a landing page. Usually, however, promoting content, sales, or other pages is best done through pinned posts and ads, not your profile link.
Avoid third-party link trees and services.
Some social networks, like Twitter and Instagram, limit how many links you can have in your profile. Some people are tempted to use services like LinkTree or Carrd to create "link hub" landing pages. This might be fine for a small artist or individual who doesn't care about SEO, but it's bad for a business.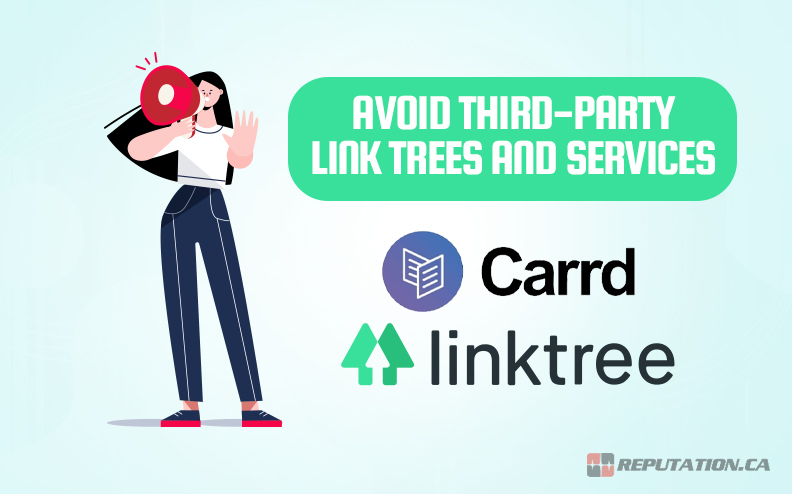 The main reason you want to avoid these services is exactly what we discussed above: verification. If Google finds a social media profile that has your business name on it, they'll check to see if the other information matches. If it does, great! You'll rank. If it doesn't, the social profile might be demoted or removed. Unless you're LinkTree or Carrd, don't use those links. If you absolutely must have a link hub, make one on your own URL.
Link to your social profiles from your website.
Just like linking from your social profiles to your website promotes value, helps boost SEO, and establishes a connection, so too does linking in the other direction. Your website should have social media links pointing to your profiles.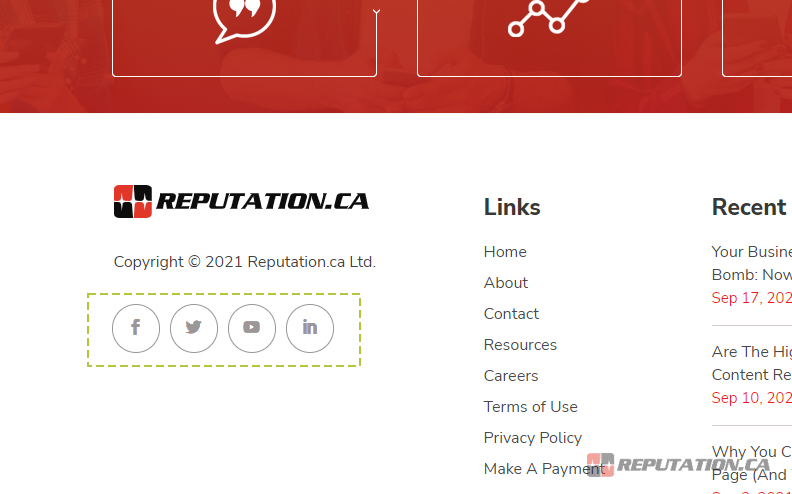 The biggest reason to do this is verification. In some cases, imposters may set up social media pages trying to pretend to be you, either to steal user information or hurt your business. By linking to your real social profiles from your website, users can know which profiles are real by visiting your page and checking.
Keep your profile information up to date.
One of the greatest failures of many businesses is the failure to keep their social media profiles up to date. Over time, information changes. You might make a drastic change, like a rebranding, a changed website URL, or a changed name. Those are hard to forget. Smaller changes, like a change in name formatting, a changed phone number, or a changed business focus, can be harder to adjust. Sometimes, you might not even realize a change has happened until you review a profile and find that it's no longer applicable to your business's current focus.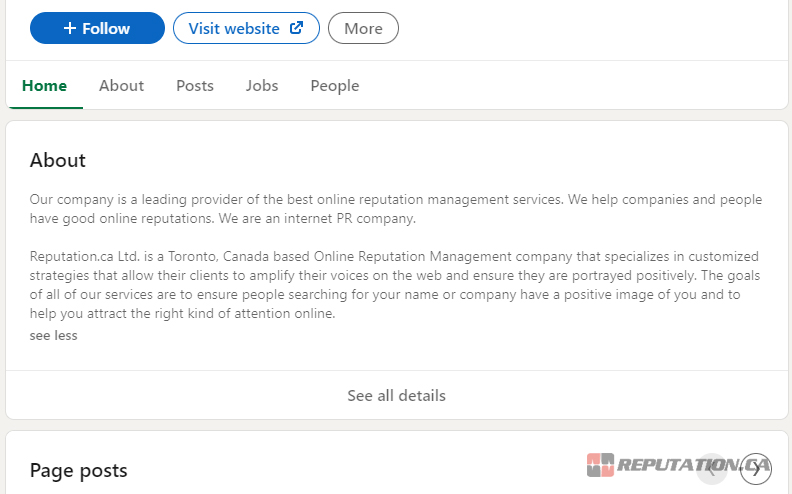 At least once a year – and ideally once a quarter – you should review your social media profiles, as well as profiles on business aggregator sites like Yelp, TrustPilot, and Google My Business, to ensure that information is updated and consistent. If you can't do this on your own, you may want to consider hiring someone to do it for you.
Post to your social profiles regularly.
This tip is a little contentious. Some people find that simply creating a social profile is enough. And, indeed, it's usually enough to ensure that the social profile can rank when a user searches for your brand name. However, that's not always enough.
When a user searches for you on a social network or finds your social profile through Google, they want something out of it. Very rarely is the only thing they want verification. Most of the time, they want to see if you're active, if you have deals, or if people are leaving reviews. They want value. You need to give them that value.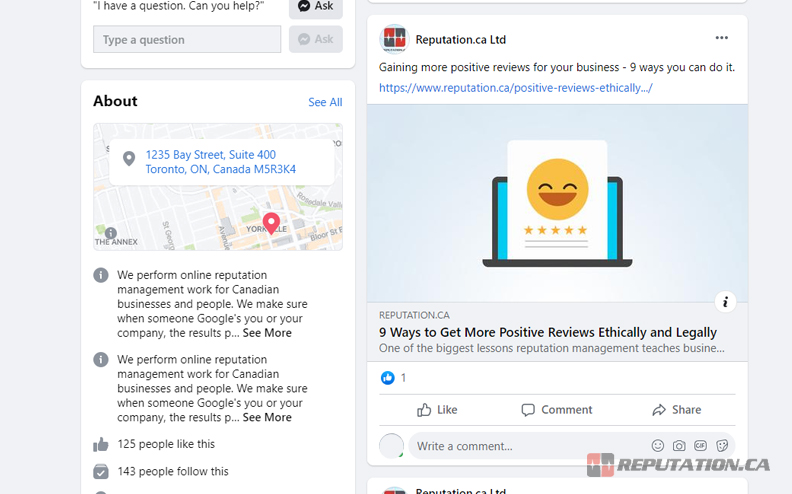 Our recommendation is to register for as many social networks as is relevant, to limit yourself to the ones that you can keep active. If that means you only use Facebook, Twitter, and LinkedIn, fine. If it means you can add in Instagram, Pinterest, and more, go for it. It's a judgment call. You can also consider hiring a social media manager to run things for you if you have the budget to do so.
Add social media links to third-party profiles when possible.
Sites like Google My Business, Yelp, TrustPilot, TripAdvisor, and other review pages generally allow you to claim your profile. They do this to verify you as the business owner, to allow you to manage and respond to reviews, and to allow you to verify business information on their site.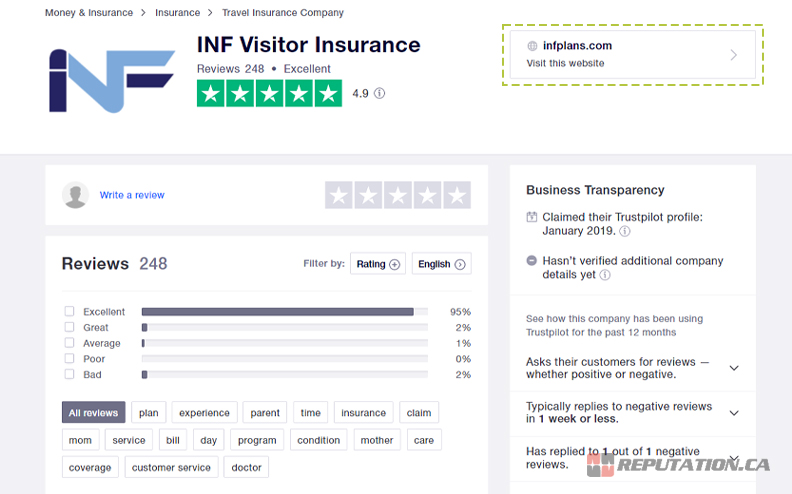 Sometimes, you can use these pages for additional value. They typically include website links, but you may also be able to link to your social media profiles. This further adds verification of the authenticity of both your site and your profiles, so add them when you can.
Engage with customers and address their feedback.
On social media, it's important to remember that it is, in fact, social. As much as you may have to fight with algorithms to get your content seen or pay to play in some networks with boosted posts, you still have users out there who want to engage with you. They will leave comments, reviews, and posts tagging you. These are all opportunities.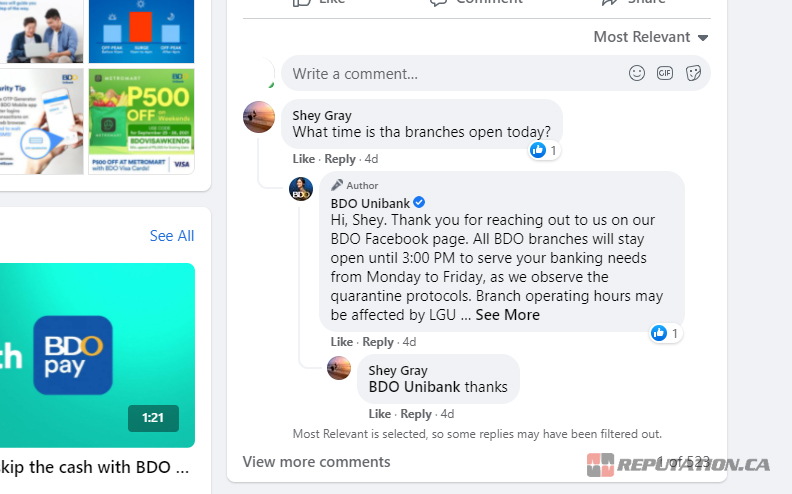 By responding to these posts and engaging with the users, you can build a deeper relationship with them. You can handle customer service issues in a public way to encourage others to work with you. You can refute false information and build a narrative of truth. You can promote your presence. You can even solicit reviews from these users and get them to help you boost your reputation across the board.
Seek verification on your social networks, wherever possible.
Every modern social network has a way to verify people of importance. They do this so they can minimize the issues they have with imposters and impersonators on the site. If a user searches for Justin Trudeau and finds two profiles, the one with the blue check-mark is the real one, and the other can be safely ignored.
The biggest problem is that verification isn't always available. Each network has its own criteria for verification. Google My Business simply verifies businesses by sending them unique codes to plug in. Sites like Twitter and Facebook, however, have notability criteria similar to Wikipedia.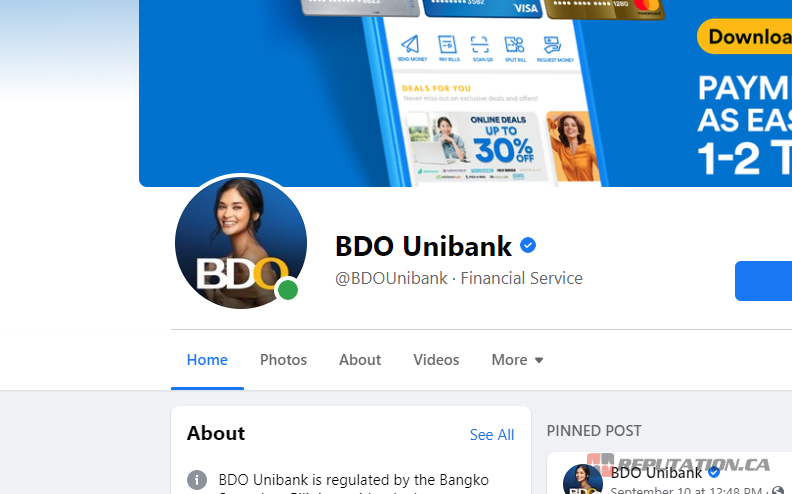 It's worth trying to apply for verification if you can, and if you get it, excellent. If not, consider working with a reputation management firm or PR firm with connections to the internal workings of the social networks, so you can get that verification.
Search for and remove imposter profiles, if necessary.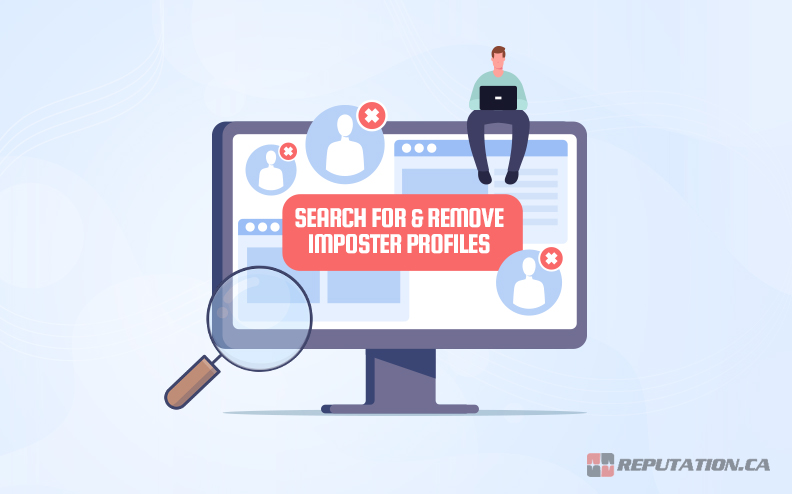 It's not terribly common, but occasionally people will create impersonator profiles. They may be malicious, or they may be damaging, or they may be well-meaning but misguided. In any case, you need to get them removed. Every social network has a way to report and remove those profiles. It's important that you do so; so these fake profiles don't show up in searches for your brand alongside or in place of your real profiles.
Hire a reputation management company to maintain your profiles.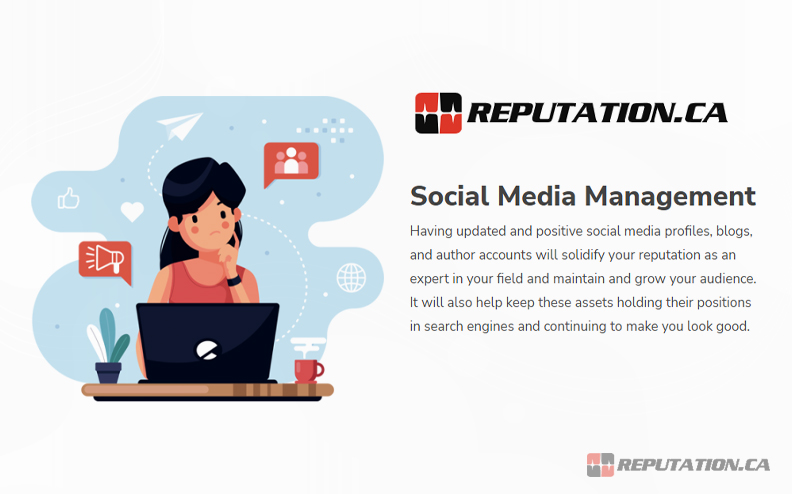 There's no doubt about it; while ranking for social media isn't difficult, it can be tedious and time-consuming. Many businesses ignore social media or put the barest minimum effort into it because of that. You can do so as well, but to get the best results, you need to invest in it. If you don't want to do so, hire us, and we'll handle it for you.
If you have any additional questions or concerns regarding ranking your social media profiles, feel free to reach out at any time!