Communication from a distance has gone from a science fiction concept to an everyday occurrence. Ever since Alexander Graham Bell's world-changing patent that led to the creation of the first phone, we have been able to contact people from miles away. While mobile communication technology has limitations, it remains one of the most important discoveries of modern science.
While telephones were originally limited and only the wealthy possessed them, they are now a common sight, and virtually everyone has one. Keeping that many different devices organized to make contacting a specific person possible is no easy task. Fortunately, phone numbers have made it easier to categorize different devices by their owner. Unfortunately, these numbers can also be something of a curse.
Some resources take phone numbers and connect them with other personally identifiable information that people can use to locate one another. Nowadays, having too much information available can allow people to access more data about you or your business than you would like. It also enables people to connect your personal life to your professional one, which can be weaponized against you.
Websites like U.S. Phone Book are known for keeping records of information tied to specific phone numbers for people to access so they can contact the subjects of the page. Because of the information associated with your phone number, it might be best to try and remove your information from the site.
What Information Does U.S. Phone Book Provide?
U.S. Phone Book is one of many information broker websites available on the internet and is one of the more reliable. While some data broker sites require you to provide more information about the person you are looking for, U.S. Phone Book only needs a phone number. Unlike other data broker websites, U.S. Phone Book is technically a reverse phone directory that allows you to find a person through their phone number rather than their phone number through their name.
Theoretically, you could submit any phone number you have to the website, and it will search for any records associated with that number. However, U.S. Phone Book takes things further by using the name tied to a phone number to access more information.
When you use U.S. Phone Book to look someone up, the results will provide a small breakdown of other personally identifiable information.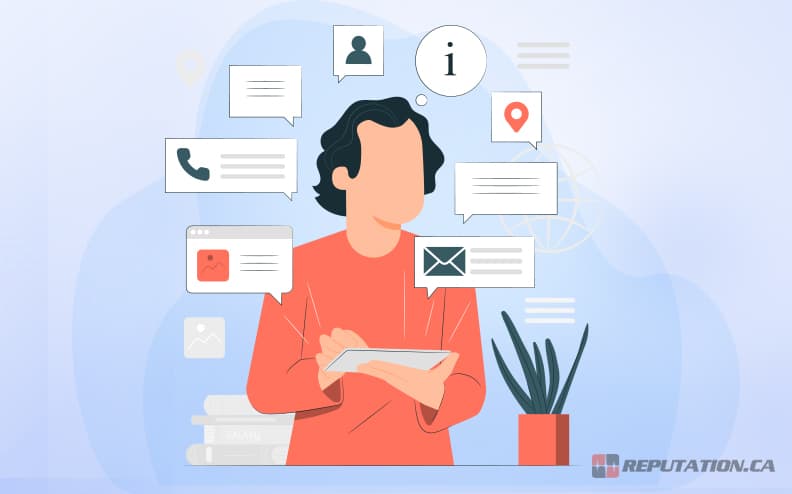 Currently, U.S. Phone Book reports the following information:
Current Address
Additional Phone Numbers
Previous Phone Numbers
Relatives
E-Mail Addresses
While valuable to some, this information provides the average user with more data on the subject than they should reasonably have. All this information gives people access to details about another person's life that they can abuse. The biggest threat is that this information enables people to find someone's home, which puts them at risk of physical harm depending on how disturbed that person might be. Plenty of people would happily take advantage of sensitive information to harm someone they dislike.
The risk of personal vendettas against another person has become much higher, given the newfound importance of reputation. Nowadays, people put a greater emphasis on reputation and are more likely to oppose people publicly based on that reputation. Therefore, the next question is: why is removing this information so important to your reputation?
Why is Removing This Information Important?
As we mentioned before, reputation has become vital to navigating modern society. When people are considering whether to associate with a specific person or company, they are more likely to look into their background. For most, this entails checking to see if the party has any questionable legal history or a habit of mistreating their customers. If the person or company shows a decent background, the average person is more likely to follow through with their initial goal of retaining their services.
If the party has a negative history, people are far less likely to associate with that person or company. While this is a reasonable stance, some people take things too far and go on a deep dive to dig up harmful information.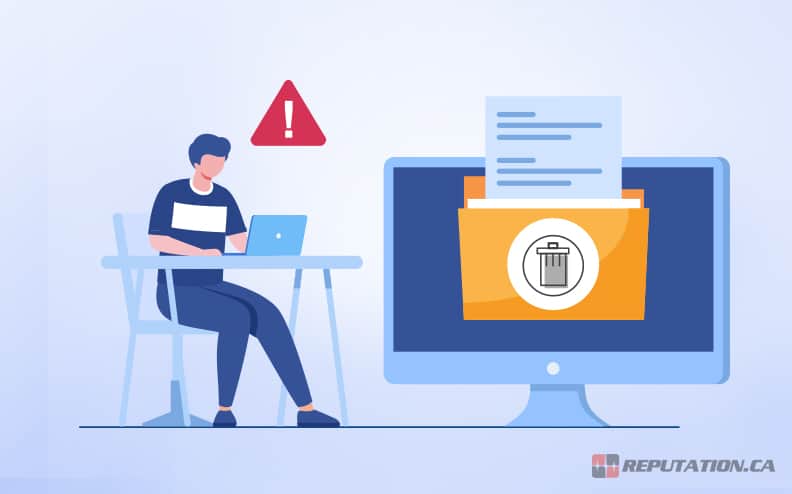 Some people believe that our personal opinions are no longer allowed to be personal and will attempt to bring details of our lives to the public. While we might want to think otherwise, it is an issue that can affect businesses, individuals, and social groups. The issue is that these people do not limit their material to content posted in the public sphere and will weaponize personal and private information to cement their efforts.
This includes going through social media accounts, their viewing habits, the games they enjoy, etc. Ordinarily, this information would be almost impossible to access without help from the person they are investigating. Access to information like home addresses, e-mail addresses, and additional phone numbers makes this easier for them. They can use the information offered by U.S. Phone Book to access parts of your life you want to keep private and turn them into a public spectacle. While most ideologies and habits are ultimately harmless, people will use them to de-platform you and drive away a significant portion of your business.
The more unhinged members of these demographics might take this information further and harass you directly. It is not unheard of for people to go to someone else's home to insult or threaten them, though this is not a reputational issue. Nevertheless, the information on U.S. Phone Book gives these individuals more ammunition to fuel their efforts to damage your public image. This means removing your data from U.S. Phone Book and websites like it is more important than ever.
How to Remove Your Information From US Phone Book
Websites like U.S. Phone Book make their income by producing useful information for their users that will enable them to locate lost acquaintances and peers. While each broker site goes about this differently, most are hesitant to sacrifice the information that provides them income.
While these websites cannot outright prohibit you from requesting your information's removal, they will try to make it as hard as possible to succeed. Usually, they do this by making the option to make that request difficult to locate by hiding it on a specific page or tying it to an offsite domain. Insofar as U.S. Phone Book is concerned, accessing the opt-out page is easier than the process used by most of its rivals.
Accessing the opt-out page on U.S. Phone Book requires you to access the website's homepage, which you can reach by searching for U.S. Phone Book in Google or following this link: https://www.usphonebook.com/. Once on the website's homepage, you must scroll down to the bottom of the page until you come across a dark gray section with small white text. There will be an option marked "Do Not Sell My Personal Information" that you must click. This will redirect you to the website's opt-out page, which will have a list of instructions that you must follow. For convenience, we have copied the instructions below for you:
Check the boxes next to the terms and conditions near the bottom of the page.
Enter your e-mail address into the bar below the terms and conditions.
Complete the CAPTCHA below the e-mail bar.
Click on the button marked 'Begin Removal Request.'
You will be redirected to a page where you can enter the phone number whose information you want to remove. Enter the number and click the button with the magnifying glass.
Look through your search results and identify the account with your information. Once you have identified it, click on it to access the full record.
Once you have opened the record, there will be a button marked 'Remove Record' you must press.
Once you have clicked this button, U.S. Phone Book will send a confirmation e-mail to the address you entered in the second step.
Go to your e-mail account and open the confirmation e-mail to find a link that says, 'Click here to remove <your name>. Click this link to finalize the request.
U.S. Phone Book will require 72 hours to complete the removal request but should successfully purge all records of your data once that time has elapsed.
This process should effectively eliminate U.S. Phone Book's information about you, but you might have to consider the possibility that an error prevents the website from fulfilling the request.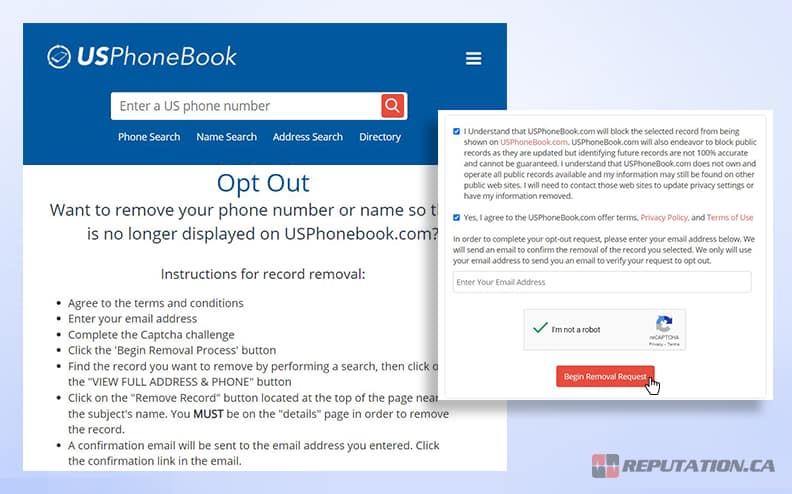 If for whatever reason, your information is still on U.S. Phone Book's website after 72 hours, you might have to contact them directly and request a follow-up from one of their staff. Currently, there are 3 ways to contact U.S. Phone Book's customer support staff that you can use to redirect attention to a failed removal request. These options are:
Use the automated e-mail system on their website's 'Contact' page. This option will require you to enter your full name, e-mail address, and a brief description of your issue. Above the last part will be a dropdown menu where you can select a category that relates to your correspondence. Once all the information is filled out, you must complete a CAPTCHA and click the 'Submit' button.
If you want to communicate with an employee directly, you can try to call U.S. Phone Book's offices. The phone number is (888) 747-4095, though this option might lead to long hold times, and you might not get a result any faster.
If you have the patience, you can mail a written letter to U.S. Phone Book to try and request a follow-up on your removal request. This will take significantly longer than the other options but might be a viable last resort. The address is P.O. Box 660675, Dallas, TX 75266-0675.
Assuming there are no complications, removing your information from U.S. Phone Book is among the easiest data broker removal requests. Unfortunately, removing your information from U.S. Phone Book might be insufficient if you are trying to protect your reputation from significant damage.
U.S. Phone Book is one of many data broker websites that could give strangers access to private information. You will also want to locate other data broker websites that might provide information about you or your business and remove it from those sites. Otherwise, the damage you avoided with Us Phone Book will occur with one of its rivals. Unfortunately, controlling your information with so many data broker websites can be difficult without help.
One of the most irritating realities of dealing with data brokers is that many such sites pull information from other data broker sites instead of hosting it themselves. This gives them the shield of hiding behind those other sites in a maze of mirrors, obfuscating where the data comes from. Fortunately, you can track down the origin of your personal information with a little help.
Take Your Reputation Back!
Websites like U.S. Phone Book are more common than ever since almost everyone can access a device with internet capabilities. While these websites did not intend to harm the people whose information is present, they have backfired due to our society's aggressive and judgmental natures. As a result, purging as much information about ourselves as possible is becoming a requirement to keep our reputations intact.
Otherwise, people might abuse this information to strike against us and tarnish our image to fulfill their agendas. This is not to say it is unfair for people to want to know about the people and companies they associate with, but that careless dissemination of private information can lead to unfounded claims.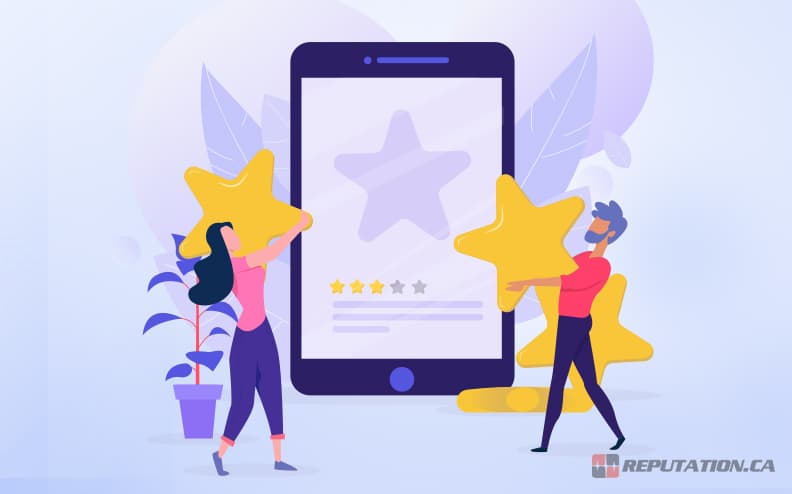 Purging this information from multiple websites is a big job and not necessarily one we can do alone. We at Reputation understand the significance of people's public images and the importance of managing them. That is why we have made it our mission to offer services that help protect and preserve the reputations of people and companies. Among the services we offer is an option to name us your representative so we can locate websites like U.S. Phone Book and make an information removal request on your behalf. Protecting your reputation is essential to surviving modern culture, so we urge you to visit our website and take your reputation back!