Whether you're just another person on the street or a high-profile public figure, there's information about you available online. Whether it's public records, social media, or less savory sources, anyone who wants to do the detective work can find out a distressing amount of information about you.
This can be very scary, during a time where doxing and amateur detective work can ruin someone's reputation, even if you're not actually involved in whatever perceived issue people think they've identified. On the one hand, there are social movements using righteous anger to track down bigots and see them punished. On the other, there are internet vigilantes who delight in terrorizing anyone they see fit to target, from an ex to a public streamer to a politician.
One of the best ways to defend yourself is to work to get your information removed from the internet as much as possible. It's not always possible to completely remove it, and some information is a matter of public record and can't be fully scrubbed, but you can at least make it harder for people to find you and your information.
What is MyLife?
One of the biggest sources of personal information online is MyLife.com. MyLife is a scraper and data aggregator that builds "profiles" of individuals, listing everything from name, address, and personal characteristics like gender and political affiliation, all the way to court records, real estate history, education history, work history, and personal connections to family and friends. In the past, it has also operated under other brand names, including Reunion.com and Wink.com.
The site presents itself as a reputation management platform, sort of like a Yelp for People. The idea being, you sign up and register to control your information, ensure it's accurate, and sculpt what's available to ensure that you look the best you can. They give you a "reputation score" as well, as a further way of "encouraging" you to register to improve it.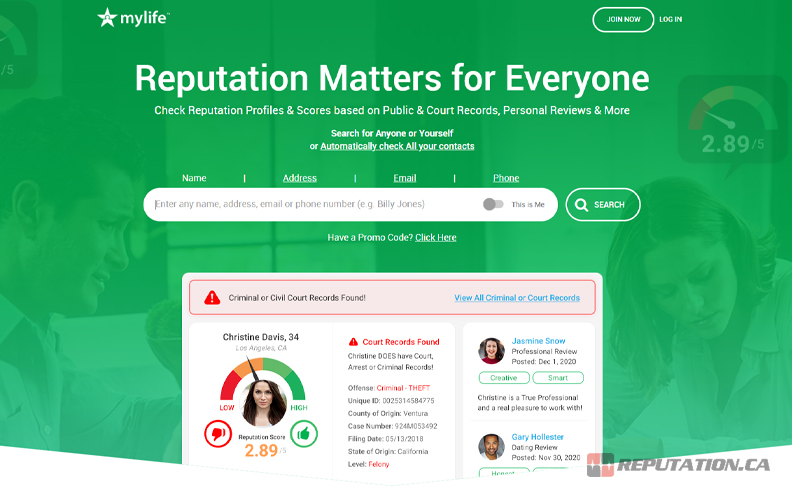 They also try to present themselves as something of a social network, as a way to "reconnect with colleagues, old friends, classmates, and others." On top of that, people who register can leave reviews of other people, which can be as good or as bad as the person leaving the review cares to write it.
In short, they've picked up every possible angle short of extortion to convince you to join. And, of course, only people with paid premium accounts can remove information or reviews.
How Does MyLife Have My Information?
One question that often comes up is how a site like MyLife has a profile for you in the first place.
The answer is simple: they're a data broker, and they have connections to other data brokers. Virtually all of the information available on the site is publicly available through sources such as court records, city registrations, and various public documents. It's easy enough to search court records, and those records are public unless a judge orders them sealed, so sites like this are free to use that information.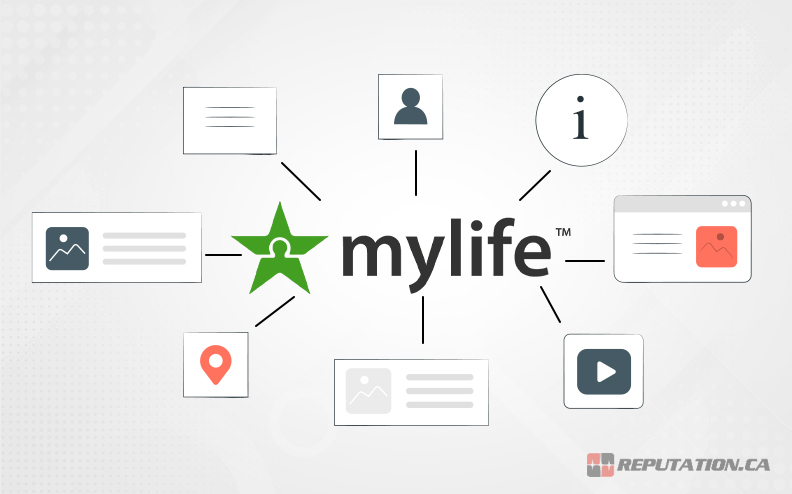 The downside is that, since all of this information is public, you may need to go through a lot of work to get it removed from as many sites as possible, and you still might not catch them all.
The most potentially detrimental part of MyLife is the social media aspect. If you have aggressively angry people looking to damage your reputation, they can leave public reviews of you on MyLife, and without having an account, you have no way to refute or remove them unless they break laws against defamation.
Is MyLife Legitimate?
Needless to say, a MyLife profile can be pretty detrimental to anyone who has any public reputation to maintain or who cares about their privacy and personal information. Even something as simple as having your address publicly available is bad for many people.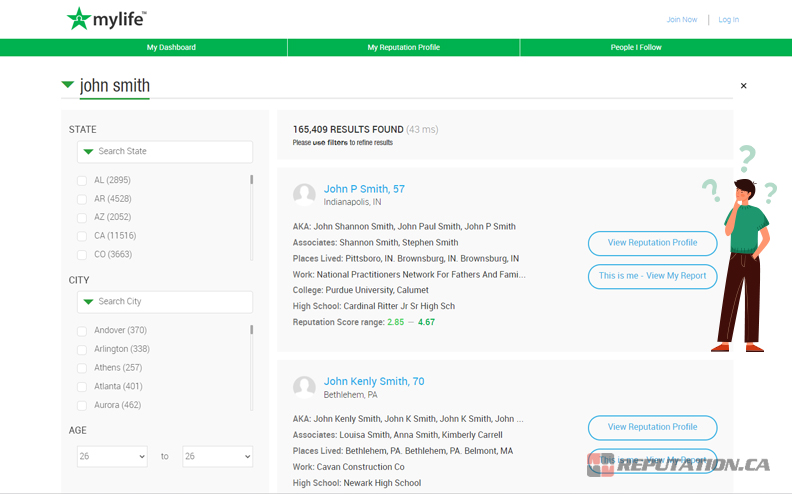 On top of that, MyLife has a long history of scandals, lawsuits, and assorted scams. They've been subject to class action lawsuits, and they have a history of being very underhanded with what they do. In particular, they often bill people exorbitant amounts and offer nothing worthwhile in return. They also request unnecessary access to your email contacts list so they can send out solicitations to all of your contacts as well. They've received tens of thousands of complaints with the Better Business Bureaus and other business review sites as well.
Shady business, personal information for sale, and sketchy removal processes; this has all the hallmarks of a website you definitely don't want your information on.
Can You Get Your Information Removed from MyLife?
Some websites make it difficult or nearly impossible to have information removed from them. Sites like TheDirty come to mind. Others are more legitimate and comply with requests to have information removed. Where does MyLife fall into the spectrum?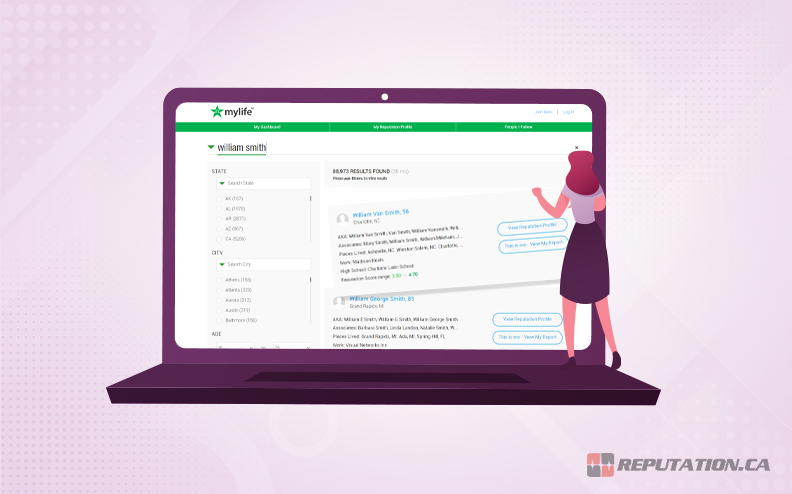 Good news: MyLife does seem to comply with requests to have information removed, and while they present it as a little difficult to do, they have several options you can try. Be aware that they will likely try to convince you to register an account or pay them for removals, however, which you should avoid doing.
The first (and worst) option is to follow the process MyLife gives you. They will happily tell you that if you register an account, you can control the information available in your profile. There's just one problem: once you register, you find out that you have to pay for an account to get that kind of control.
Even then, paid accounts can only remove certain kinds of information and not entire profiles. Your profile will still exist, and most of the information will still be there. The best you can do is generally removing the reviews left by other members.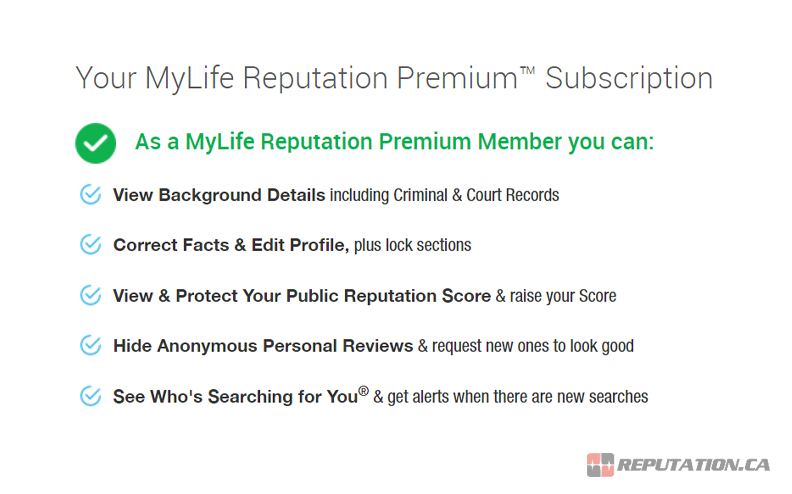 There's also the possibility that if you ever stop paying for an account or cancel your account entirely, all of that carefully sculpted or removed information will be reverted. And, of course, the price you pay for a premium account is hidden, but exorbitant.
In general, while this is technically stated to be an option via MyLife, it's not really an option. We don't recommend it, and we're not even linking to their registration page for that reason.
Option 2: Contact Support
In the MyLife FAQ, you can see this question:
"11. How can I have my Reputation Profile removed, ask what personal information you maintain about me, or ask to opt out of the sale of my personal information?
You can have your profile removed or ascertain what information MyLife has about you by calling a MyLife.com® Customer Care representatives toll-free at 888-466-1066 Mon-Fri: 6am – 9pm PST and Sat-Sun: 6am – 7pm PST, or by emailing us at privacy@MyLife.com. You can opt out of sale of information through either of the above mechanisms or by completing the webform at Do Not Sell My Personal Information. When you request that we not sell your personal information, we also will remove your profile from our site."
This gives you one primary option, which is to contact their support directly. They give you two choices to do so: email and phone.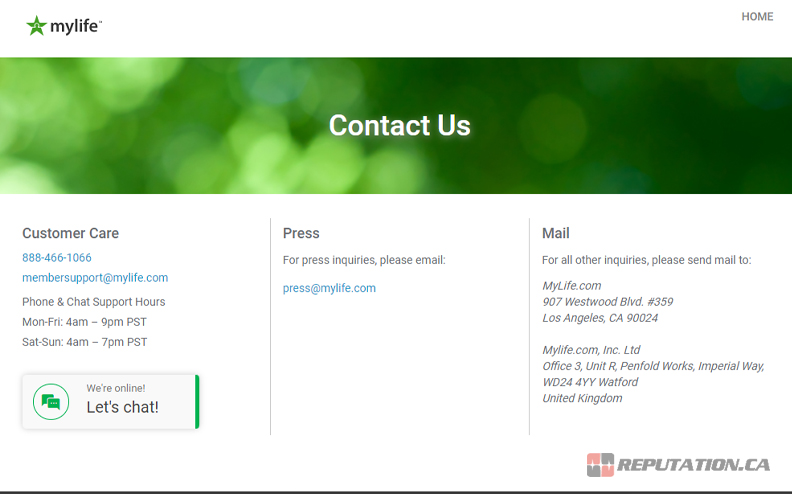 Between these two options, we would recommend email. With a phone discussion, unless you record the phone call, you have no proof of your contact, request, or any agreements they make. With email, at least you have a paper trail and can make your requests explicit. That said, a phone call is the most immediate option if you're dealing with a crisis and need a removal as soon as possible.
Make sure that you ignore any requests to create an account, register for anything, or pay for anything. You should not need to pay to have your information removed from MyLife through normal legal processes. They may try to convince you otherwise, to be wary.
If you email them, use a subject line like "Remove Listing Request for [Your Name]." In the body of the email, include a link to your profile, the personal information necessary to verify it, such as birthday and address, as well as detailing your request to have your personal information removed from their site. Again, reject any request to register or pay for an account to process this removal; you shouldn't need to.
Option 3: Web Form Removal Request
In the quoted passage above, you see "completing the webform at Do Ny Sell My Personal Information." This is likely going to be your best bet for a fast, casual removal process. The link to that web form is here.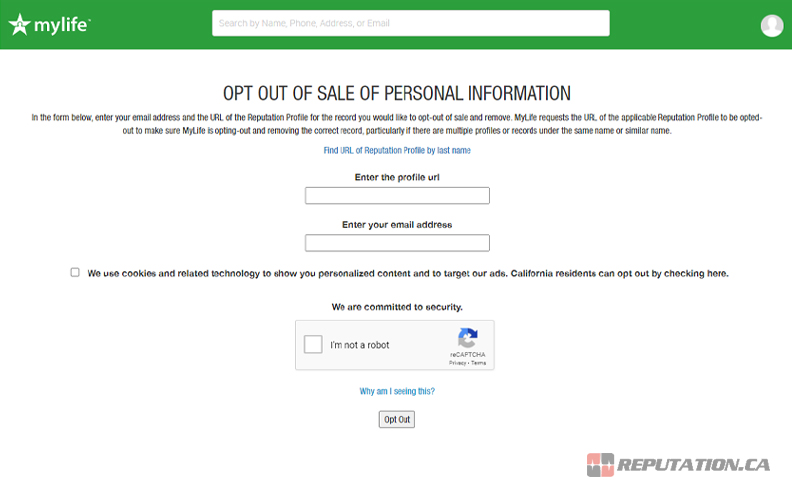 On this form, you will be asked for several pieces of information.
The URL of the profile you want removed. You can find this by searching for your information on their site without registering an account.
Your email address, so they can contact you for more information or to confirm your request. Ideally, this should be an email address they already know about, so you aren't giving them more information.
Verification via captcha.
This is essentially just the email request route, using a web form to submit it instead of doing it through your own email client. You will still likely need to go through a back-and-forth with them, unless you are a resident of California and subject to those privacy laws.
Option 4: Legal Removal Letter
The fourth option is a harder option to pull off but a potentially more permanent solution. You may be able to talk to a local lawyer and have a letter drafted requesting the removal of your personally identifiable information, or PII. You can also find examples of these letters online to customize yourself.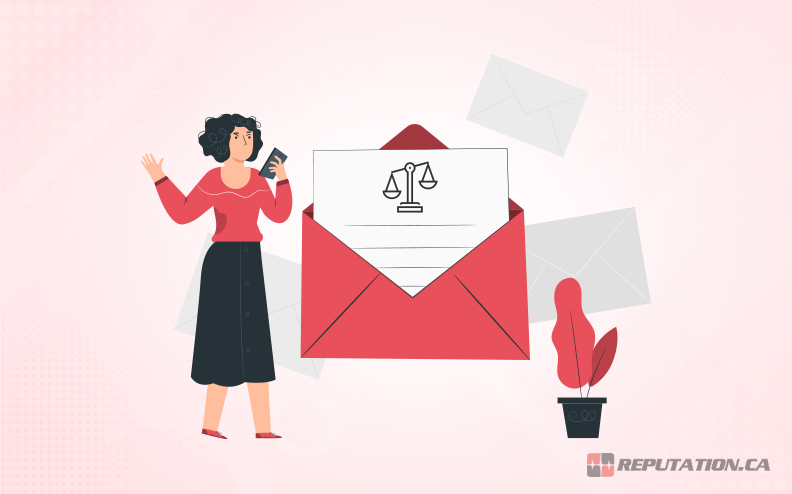 The largest problem with this process is that it's basically a legal threat. You have to be willing to follow up on the threat if they call your bluff. While this is possible and even likely in a case of doxing, defamation, or damaging information, for most people, you probably won't want to go through the whole legal process. You can read more about this entire process here.
Option 5: Reputation Manager
The fifth and generally best option is to hire a reputation management company. A company like ours does a lot for you beyond just getting your information removed from MyLife.
We can get your personal information removed from hundreds, if not thousands, of websites. Many data brokers scrape data from each other; removing data from the primary source usually removes it from most other sites as well. The trick is knowing who those sources are and how to get information removed from them.
We can monitor the web for new instances of your personal information, and both alert you and proactively request them removed as necessary. Ongoing reputation protection is very important, particularly for public figures.
We can help you create more positive content around the web, to replace negative information and personal information with positive citations and assets under your control.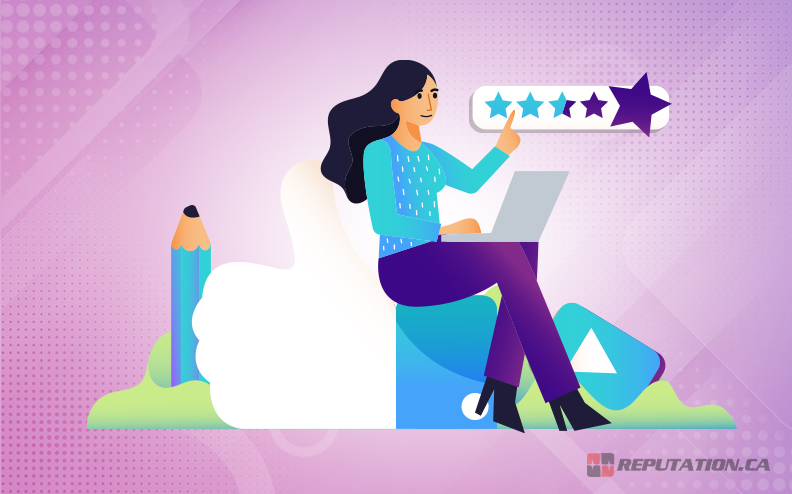 All of this can help you however you want to be helped. If you want to have your information removed and exercise your right to be forgotten, you are free to do so. If you instead prefer to boost your reputation and become a thought leader and public figure, or improve your position in those fields, you can do that as well. Good reputation management services give you plenty of access and flexibility to sculpt your presence exactly how you want, or erase it altogether.
MyLife is far from the only site doing what they do, and while they're pretty bad about it, they're far from the worst. Luckily, they also aren't very highly rated anymore; like TheDirty before them, Google seems to be generally suppressing their web rankings. There are other more highly-ranked sites you may want to target in addition to MyLife, and we can help you with both finding and removing your information. Just contact us today to get started.
If you have any questions or concerns about MyLife or how to remove your information from it, please feel free to contact us and ask away. We would be more than happy to answer any and all of your questions on the topic.