We've written a lot on this blog about how to handle a negative reputation, how to boost your reputation by soliciting more positive reviews, and other aspects of reputation management. There's one thing, however, that we haven't touched on nearly as much.
How do you even know what your reputation is in the first place?
Sure, it's obvious sometimes. If you're in the middle of a PR scandal, your executives are resigning in disgrace so they can hide out, your products are review bombed, and you can't go anywhere without seeing a news report about the latest developments in the scandal.
That is, thankfully, a rarity. It's reserved for only the largest and most objectionable companies out there. The rest of us, for good or ill, never reach that amount of prominence. Even our own PR crises are relatively small-scale, affecting local newspapers and industry journals, and little else.
So, how can you determine what your reputation is? Let's dig in.
Why You Should Monitor Your Reputation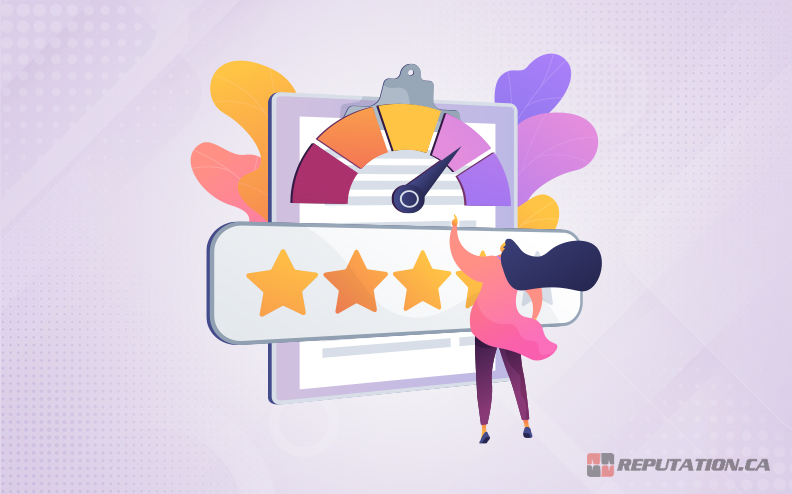 First, let's talk about why you need to monitor your reputation. And no, running a single search in Google News once every six months is not monitoring. A lot goes into reputation monitoring – so much so that we offer a service to do it – so why should you put that time into it?
There are three core reasons why you need to be checking your company's reputation online on a regular basis.
So you can engage with your reviewers.
One of the best things you can do for your reputation is keep on top of reviews online. Generally, you can divide your reviews into three categories: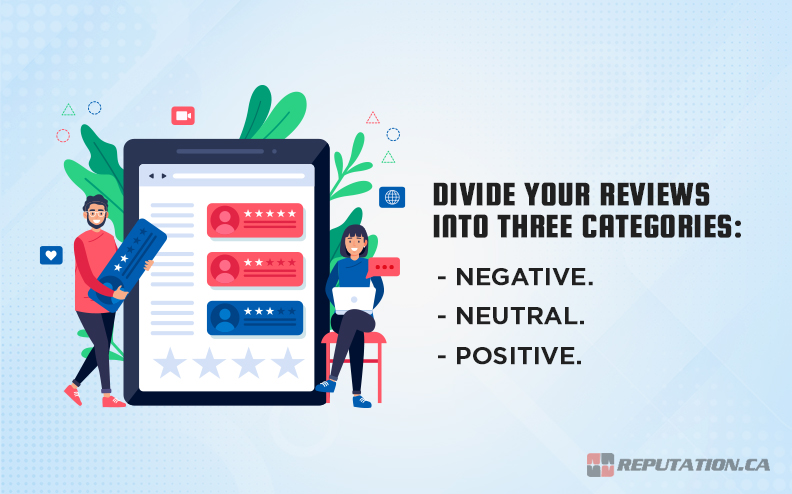 Negative. These are clearly bad, 1-2 stars, with either clear criticisms, specific complaints, or just generic "this place sucks" messages.
Neutral. Sometimes you'll get a good solid 3-star "it was fine" review, and that's okay, but it's still an opportunity.
Positive. The 4–5-star reviews are almost always a good thing, and even then, they can offer valid criticisms or comments you can benefit from reading.
All of these present their own opportunities. Negative reviews can be dealt with by getting them removed, leaving comments that refute the story presented in the comment, or responding to open up a customer service inquiry. Plus, in many cases, a volume of negative reviews can indicate an emergent problem you need to deal with.
Neutral reviews, meanwhile, are opportunities to figure out what you can do better to make service better for that group of people. You can't always please everyone, but sometimes it can be an avenue to legitimate constructive criticism.
Positive reviews, of course, are always nice to see. They can still be informative, telling you what you've done right, and they can still contain criticism that isn't a deal-breaker for the user. Plus, engaging with these users helps encourage others to leave their own feedback, because they know you're actively watching and responding.
So you can see trends, both positive and negative, as they happen.
Part of monitoring your reputation and watching your online reviews is building a sentiment analysis. It's not enough to watch your reviews as a whole; you need to watch them in quarterly, monthly, and even weekly periods (depending on how frequently visited your business is), so you can see if you're trending up or down.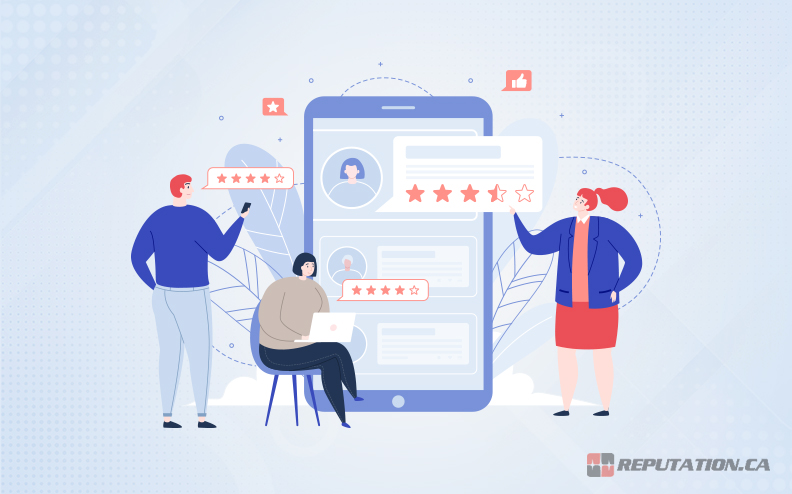 This also helps you tell if things are slipping in a way that isn't necessarily actionable, but can put you on alert to look for problems that might be developing in the near future.
So you can get ahead of any problems before they escalate.
Detecting problems early is a huge part of why you watch reviews. If you see reviews about a problem in your service, you might be alerted before anyone even bothers to submit a customer service ticket. After all, people often assume the company Already Knows, when they very much do not, and everyone puts the burden of filing a ticket to someone else. Sometimes, reviews can be the first indication of a problem you didn't know you had, but your users have been laboring under for months.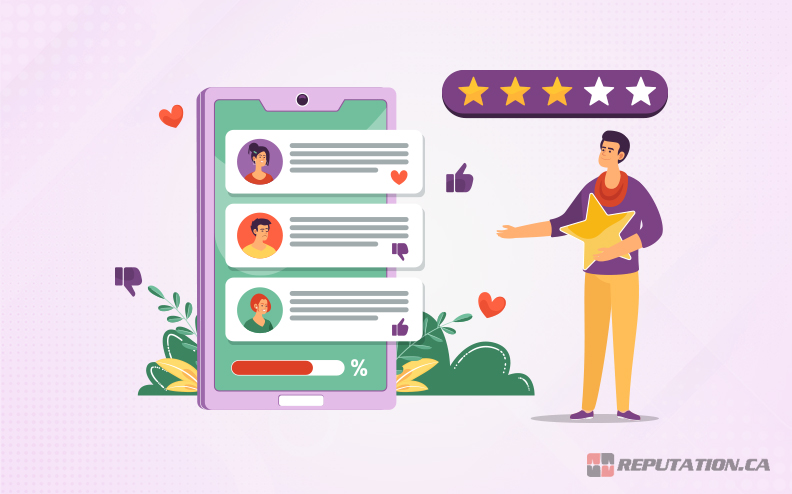 The same holds true for other kinds of problems. Reviews can indicate when you're about to be review bombed, or when a scandal is breaking and you need to be on guard. It's rare that bad press comes truly out of nowhere, and monitoring your reviews lets you get ahead of it.
So, now that you're convinced, how can you check for your reviews online?
1: Google News Searches
The first and most obvious thing to do is search for your business. The trouble is, plain old Google search won't get you much information unless you're receiving such high-profile coverage that it hits major publications. Most of the time, review sites and your own website are going to rank better. So, you need to look at timely coverage. You can do this in a few ways.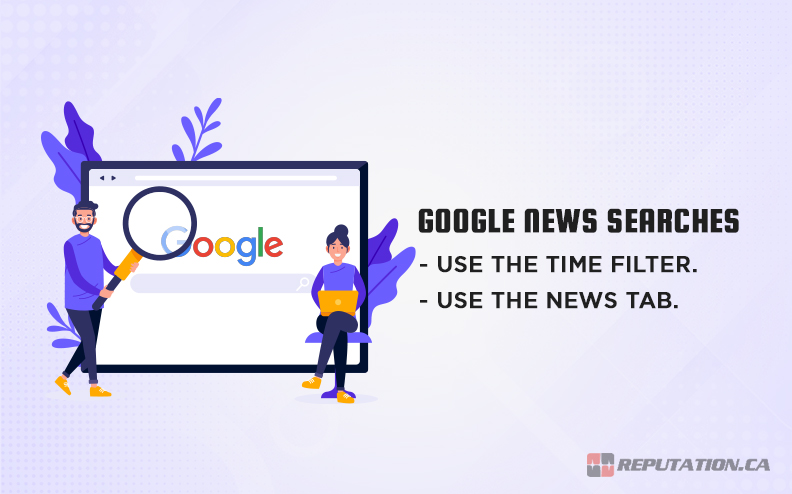 Use the time filter. When you search for your brand name, click on the "tools" link beneath the query but above the results, then choose Time, and choose a relevant time span. This will be filled with content you've published on your site, but also content from other sites.
Use the news tab. One of the alternative filters, like images and videos, is News. Clicking that will show you information relevant to your search term from news organizations. You can further filter this with time filters.
You can also search for news through site searches for relevant news sites, if you know of sites that are likely to cover you. This all gets you news coverage, but most businesses aren't going to have much news coverage. What else can you try?
2: Google Business Profile Reviews
One of the many sites that allows you to claim a business profile to aggregate reviews is Google itself. Used for the "local pack" and for map results, the Google Business Profile is arguably the most important profile you can claim online.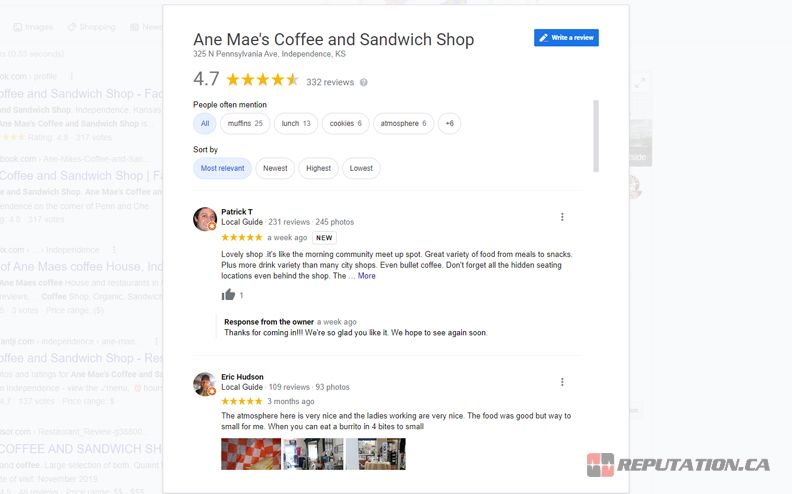 It's also an easy one to monitor. Simply set a schedule and routinely check to see what new reviews are being left for your business. You can do this both as a passive way to watch your reputation, and as a way to monitor active attempts to manage your reputation, like review solicitation and disputes. It's one of the best go-to sources to see immediate reviews, and you can even set up notifications for when new reviews are added.
3: Google Alerts
Google Alerts is a service Google offers. You can set specific alerts for keywords, which can be anything you want them to be. We recommend things like your brand name and your product name, but also primary keywords relevant to your service and location, colloquial or slang names for your company or product, "censored" versions of your name (like how people will use a * to cut out letters of a B*rand Name so they can't name search themselves), and so on. Another good option is employee, manager, or executive names.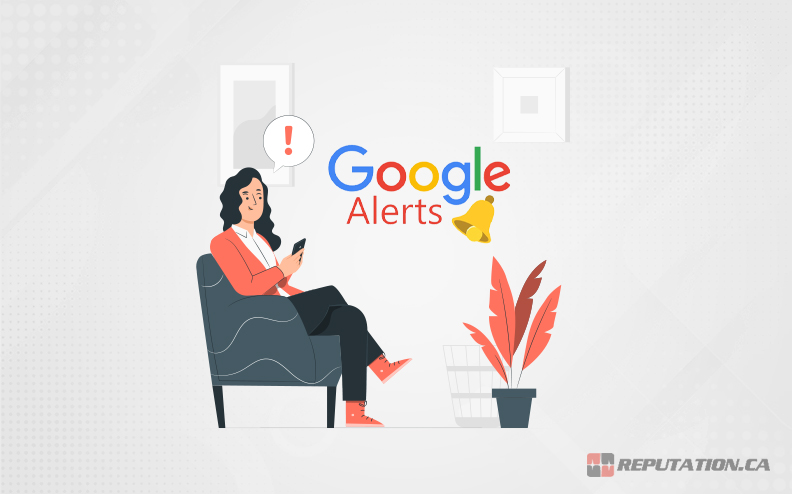 The alerts allow Google to send you a notification when they index new content that uses the terms you've set alerts for. This will catch, in particular, content written on blogs and other locations you don't normally see from other searches.
Social media is second only to Google in terms of its importance for keeping your finger on the pulse of your own reputation. Many people will leave their reviews on your Facebook pages, in responses to your Twitter posts, or just on their own walls.
Some content won't be visible. If a person leaves a scathing review of your business on their Facebook wall, but their profile is private and visible only to their friends, there's nothing you can really do about it. You also can't see it, so don't worry about it.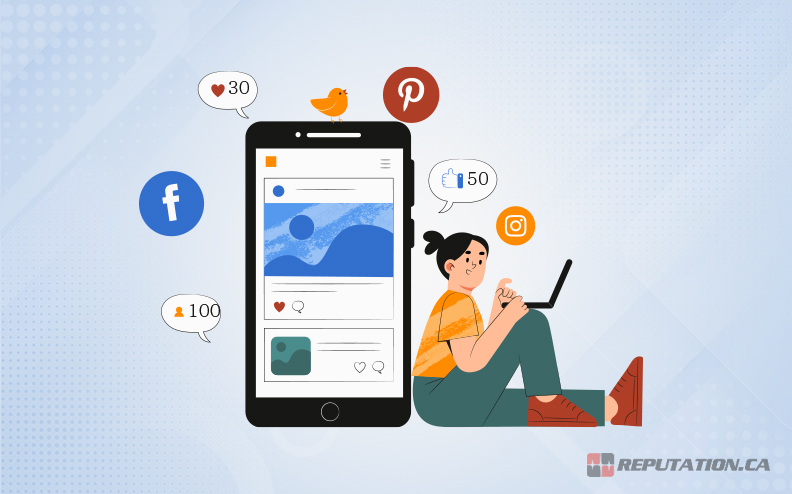 Twitter is usually the best site for this. Lots of people will write about your business or product on Twitter, either to vent to their audience or to try to gain your attention when other service channels haven't worked to solve their problem. Monitoring it through searching is usually a good idea.
5: General Review Sites
Several major review sites are important in the grand scheme of business reputation monitoring. Some of them are better than others.
Yelp, YP, WP, and TrustPilot are some of the biggest and best. People love to leave reviews on these sites, both positive and negative, viewing them as aggregators for reputations. They're relatively authoritative, good at filtering fake reviews, and responsive to refutation.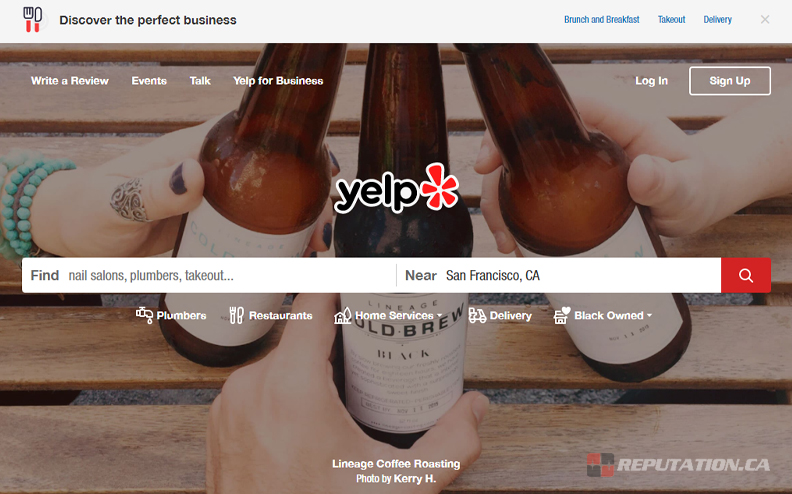 Sites like the Better Business Bureau can be good to monitor, though people usually only turn to them when they have a problem (as in, "I'll be taking this up with the BBB!"). The problem is, the BBB may present itself as an official/governmental organization, but it's just a private company, and a shady one at that. A high rating often comes down to paying for an account and not much else.
Other sites, like PissedConsumer, can be even worse; they can knowingly and intentionally harbor slanderous reviews and make it either extortionate or impossible to take them down. Luckily, these can often be ignored.
6: Industry Review Sites
Just like broad-scale review sites, there are industry-specific review sites that can be worth monitoring. These tend to be the go-to sites for specific niches. For example:
TripAdvisor for hotels and vacationing amenities.
Angi for skilled trades and contractors.
HealthGrades for health practitioners.
Avvo.com for legal professionals.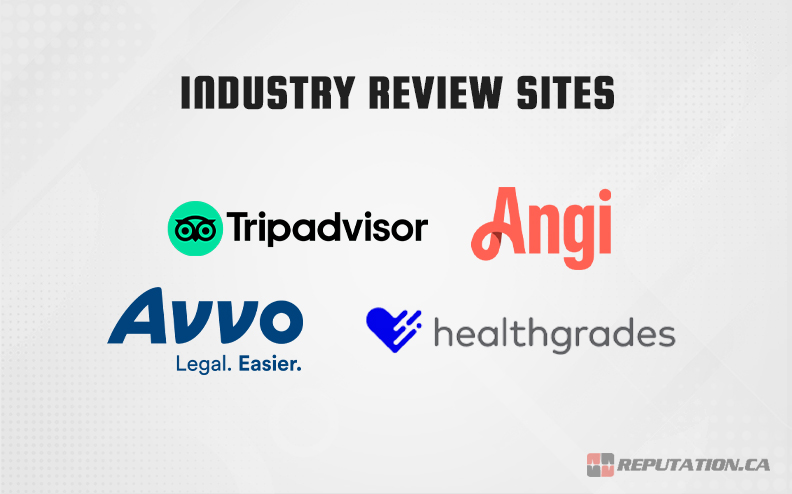 There are quite literally hundreds, if not thousands, of these sites out there. Finding the ones most relevant to your business can be tricky, but luckily, Google can help with that as well. Simply searching for your brand name plus "reviews" can bring up sites that host reviews of your business, and the most active ones will show up at the top.
7: Dun and Bradstreet Score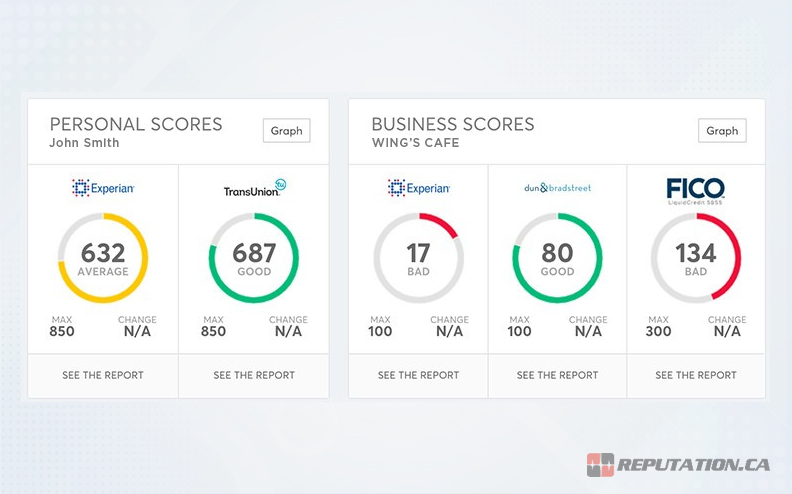 Dun and Bradstreet is a less mentioned review site that is, nevertheless, extremely important for many businesses. They're similar to companies like Experian and Equifax, providing a "credit score," except it's for businesses rather than individuals. As such, it's backed by a ton of data, relatively impartial, and indicative of a lot of detail a business might rather keep hidden in some cases. You can read more about it here.
8: Website Referral Traffic
One you might not think about is your website analytics. Google tells you where your traffic is coming from (for the most part), including the linking domain and the specific pages if you pull a backlink report.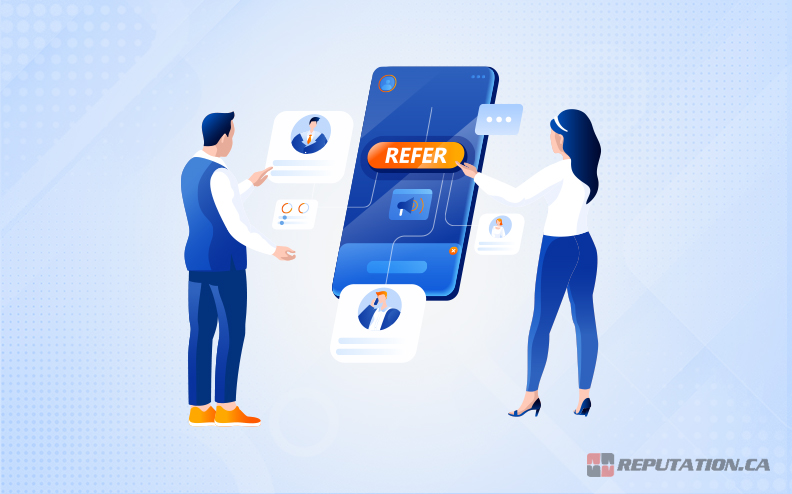 This can be great to see which sites that link to you are getting the most attention. It might be news sites, it might be other blogs, it might be review sites, it might be social media; the important part is knowing, so you can use that information for future adjustments to your marketing and reputation management.
9: Reputation Monitoring Tools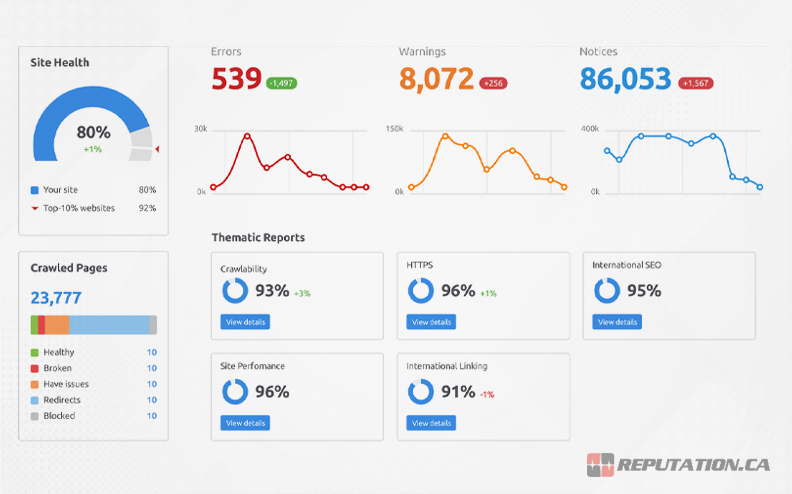 There are a lot of automated and semi-automated tools out there that can give you one central interface for a lot of what has been mentioned above. Tools like Semrush, Social Mention, SentiOne, Reputology, and more can all provide these services for varying levels of price. You can read more about them here.
10: Reputation Tracking Services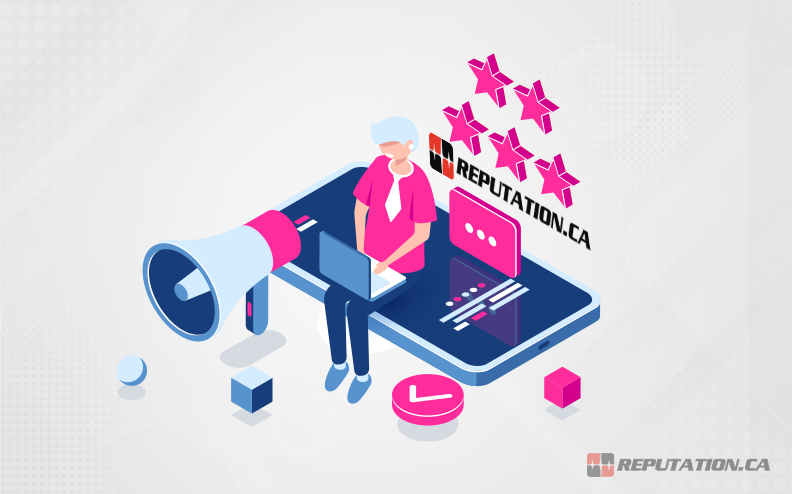 We already mentioned and linked this one up above, but companies like ours provide reputation monitoring as well as management. We're not just here to fix problems; we can help monitor your presence and tell you when anything – good or bad – is gaining prominence. It's definitely a service that is worthwhile for a lot of businesses, so consider checking it out. The DIY option can miss a lot of detail or sources we can find, and the last thing you need is for a blind spot to ambush you at a critical juncture.
So there you have it; ten different options for monitoring your reputation and reviews online. Which ones do you use, and which ones are new to you?