Out of all of the business aggregators and reviews sites online, which one do you think is the most important? Is it Yelp? The Better Business Bureau? TrustPilot? YP?
The answer is none of the above. It's actually Google.
Google offers business profiles to virtually any business. The system was formerly known as Google My Business, but they changed it to simply the "Google Business Profile" within the last few months. It's still the same system under the hood, just with a name that's a little less confusing and difficult to search.
What is the Google Business Profile?
First, let's talk a little about what the Google Business Profile is and what it can do for you.
Say you perform a Google search for a business, like Reputation.ca. When you do, you'll see all of the usual search results, like our website, LinkedIn page, and Twitter account. Over to the right, though, you see something else; one of Google's famous infoboxes.
This infobox has a lot of information in it, as you might expect. It has the map location of our office and some street view photos of it. It has a star rating and reviews for our business. It has our address, our hours, our contact information, and even information about our COVID-19 health policies. Even further down, it has embedded links to blog posts and service pages, social profiles, and more.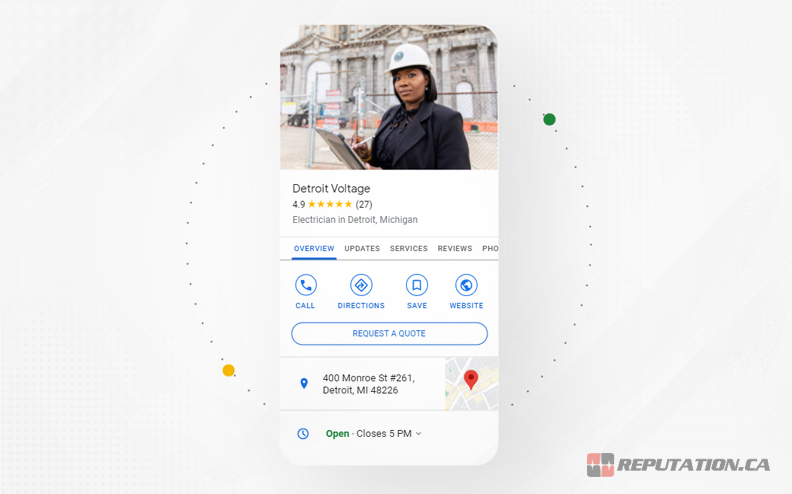 All of this is collectively known as the "Local Listing," which you can read about here. It's all information that Google compiles for any business it knows about that has a physical presence. You'll note, however, that it tends to only appear for businesses with a headquarters, office, or other physical location. Businesses with service areas, like landscapers, contractors, and cleaning services, can all register profiles as well.
"Yes, you can have a profile if your business doesn't have a physical address as long as you make in-person contact with customers. You can also have a profile if you're a hybrid business that serves customers at your business address and visits or delivers directly to customers. You may also have a profile if you're a service-area business that visits or delivers to customers directly, but doesn't serve customers at its business address, like a plumber or cleaning service." – Google Business.
If you Google search for an online-only business however, even a large one like Moz, you'll see a lot less information. You see foundation date, CEO, founders, and a few links, but nothing about an office, reviews, or anything else.
Where does this information come from? Four sources:
Their search index. When Google crawls the web, they index information for a wide variety of purposes beyond just organic search ranking. Among other things, they scrape business information to use in these listings.
Third-party data. Google has partnerships with informational hubs, anything from phone books and city business directories to ad networks, and they can use that data in their infobox.
Their own interactions. Sometimes Google will just send you a request for information and can use that information in your profile.
Your own data. When you register and verify a Google Business Profile, you can specify the information in that box… to an extent.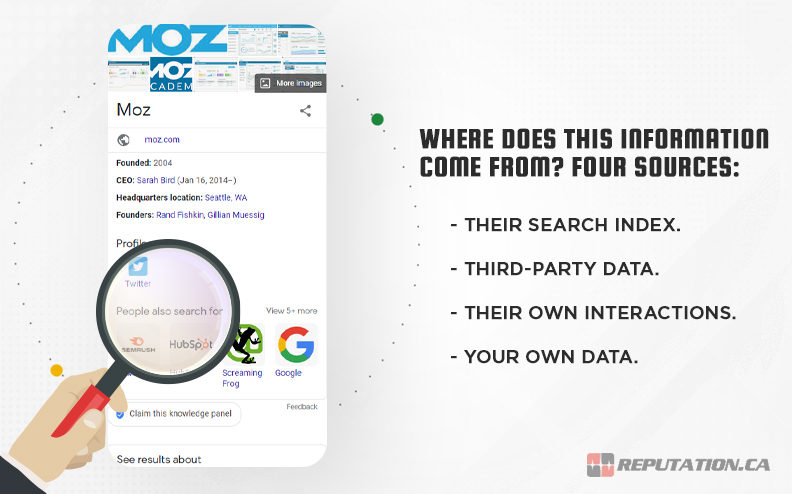 What do we mean with that qualifier? Well, when you register your profile, you can specify information like your address, phone number, hours, and photos. You cannot, however, specify reviews, or what's in the "people also searched for" box, for example. You can flag and dispute reviews, but you cannot edit or remove them yourself.
This box is extremely valuable for any business, and that means you really need to claim and fill out your business profile. The only question is, how?
Step 1: Register
The first thing to do is visit this link and click to register your account. Click the "manage now" button (or whatever they've changed it to since we wrote this post) and follow the instructions.
First, Google will ask you to type your business name. If your business is already in their system – and it might be, if you've been around long enough to be indexed – the name will pop up for you to select. If your business isn't in their system, you will be asked to add it.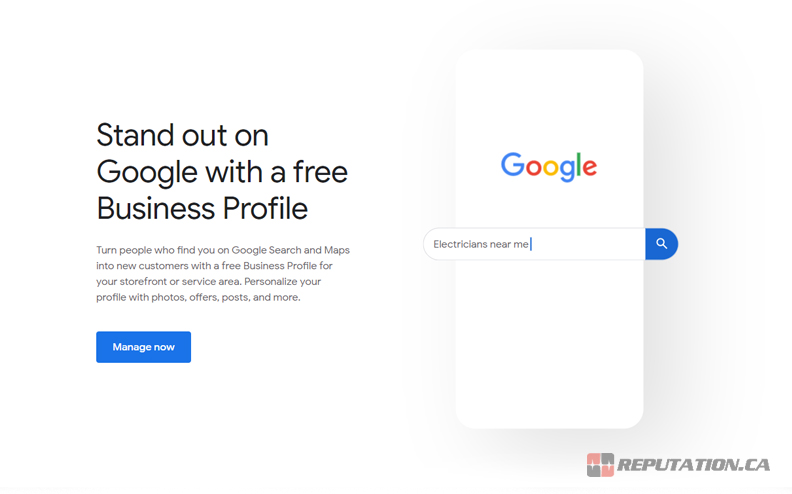 If you're asked to add it, you will have to choose your business category. Just type what fits the closest (like public relations firm, in our case); you can add more or change it up later if categories change.
Step 2: Fill Out Your Profile
Once you've registered your profile, you can start filling out your information. Here's what we recommend doing:
Add and authorize anyone who will be working with your profile. If you want managers, marketers, or agencies to be able to manage your information, you'll need to authorize them to do so.
Fill out your basic business information. Specify your exact business name, address, phone number, hours, description, website link, and other information. Make sure this is accurate to what's on your website and on other review sites.
Add additional information that can be helpful to users. For example, restaurants can upload menu links and photos. This is information that can help users make a decision from Google's search page.
Start monitoring reviews. It's entirely possible, if Google set up a page for you already, that you have reviews already. Audit and respond to them as necessary to engage with your audience.
Add business areas, if applicable. Service area businesses and hybrid businesses can add up to 20 service areas within a two-hour driving distance from your home base.
All of this gets you well on your way to having a useful and robust infobox. There's one more thing you need to do, though, and that's the core of this post: verify your ownership.
Step 3: Verification
Verifying your ownership of your business is exceedingly important.
For one thing, without verification, you can't do much with your profile. You can add information, but Google has to verify it themselves before they will update it. You also won't be able to respond to, flag, or otherwise engage with reviews as anything more than a basic user.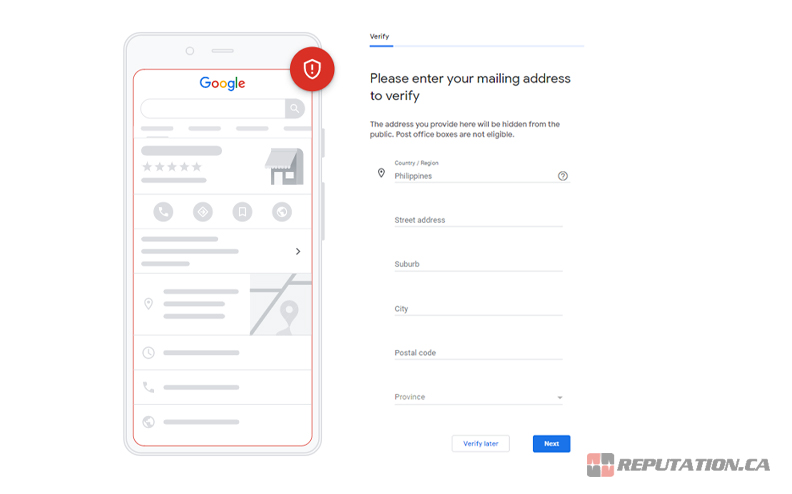 It's important that you fill out your profile information before you verify. Once you verify, that information will be set, and if you change it, you will likely need to verify again. This applies to major information like business name and address; things like hours can be changed more freely.
There are five different ways you can verify your business, so let's go over each of them.
Option 1: Verify by Postcard
The most common method of verification, postcard verification, is the one the vast majority of businesses will use. The process is fairly simple. Log into your business profile and click to Request Verification. Make sure your business address is accurate, and click Verify Now.
This will trigger Google to send you a postcard in the mail. This postcard will have a verification code on it and can take up to two weeks to arrive. Google will not call asking for it, nor will they ask for it through any other service. Keep the code secure; it's the proof that you own your business, so if someone else gets it, they can claim your business instead.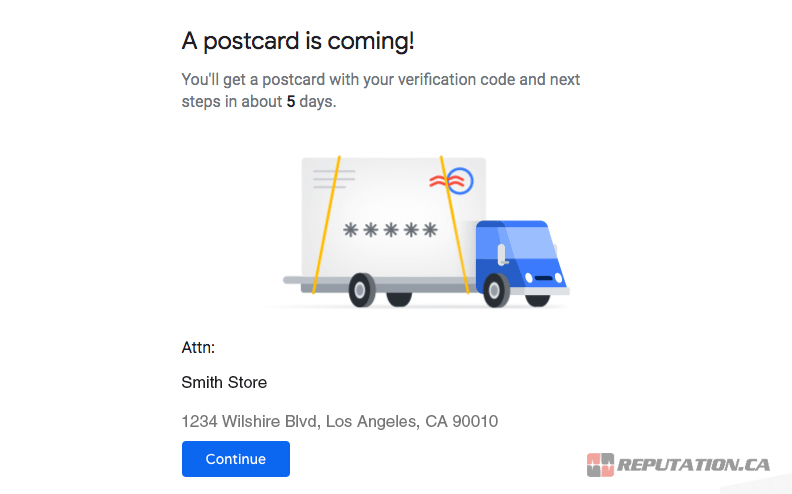 The verification code will expire after 30 days if it is not used. Once the code arrives, return to your Business Profile and the Verification section. Google will ask for the code, and you can type it in.
Option 2: Verify by Phone
While a phone call would be the most convenient for most people, Google only offers phone verification to a select few businesses. When you click the "verify now" button in your Business Profile, you may see a phone option. If you do, feel free to use it.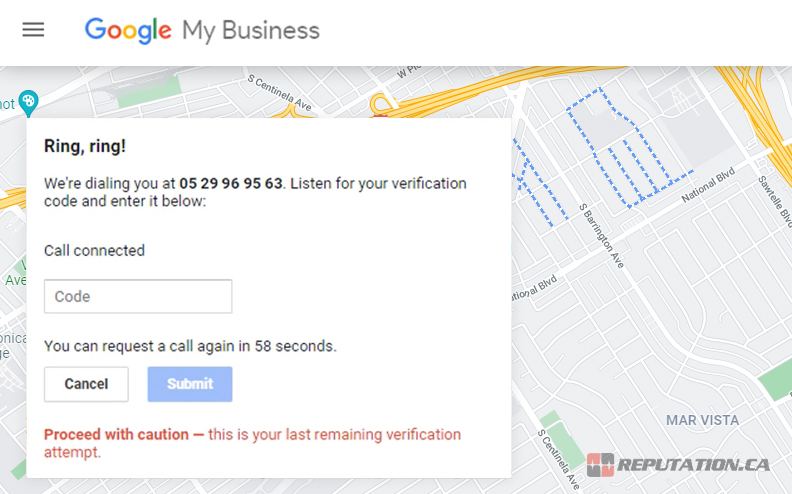 Phone verification requires that you have a dedicated business phone line that you – not an answering service – can answer, or that can receive texts. Check to make sure your phone number is correct, then click the button.
Once clicked, Google will either robocall your business or send your line a text, both with the verification code. Once you have the code, you can plug it in and get verified. Obviously, this is much faster than mail verification, but it's not available to everyone.
Option 3: Verify by Email
Email is also a convenient option, so if your business has a dedicated email address – not a personal address you use for your business – you can try to verify by email. The process works the same as the other verification options.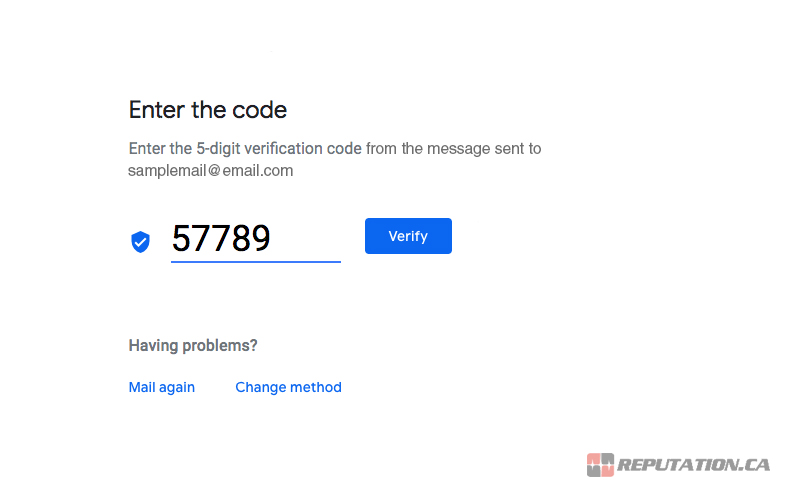 Visit your Google Business Profile and click on the Verification section. If email is one of the available options, simply click it and ensure that your email is the correct address. Google will then send you an email with your verification code, which you plug in back in your Business Profile page, and you're done.
Option 4: Verify by Search Console (Instant Verification)
The fourth option is a little different. This one requires you to have verified your business already, for SEO purposes, using a different Google system. This different system is the Google Search Console, which is used to verify your Google Analytics and your ownership over your website or business storefront.
Note that any online business with a website can verify via the Search Console. Only businesses with physical locations or service areas can use this to verify a Business Profile, however. Online-only businesses can verify their Search Console but not their Business Profile. It's a little confusing but makes sense.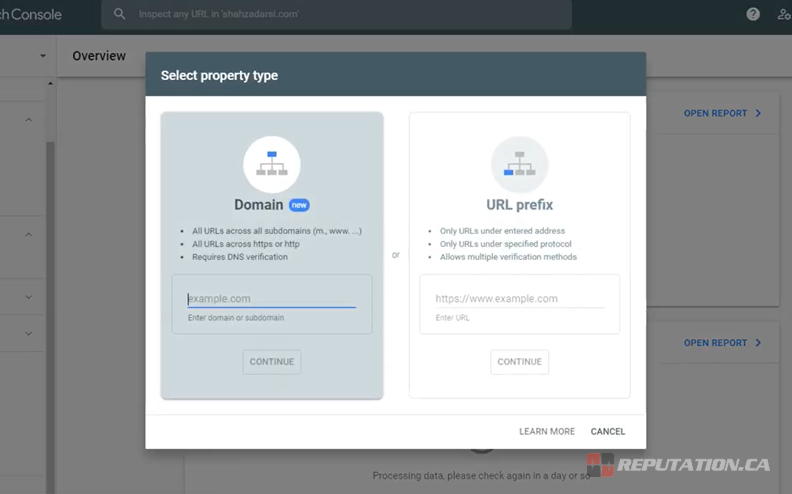 The process for verifying via the Search Console is a little more complex and may involve editing your website code directly. You can read more about it here.
Option 5: Verify by Video Recording
In rare circumstances, Google may want to do an additional level of fraud prevention and verification for your business. This typically happens in cases where your business has been the target of fraud or identity theft in the past, and potentially when other options are not available. It's quite rare.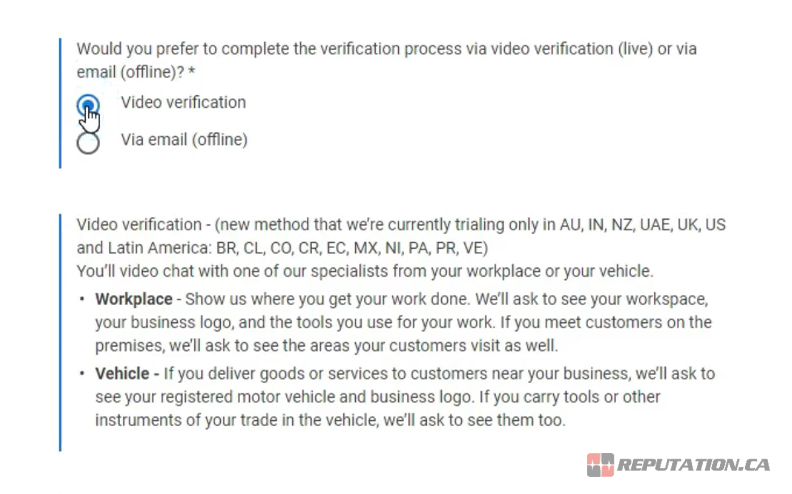 All you need to do for this option is take a video recording. The video must be one continuous take, with no cuts or edits. It needs to include:
Your business location, in enough detail for Google to verify landmarks, street signs, addresses, and so forth.
Your business equipment, so that Google can verify that your business actually exists and does what it says it does. For example, walking into a garage to show your lawn care equipment for a landscaping business would work.
Proof of ownership. You need to show that you, personally, have access to areas and systems only a manager or owner would have, like employee-only areas locked behind keys or cards, a point of sale system, or sensitive documents.
A general flow might be starting with a view of a street crossing, a landmark, and your business address on the building and sign. Then, walk into your business, using your key to unlock the facilities and offices. Then show your business documentation.
Once you have this video complete, you need to upload it to Google and wait for a manual review. If it works, you'll be verified; otherwise, they'll reject it and ask for verification again. After verification, you can then delete the video so that neither you nor Google has access to it.
Why Can't I Verify by Phone/Email/Video/Search Console?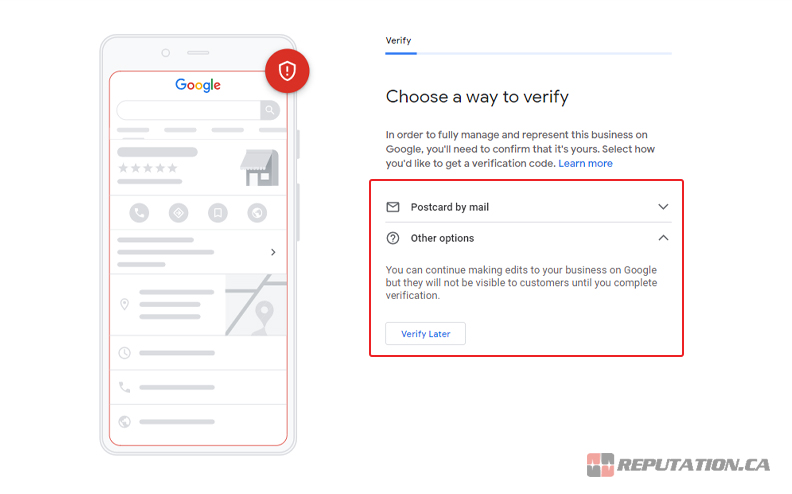 Google takes great pains to state that each method of verification other than the postcard method is only available to select businesses. However, they do not say what makes a business eligible for a specific kind of verification. Unfortunately, we don't know either. If you do, feel free to leave us a comment explaining!
What if my Business has Been Verified Already?
If you find that your business account has been claimed already, there are two possibilities. Either you or a previous owner claimed it, and everyone has simply forgotten how to access the accounts, or someone else has maliciously claimed your profile out from under you. In either case, Google has information on how to request ownership and re-claim your profile here.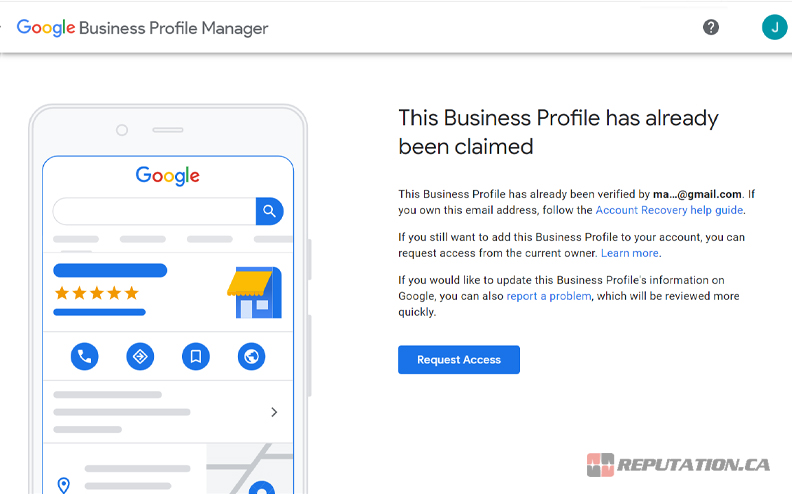 If you've followed the steps so far, you should be done! Once verified, you have full access to all of the features Google Business Profiles give you.