Reputation management companies and services are notoriously difficult to analyze by reading content online, and for obvious reasons. A company or service that specializes in managing a reputation should, you would think, be able to manage their own. You can't always trust every review you read.
What we're striving to do today is review one such service, with an unbiased look at what they do and how they achieve it. The service in question today is Reputation Defender.
Disclaimer
Before we dig in, we should clear the air a bit. We're a reputation management company, and thus competitors to Reputation Defender, though we may have slightly different target audiences. This gives us a unique insight into the viability of their services, but it also forms a bit of a conflict of interest. If we say something negative, are we doing it simply to speak poorly about the competition?
You have our word that our review is as unbiased as possible.
We're not going to say anything negative without reasoning, and we're not going to say anything positive unless we believe it's true. They have not paid us or compensated us in any way for this review. It's simply a review and comparison of a popular service that we've seen pop up a few times on message boards and forums. Take that as you will.
Let's dig in!
Who Runs Reputation Defender?
Reputation Defender is one of the oldest dedicated reputation management companies on the market, established in 2006. They claim to be the oldest, though ReputationX seems to have been founded in 2005, a year earlier, so that claim isn't entirely accurate.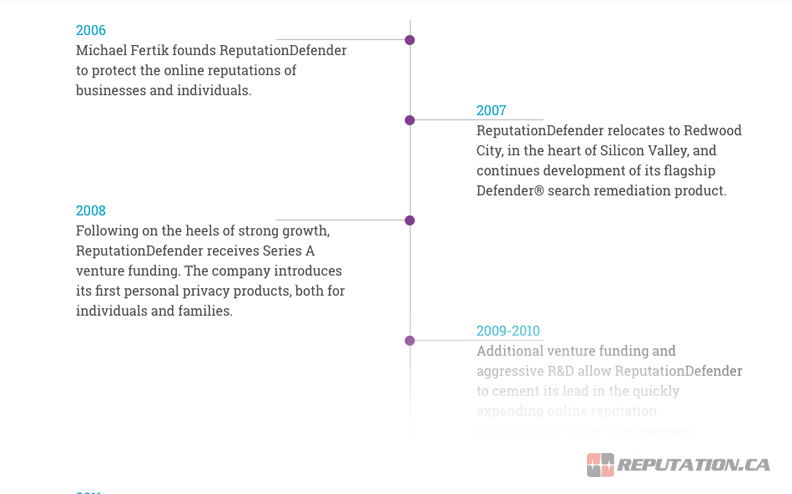 Reputation Defender isn't small-time, that's for sure. They've run through several rounds of venture funding since their inception, securing tens of millions of dollars over the years. They've used those funds to acquire companies, develop patents, and expand to additional offices. As the original company grew, it changed its name to Reputation.com, but eventually split off again; Reputation Defender became the core reputation management company spun off into a subsidiary, while the core Reputation.com established its unique portfolio of services.
In 2018, Reputation Defender was acquired by the Stagwell Group, a portfolio company run by Mark Penn, a man who has been active in United States politics (as well as politics abroad) including campaigns such as:
Electing Ed Koch as mayor in the 1980s
Pushing Bill Clinton and the Democratic Party to a more conservative stance in 1994.
Electing Hillary Clinton to the Senate in 2000 and 2006, and her initial bid for president in 2008.
Pushing Tony Blair's election campaign in 2005.
According to Wikipedia, Mark Penn is also currently an outspoken supporter of Donald Trump, and all that entails. He has been known to support Trump's campaigns, speak against impeachment and investigation into Trump's affairs, and refers to Deep State conspiracy theories with regards to the Democratic Party of the United States. All of this info somehow made it onto his personal Wikipedia page in February 2019.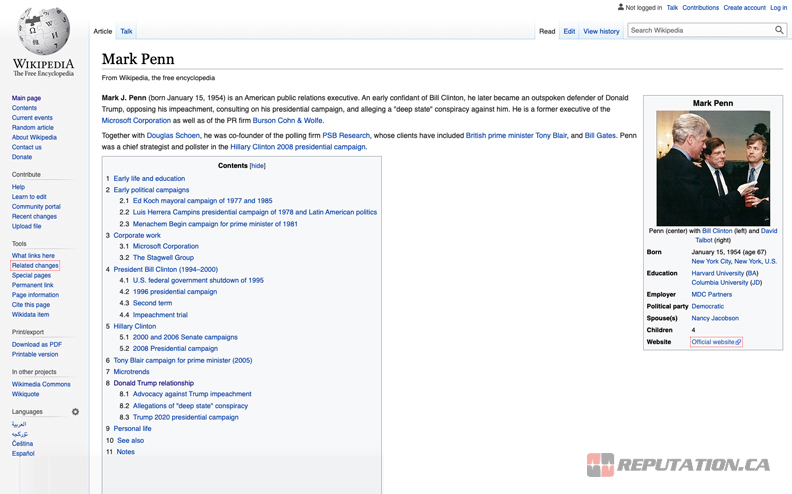 Now, whether or not any of this info on Wikipedia influences Reputation Defender is another story. The actions of the owner do not necessarily influence anything to do with the company itself, other than perhaps connections to high-profile business clients.
Indeed, Mark Penn is not the CEO of Reputation Defender; he's the owner of the group that owns Reputation Defender. The actual CEO is Rich Matta, a much more subdued personality who supports data privacy but allows for data tracking to combat the coronavirus and has a nuanced understanding of the pros and cons of privacy legislation. All in all, the chances that Penn is directly influencing the perspectives and actions of Reputation Defender are slim, but we wanted to point out the association in case it's important to anyone deciding on whether or not to use their reputation management services.
What Services Does Reputation Defender Offer?
Reputation Defender has a wide range of services. They're a large company, and they work with everyone from small businesses to executives and VIPs to large brands and firms.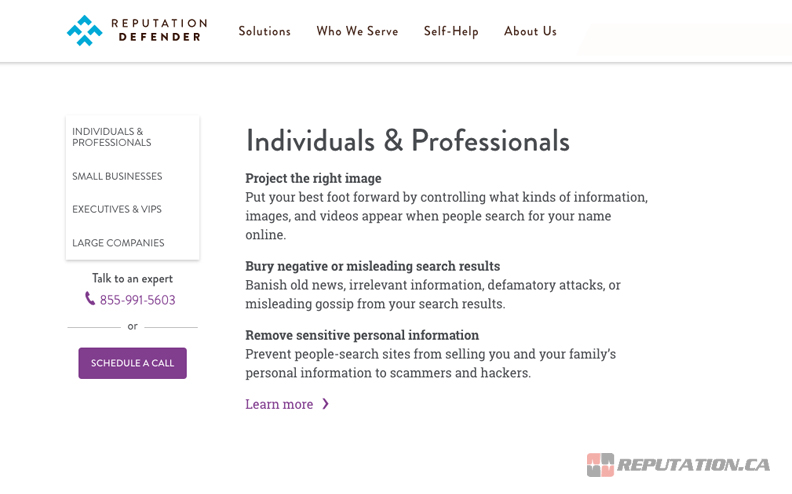 Here's are some of the individuals and companies that they serve:
For individuals, they focus on removing personal information and protecting online privacy, to avoid doxing and other negative consequences.
Small businesses have a stronger focus on traditional reputation management; soliciting more good reviews, addressing fake reviews, controlling accuracy in information, and enhancing local SEO.
For VIPs, they streamline an online presence and help remove false coverage, guide online conversations away from sensitive or false topics, and help remove personal information of the VIP and their families to reduce the dangers of doxing and consequences.
For large companies, they employ a mixture of SEO, public relations management, and privacy tools to help protect your team and employees, while also managing reviews and other reputation facets.
Throughout all levels of service, they focus on the same core concepts:
Control over search results. Suppress false information, promote positive information, strive for accuracy, and generally reduce the rates at which false, misleading, embarrassing, and out-of-date information appears.
Privacy for the client and their families, employees, and associates. Doxing is a dangerous modern threat, and Reputation Defender helps remove personal information from the web to help hide sensitive personal information.
Review optimization. This is the standard fare; remove fake reviews, address negative reviews, solicit positive reviews, and generally optimize review profiles for positive results.
Additional services. Reputation Defender also deploys additional services for some clients, such as training and protection against spear phishing.
One of the main boasts made by reputation Defender is the patents they have filed for products and services. These are primarily parts of their platform for grading privacy and reputation based on external factors, and tools used for optimizing them. The link above contains the list of patent numbers, which you can look up through databases like Google Patents.
Packages and Pricing
As you might expect from a company of this size with such variable clients and services, their pricing information is complex.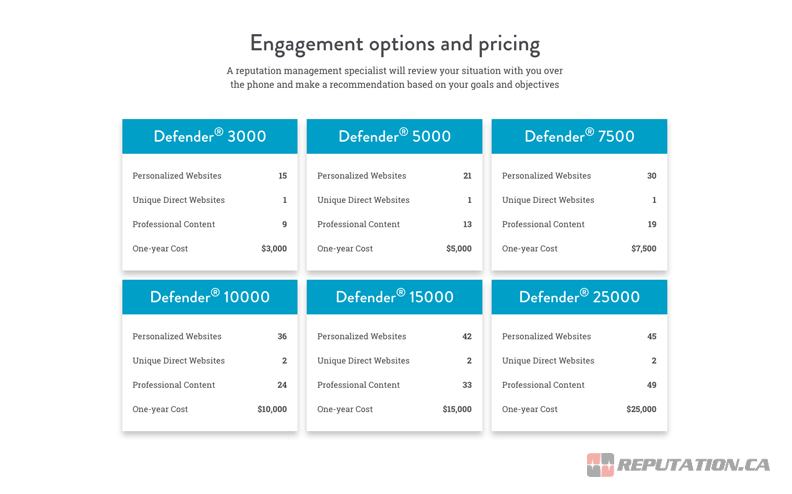 Here's what you're looking at:
Next, let's get into the online reviews of Reputation Defender and what their customers have to say.
Online Reviews
A reputation management company is only as good as their services let them be, so you would expect a company like Reputation Defender to do the legwork for themselves, if for no other reason than to serve as proof of concept. Indeed, their CEO has scarce information online, and their business has all the right profiles set up.
So, what do these profiles tell us?
1. The Better Business Bureau profile offers a 5/5 profile with accreditation, with 15 complaints registered and closed over the last three years. Now, the 5/5 is a bit misleading, as it is based on only a single review posted in 2018. The majority of the past complaints seem to be a miscommunication about whether or not a service is one-time or subscription, the scope of services, or the overall price.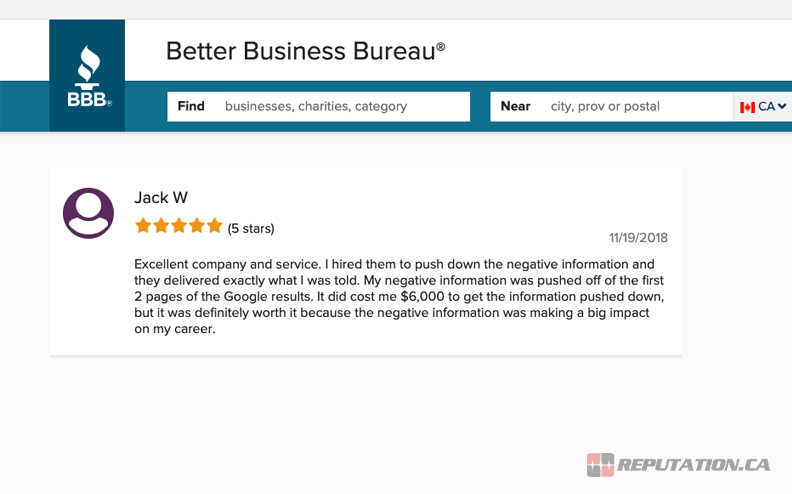 2. The Yelp profile is somewhat worse. Here, they have universal 1-star reviews (albeit only four of them) and a 1/5 star profile with very little information on it. Here, reviews indicate that the content they provide for SEO purposes is poorly written, the scope of their services is limited and designed to promote upsells, and the customer service is poor.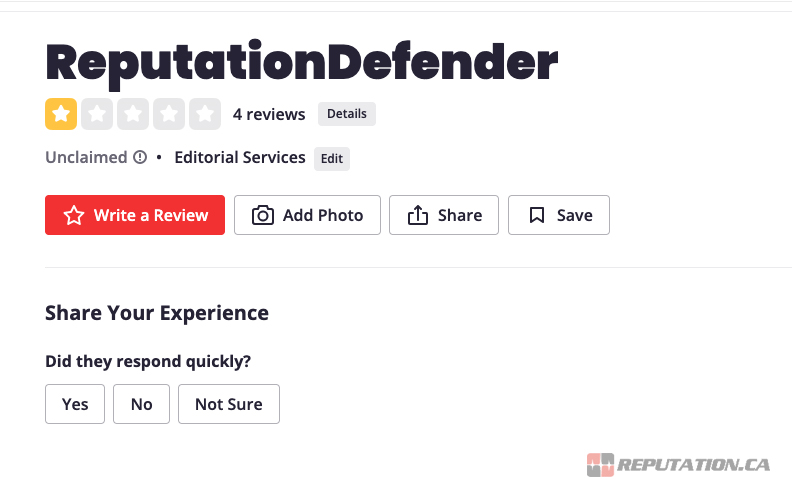 Interestingly, they have a second Yelp page with similarly negative reviews. Neither profile is claimed, either, which is odd for a supposedly comprehensive reputation management firm. Yelp isn't exactly a small or niche site; why wouldn't you have your business profile claimed? Worse, searching Yelp specifically for mentions of the company turns up dozens of reviews for clients of Reputation Defender being called out for using their services to buy fake positive reviews.
3. Their profile on SiteJabber is about what you would expect from a reputation management company's profile. A 4.7/5-star review with over 1,000 reviews, a high rate of response to reviews, and a high customer satisfaction rating. All of that sounds good, but the volume is suspicious. This company has over 1,000 reviews on SiteJabber, but under 10 on the BBB site or Yelp? Many reviews indicate that these people found the company through CNN ads and used a free basic service to essentially Google search themselves and see what's out there; very few seem to have purchased any of the actual services listed above.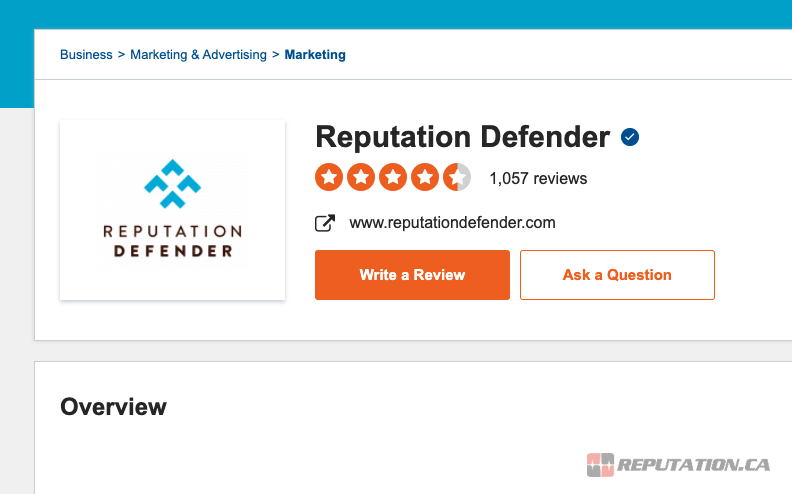 Here's something interesting, though: in a post published in July of 2020 (roughly six months before this article was written), Reputation Defender had only 3 reviews on SiteJabber, and all of them were 1-star reviews. If these screenshots were taken at the time that this author wrote their article, it appears that they tacked on another 1,000 reviews in a very short timeframe. The volume increase in positive reviews is surprising, to say the least, but make of that what you will.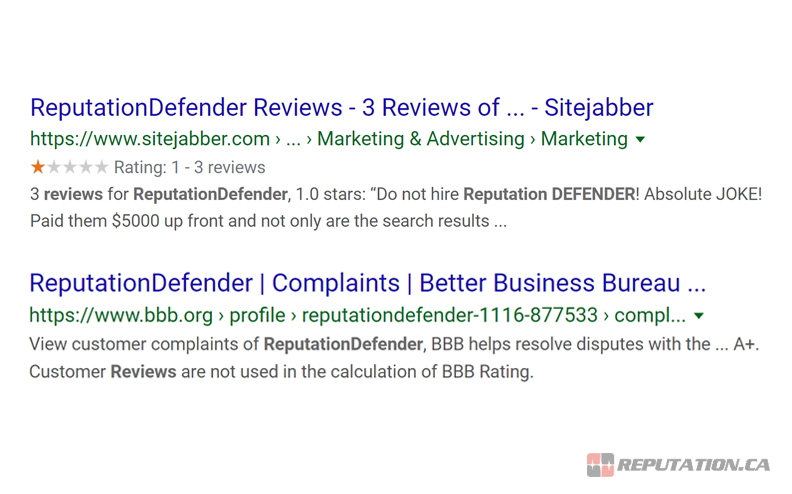 4. Their TrustPilot profile is a bit more balanced but tells a similar tale. There, they have a 4.3/5 rating with 125 reviews. Interestingly, despite existing in some form for years, they only claimed this profile in 2019. There, their positive reviews generally lack substance, as do many of their negative reviews, though a few have more details. Those tend to report a similar story; poor customer service, inconsistent products, and high prices. To their credit, they have not flagged any reviews, positive or negative.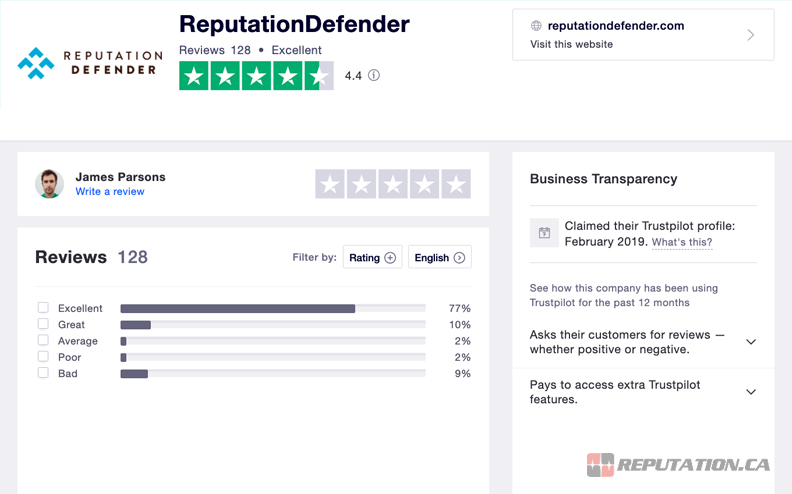 The story is similar across the board. It looks to many users as if this company has performed a simple Google search for its name, found the profiles where it had a negative reputation, and focused on improving those profiles over the others. Unfortunately, real people don't ignore these small details.
The biggest complaint that we saw popping up in these reviews is that the service is far more hands-on than customers would have hoped for. Many of the removal requests for their search results had to be performed by the customer which they felt wasn't worth the high price tag.
Overall Impressions
While Reputation Defender may have a handle on their business model, their business model doesn't seem to be entirely about reputation management. From many of these reviews, they seem to promise the world, but many of their customers don't seem to be too happy with the outcome of their campaigns.
Looking at their services in another light, it's hard to justify the expensive price tags they attach to some of their services. Basic SEO, content marketing, and social media management can be expensive, but they can also be accomplished manually for far less than $10,000 per year. Social listening tools are common and near-free. Some of their other services, such as search result management, require far more time and resources and are expected to be a bit pricier.
The negative reviews are a bit concerning, with the top two concerns from customers were that they were charged without realizing they were paying for a subscription every month and that they didn't realize that much of the work was to be performed by them, the customer. Businesses change their practices and update their services frequently, so this may no longer be the case, but it's important to ask about these things if you're considering giving them a try.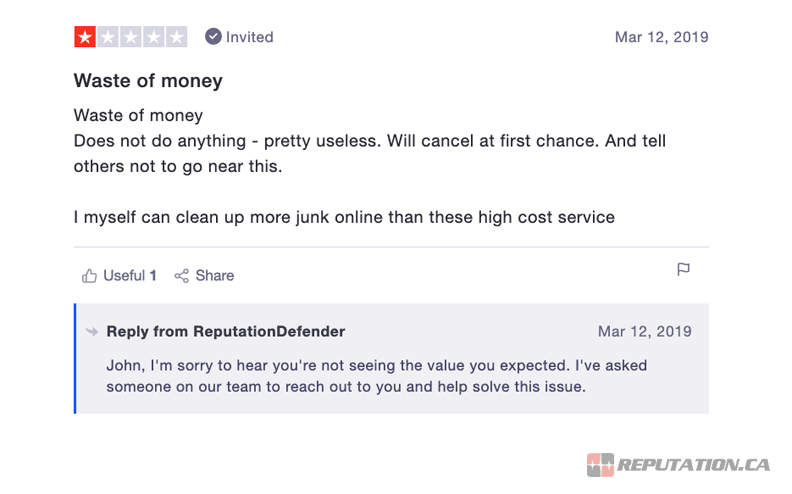 On the positive side of things, they were also very quick to address both positive and negative reviews on these sites. It shows they're paying attention and have somebody on their team that is actively monitoring these things.
We encourage you to make your own decisions with the evidence presented. If you want to hire a reputation management company, make sure you do your search and hire a company that is effective and will help to accomplish your goals.