Reputation is everything. After all, if you cannot be relied on to offer quality service, there will be a distinct lack of customers willing to defer to your services. For hospitality agencies like hotels, managing your reputation to appeal to potential guests is an inescapable part of the industry.
Nowadays, your reputation is managed on both the personal and digital level since we live in the era of review platforms like Yelp or Google Reviews. While your reputation might seem to be at the mercy of your customers, there are measures you can take to regulate your hotel's reputation amongst potential guests.
Managing how the general public perceives you and your facilities is a much more involved process than even 20 years ago. Here's how to do it.
Review Response is Critical
We live in an interconnected society wherein we can easily communicate with people hundreds or thousands of miles away. So, it was inevitable that this communication technology would eventually allow us to publicly post our opinions on the quality of service for facilities across the globe.
Hotels and other hospitality providers are no more exempt from the review process as your favorite Tim Hortons might be. There are countless websites and applications that officially field the reviews for service providers, the most commonly cited one being Yelp. On platforms such as this, reviews that are both good and bad are posted for potential guests to review before booking a reservation.
Regardless of the level of quality and the effort you might put in, people are more liable to put faith in the reviews on independent platforms than anything on your website. This reliance is why, to preserve your reputation, you need to be prepared to respond to any reviews placed on your hotel. If you do not already have an employee dedicated to checking these review sites for new postings about your facilities, hire or assign one as soon as you can. From here, you will be able to begin protecting your reputation from false reviews and adjust for valid criticisms.
The main goal of this division of your staff is to watch for any negative reviews being posted about your accommodations, services, or staff. Should these reviews exist, this is where your team's ability to respond comes into play.
Let us run through a hypothetical. Is there a customer who has left a review of the hotel stating that the room they checked into was filthy? Your first instinct might be to defend yourself. However, this would be the wrong play and would only serve to put the customer on the defensive while making you look argumentative to potential guests.
Instead, apologize that their stay was not what they expected to disarm them of any potential moral superiority. Then follow up and ask for specifics.
What was dirty?
Do they have images they could share?
Is there a way to make up for the disappointing accommodations?
Then make the promise that you will make corrections for future rooms and guests and invite them to come back and see that you have truly taken their concerns to heart.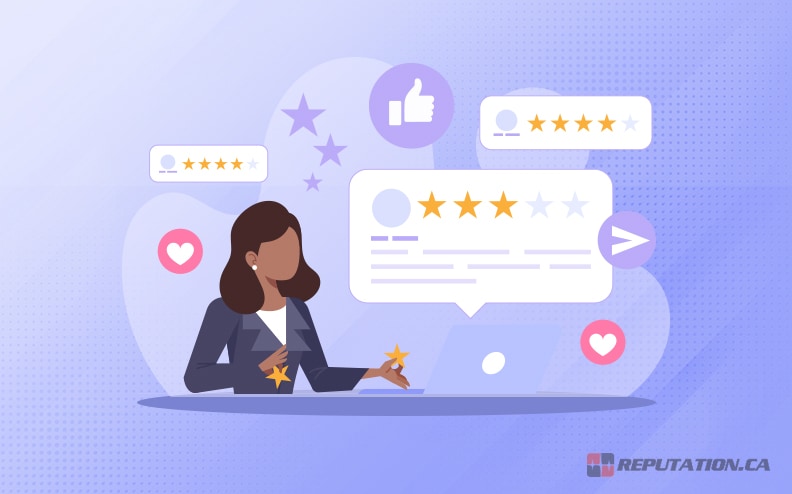 Pay attention to what the review says and determine if it is a valid concern regarding the quality of your hotel. From there, it becomes a matter of posting a response to the disgruntled customer. The simple reality is that your clientele wants to feel as though their concerns are being considered by the powers that be. Therefore, even if you agree that their review is valid, it is not enough to correct the issue and disregard the review.
You need to post a response to the review explaining that you understand their position on the matter. Explain that you will work on your accommodations or service to improve upon any valid shortcomings and gently press for details if you need them. We know it can be challenging to take this criticism without retorting. However, maintaining a good reputation requires patience and humility.
On the opposite end of this are the satisfied guests who have spent time in your hotel. These are the people you want to encourage to leave reviews. Positive reviews from satisfied customers will drown out negative reviews with ease if the incident was truly isolated. During the checkout process for the guests, ask how they enjoyed their stay and express how deeply you would appreciate their review being made public.
The brass tacks of this are that maintaining the balance between your positive and negative reviews is paramount to a successful hotel. With the relative ease involved in checking the reviews of a hotel before checking in, it is becoming more important than ever to ensure that yours are predominantly good. However, a review response policy is not the only tool to manage your hotel's reputation.
It seems that virtually everyone is on social media these days. Twitter, Instagram, Facebook, and so on are all full of clients who will have something to say about their stay. Unfortunately, since none of these are platforms designed for hosting reviews of any kind, it can be challenging to be aware of the impact these social media platforms are having on your reputation. However, keeping abreast of the social media response to your services can be an excellent way to manage your reputation by having a more direct method of corresponding with former and potential guests.
If you don't already have one, consider creating a profile for your hotel on social media platforms like Twitter or Facebook. That way, when a client has a question or concern, it can be immediately addressed.
That said, we recognize that it can be very difficult to catch every single conversation in which your hotel is mentioned or tagged. Fortunately, there are tools available to simplify your social media representative's job by monitoring for conversations of this nature and alerting them when the hotel is mentioned.
Tools such as Sprout Social, BuzzSumo, and Mention are all good options. Unfortunately, these tools have downsides, like a monthly cost, which adds to the burden of reputation management.
However, the main point is that taking advantage of social media to interact with your client base can serve to better manage any issues a particular guest might have. In addition, the use of social media can also help draw more attention to your hotel in a positive method.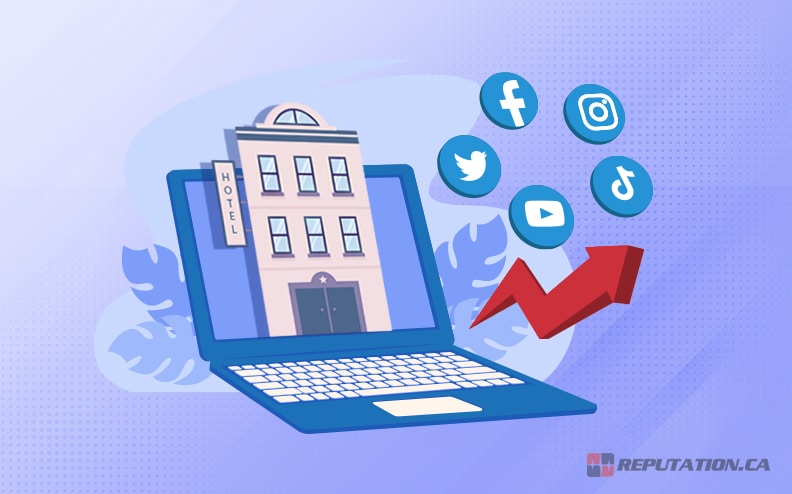 Social media outlets enable you to regularly post about offers, events, amenities, and more to draw the attention of people looking for hotels. You can also use it to establish your hotel's signature features to a potential client base and tend to your reputation that way. Social media can even take things a step further. Social media is currently a hotspot for influencers of all types to communicate with their fans, which can be used to your advantage.
Coordinating with these influencers can be an excellent way to manage your reputation and draw in potential guests. Supporting the influencer as a sponsor or inviting them to stay at the hotel can turn your facilities into a hotspot for their fans.
Many influencers on Instagram and YouTube have tens, hundreds of thousands, or even millions of subscribers and followers who will want to follow in the footsteps of their idols. This influence can be an incredible way to double your potential guests and give your hotel a significant boost in notoriety.
Keep Up to Date on Industry Trends
The field of hospitality isn't static. The status quo is constantly evolving as more and more amenities become part of the standard package rather than an additional purchase for guests. In some cases, the industry trends lean more toward newer forms of hospitality services that threaten to render your hotel obsolete in the eyes of the everyday consumer. One of the biggest trends to rise in hospitality in recent years is Airbnb.
Airbnb offers services akin to a hotel but offers a homier atmosphere by renting out residences rather than hotel rooms. While not everyone is as interested in the Airbnb style, it can cause some customers to opt-out of making a reservation at a hotel.
As Airbnb rises in popularity, you might find that they steal away your business. If you have a good reputation in the hospitality industry, you might find yourself able to circumvent the bulk of this lost business. However, you will need to put in a fair amount of effort to do so.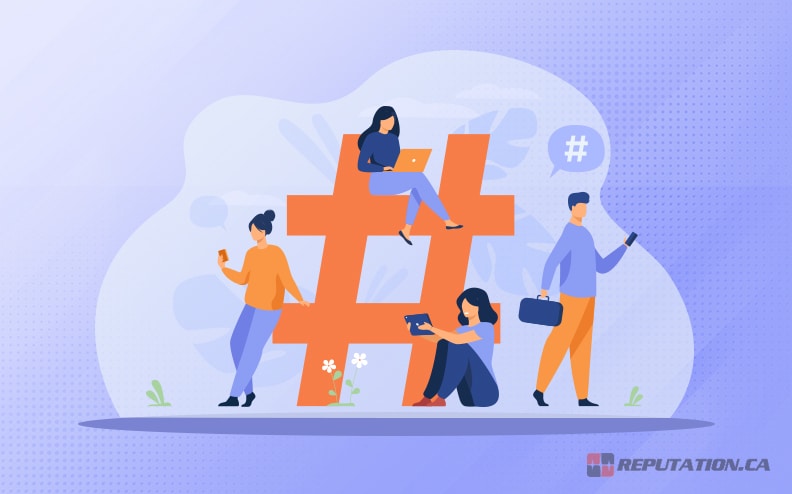 There is also the matter of keeping up to date on the situation in your geographical location. For example, if a significant crisis or event occurs in the area your hotel is based, it can affect how many people are willing to stay at your facilities. The former can prevent people from booking rooms, while the latter can lead to excessive reservation requests coming in.
Regarding both, the only real solution is to take steps to make your hotel more appealing in the midst of whatever is going on. Reputation management can help position your hotel as a better alternative than the riskier, lower-amenity Airbnb options available locally.
Airbnb, while cozy, might not offer as many amenities as a hotel. However, making certain luxuries a part of the standard reservation package can draw in guests looking to get more bang for their buck. These amenities can include food, entertainment passes, or other perks.
Keep Track of the Competition
Maintaining your reputation is all well and good, but you might find yourself at a considerable disadvantage if you do not keep yourself apprised of how your competitors represent themselves. Sometimes, lessons can be learned from your rival hotels who find themselves maintaining high reputations in the industry.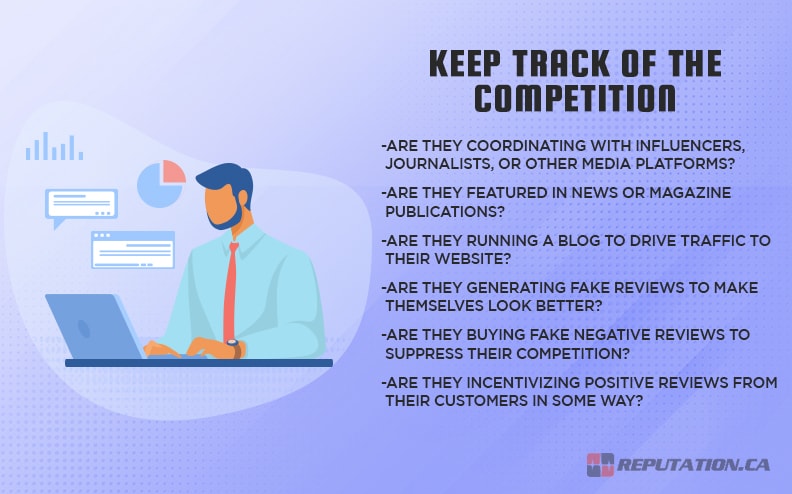 There are several details to check into regarding your competitors' reputation management practices:
Are they coordinating with influencers, journalists, or other media platforms?
Are they featured in news or magazine publications?
Are they running a blog to drive traffic to their website?
Are they generating fake reviews to make themselves look better?
Are they buying fake negative reviews to suppress their competition?
Are they incentivizing positive reviews from their customers in some way?
The above questions can allow your opposition to get a leg up on you if they are doing it while you are not. We're not saying to obsess over how your competitors go about maintaining their reputation. Just check to see what their methods are to glean some insight into managing your own.
Search Engine Optimization is Key
When people want information about the hotel, they will likely be running their query through a search engine like Google. Suppose they are looking into something specific regarding the services your hotel offers. In that case, that will be factored into their search parameters and might even send them to another result that might dissuade them from making a reservation. Combatting this requires search engine optimization to ensure the results lead to your page.
Let us say, for example, they are looking into a service that was previously criticized by a guest who misunderstood the extent of the service. If they search for that specific service and are directed to that guest's review, they might believe you do not offer a quality experience.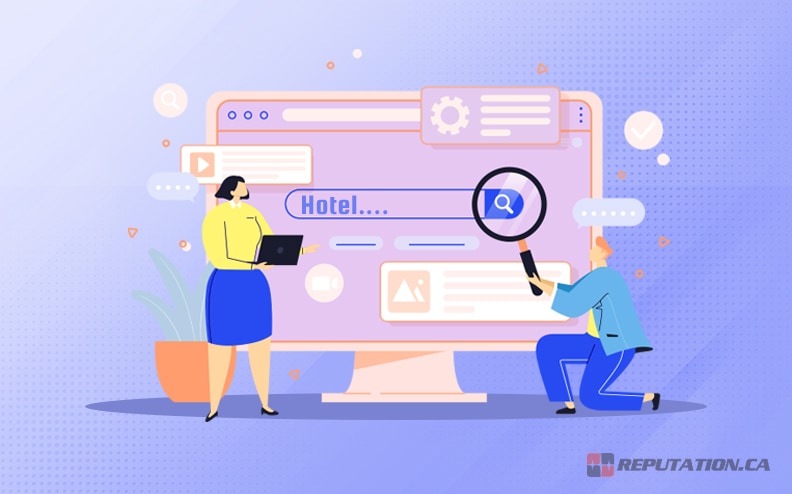 However, if your website offers information regarding the exact nature of the service offered for the potential guest to look into, then they will have a more reasonable expectation for their experience when they make their reservation while also making sure the previous guest's review is not taken to heart.
Search engine optimization relates to specific keywords scattered throughout your webpage or articles about you that will provide the insight they need without exposing them to potentially derogatory posts about your facilities. SEO can be beneficial for helping to lead them down a more desirable path to the information surrounding the hotel services and amenities.
Put the "Great" in Great White North
Reputation management is critical for a modern business. It can help you draw in clients when you maintain a good one or drive them off in droves should you garner a poor one. So, it is in your best interest to take every measure you can towards building your reputation. In an interconnected world, word will travel fast, and you can get more immediate feedback from your potential clientele and adjust as needed.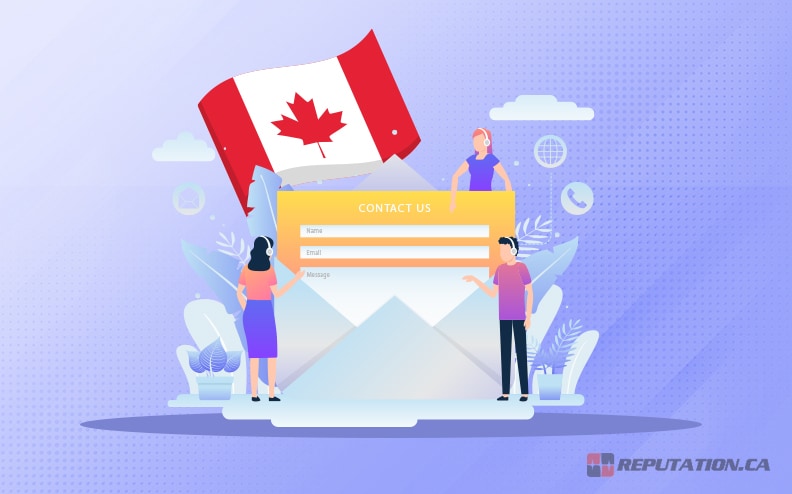 However, we realize that sometimes this can be a team effort. We at Reputation know that building up yours can necessitate resources you might not have on hand. We specialize in services that can carefully cultivate your reputation using tools and expertise to maintain your social media, SEO, and reviews to help you bring your hotel's status up. If you feel as though you need help to improve your image in the eyes of your potential guests, contact us today and see just how a little Canadian hospitality can go a long way.