Reputation management often has a bad reputation as an industry, largely due to unscrupulous individuals using poor techniques with poor clients to attempt to subvert public perception. Don't let a few bad apples spoil the bunch and write off the whole industry, though. There's real value to be had for any public figure, high-profile individual, or business that needs some public relations work done. There are several different ways to get this reputation management, so let's dig in.
What is Reputation Management?
Reputation management, in general, is simply the art and science of sculpting the reputation of a client. Whether it's a person or a business, whether they're beloved or reviled, a reputation management agent can help boost that reputation. It can do three things for you:
It can push a negative reputation closer towards neutral or positive.
It can reinforce a positive reputation to make it more positive.
It can increase overall awareness and traffic for a greater reputation across the board.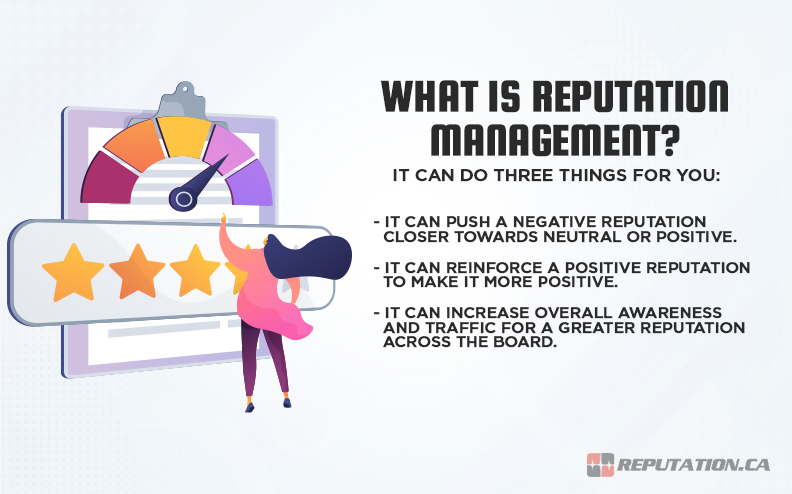 A lot goes into reputation management. It involves addressing negative press and reviews, providing customer service, refuting and reporting fake reviews, fighting slander and libel, watching for potential reputation disasters, and bolstering positive reputation through citations and reviews. It's a lot!
How Can You Get Reputation Management?
There are three general ways you can manage your reputation.
Option 1: DIY
The first option is the do-it-yourself method of reputation management. This is usually employed by two different kinds of entities; small businesses and individuals with little or no budget, and high-profile companies that can afford to have their own fleet of lawyers and public relations staff to handle anything that comes up.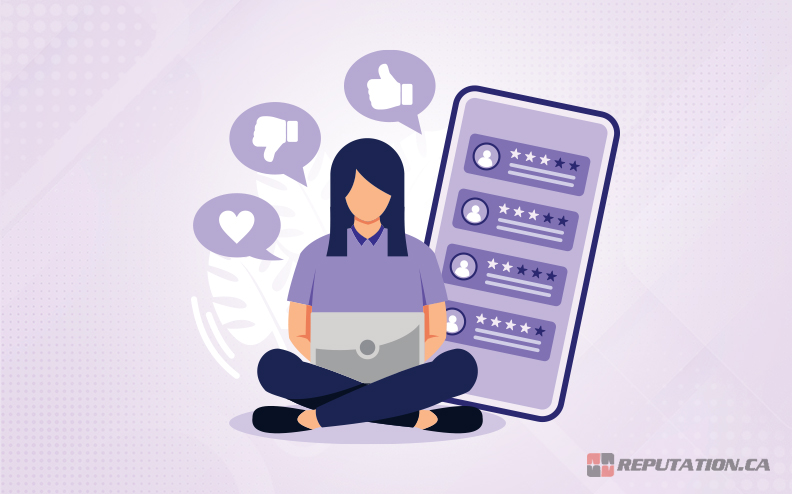 The DIY option is the least expensive in terms of money (for smaller businesses and individuals; large companies pay multiple salaries and fees much higher than most companies would charge) but most expensive in terms of time. You need to learn the ins and outs of reputation management, build connections, buy and learn to use reputation management tools, and more. It's no surprise that very few organizations and individuals turn to this method unless they have no other choice.
Option 2: Hiring a Consultant
The second option is to hire a reputation management consultant. Consultants tend to be individual specialists, and their skills and resources can be all over the map. At the low end, you have consultants working as freelancers on sites like Freelancer and Fiverr, offering their services for a price point nearly anyone can afford. However, when they're charging so little, you have to wonder what they're doing to save time and make the transactions worthwhile. Often, this means using automated tools, black hat techniques, and other forms of shortcuts that can be largely ineffective, but fast and cheap.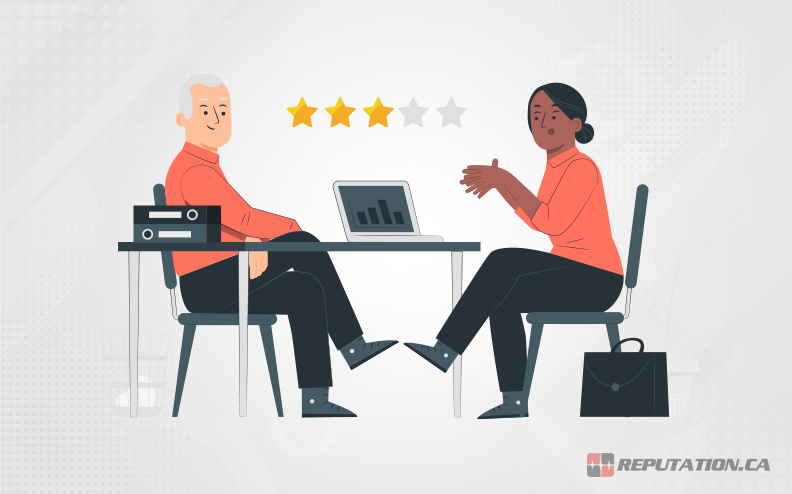 On the other hand, there are plenty of consultants who have high-powered tools and connections at their disposal. They may have years or even decades of experience in relationship management, public relations, or outreach. Some of them even have small teams or groups at their disposal to help them handle all of the work that goes into reputation management. Of course, they charge accordingly.
Option 3: Hiring a Firm
The third option is to hire a company or firm to handle your reputation management. Firms tend to be a little more obfuscated than individual consultants, but they also have many more resources at their disposal. They may have broader connections across multiple industries and publications. They may have high-powered tools and software available to use, that smaller entities can't afford. Some of them also have insider connections with high-level publications they can leverage to your benefit.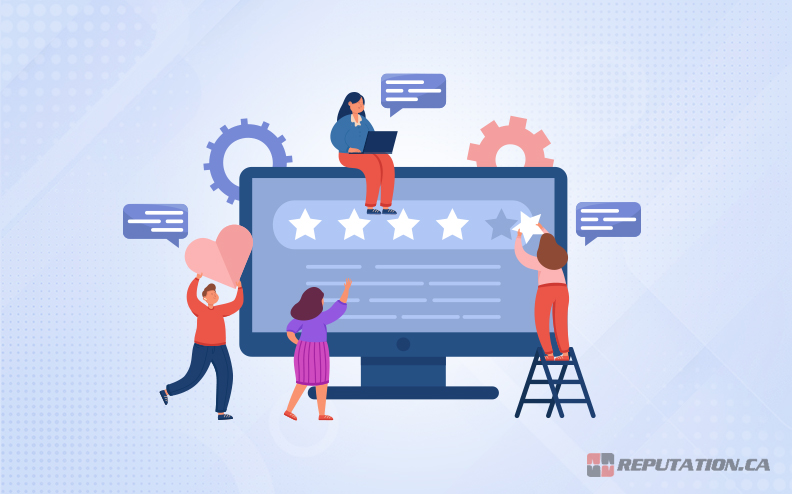 Companies tend to be the best option as the right balance between cost and effectiveness. Sometimes consultants are better, but they may suffer in one area or another, such as costing more, taking more time, or being less effective. Companies usually have the right balance of all aspects.
What Do Reputation Management Consultants Do, Specifically?
It's one thing to know what a reputation manager does in general, but what kinds of specific tasks will they be performing? We've listed the core components of reputation management below. Keep in mind that a consultant is just one person or a small team; they have all of these responsibilities the same way a company does. That means they have to sacrifice something; either they do it slower, less effectively, or they skip some of it. This isn't necessarily bad, as long as they're up front about it, but it's something to bear in mind.
They monitor your reputation on an ongoing basis.
Reputation monitoring is a core component of reputation management. After all, your reputation isn't static. As more people find your business or grow familiar with you as a public figure, they form an opinion. Some will leave reviews, good or bad. And, of course, there's always the chance of a scandal or major problem that affects your reputation. A reputation management consultant will need to actively monitor your reputation and help counteract a wave of bad press before it gains a foothold.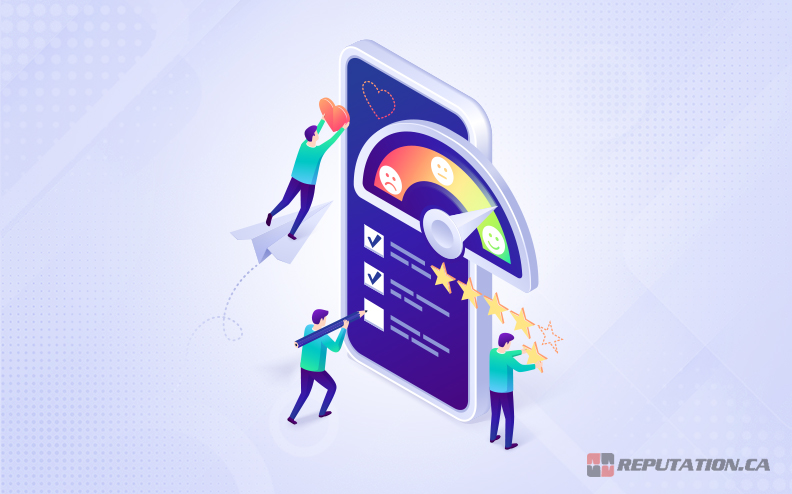 This is, unfortunately, the most likely service for a consultant to cut. Many consultants act as triage and repair; they come in, analyze the situation, fix what already exists, and give you tips on succeeding once they're done, but they don't stick around for ongoing reputation management unless you pay extra for that service.
They analyze your starting position and fix immediate problems.
One of the most common services offered by virtually every reputation manager – sometimes even for free – is called a reputation audit. This audit identifies your web presence and reputation across both online and, sometimes, offline publications. They look for reviews and perform sentiment analysis, they analyze whether you have real or fake reviews, and what problems you may be encountering.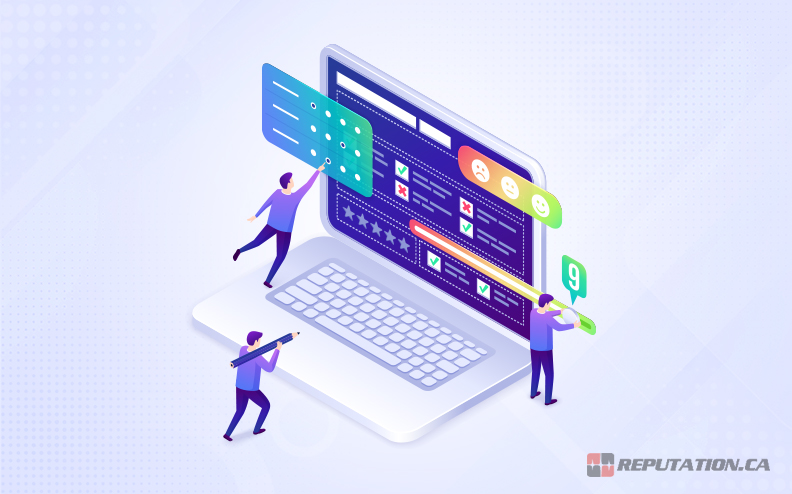 Usually, this audit may be provided for free or as an introductory offer as part of a free trial, and then optimization and fixing those problems is the real service. It's used as the demonstration of what needs fixing to further sell you on the reputation management services themselves.
They help build a more positive reputation through citations and reviews.
Reputation management consultants spend a lot of their time working to improve your reputation in two ways: they get rid of or counteract bad reputation, and they bolster and build upon good reputation. That means reporting and removing fake reviews, counteracting real negative reviews, and soliciting more positive reviews.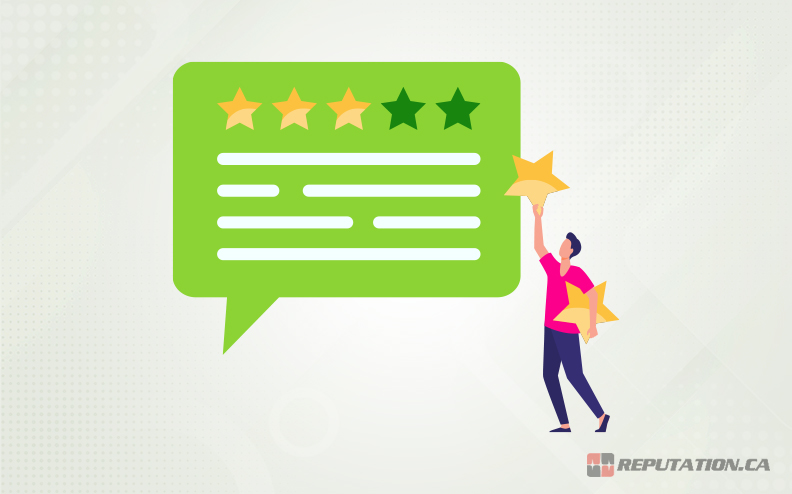 The bulk of this effort is spent on building more positive reviews. After all, there's only ever so much you can do to minimize negative reviews, because many of them cannot ever be truly removed, and a negative impression can't be counteracted by just refuting it. You need a significant bulk of positive reviews to counteract and outweigh the negative.
They actively watch for and counteract reputation threats.
As mentioned above, reputation monitoring is a core component of reputation management. However, there's more to it than just monitoring passively and waiting for a crisis to occur. The best reputation management consultants and companies all take the time to monitor client actions and news, so they can proactively help to counteract negative press before it gets the ball rolling.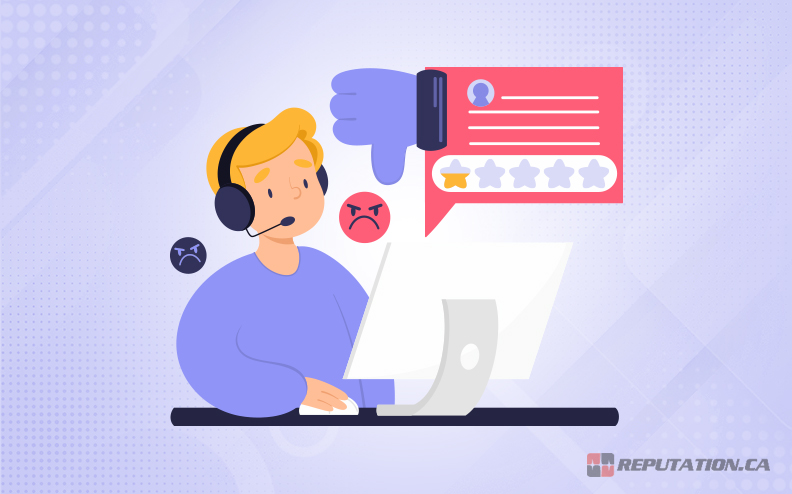 All of this is a lot of work, especially for high-profile clients, and it requires a lot of time and effort from companies and consultants in the reputation management space. It's no wonder that such services can often run a steep price tag.
How to Pick a Good Reputation Manager
If you know you need reputation management or will in the near future, it's a good idea to pick someone to handle it for you before a crisis. The first choice you have to make is between a consultant and a company. We're leaving out the DIY option because, frankly, it's not worthwhile enough to pursue for the vast majority of people and businesses.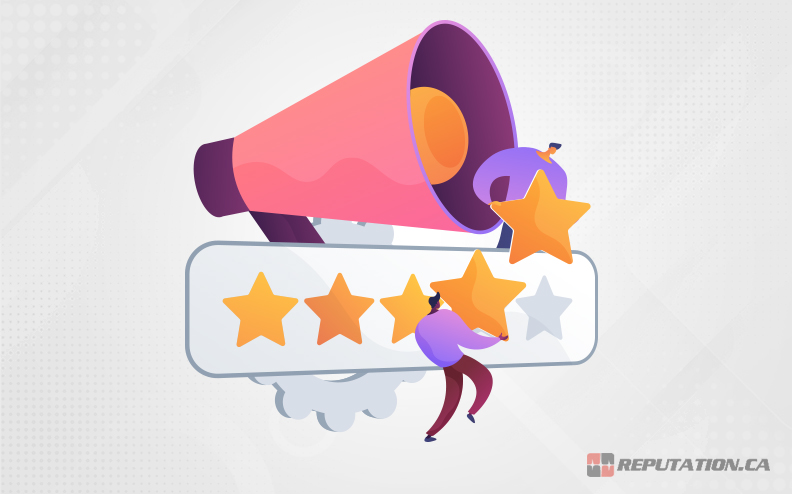 Which do you choose? That depends somewhat on you and your budget. Consultants tend to be cheaper than companies, but may have fewer resources, less effective services, smaller service packages, or longer turnaround times. The best consultants out-do even good companies, but they're much more expensive on average.
We recommend a company – like ourselves – but consultants are a perfectly viable option. The trick is picking a good one. Here are our tips for doing so successfully.
Look for a long history of success.
The first thing to do is look into the history of the company or contractor you're investigating. How long have they been working in the reputation management space? Are they newcomers, or are they an established presence? Ideally, you want to go with someone who has a lengthy reputation of their own.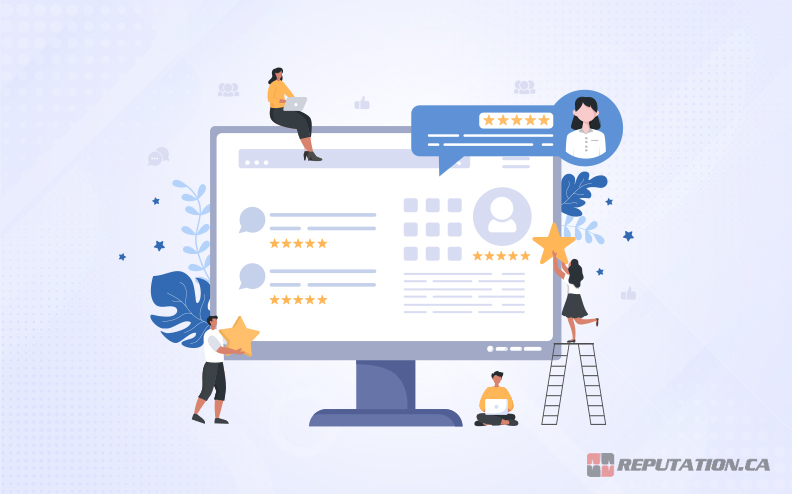 While you're at it, see if they have past clients they recommend, potentially even some you can talk to directly. Being able to interview a past client about their reputation manager, to see how well they performed, can be an invaluable resource.
Look for mention of real, valuable techniques.
One of the first things you should ask about when interviewing a reputation management consultant is what techniques they use to handle fixing and boosting a reputation. Good techniques include:
Soliciting positive reviews from existing customers.
Analyzing the source of negative reviews to extend customer service and fix systemic problems.
Analyzing and removing fake reviews, both positive and negative.
Performing outreach and SEO work to build citations and reputation across the board.
These sorts of techniques are important for building an organic, holistic reputation that doesn't look sculpted or fake.
Check and review their service contract before signing it.
A good reputation manager, either a company or an individual, will have a service contract specifying what they do, what the results can be, the timelines involved, and more. You want to look for key clauses and statements that indicate either a good or a bad contract.
Make sure they don't specify narrow timeframes. The greater their promises, the less realistic they are.
Make sure they give you ownership of the intellectual property created for your web presence. You don't want to cut the contract only to find most of your blog disappears, for example.
Make sure they keep you in the loop. If their services are largely fire-and-forget, you won't know what they're doing and might mix up messaging.
It may even be worthwhile to have a lawyer go over the contract, especially if it's written in legal language, to make sure there are no other red flags. Speaking of…
Watch for red flags to avoid.
There are a lot of potential red flags that can indicate a bad reputation management company.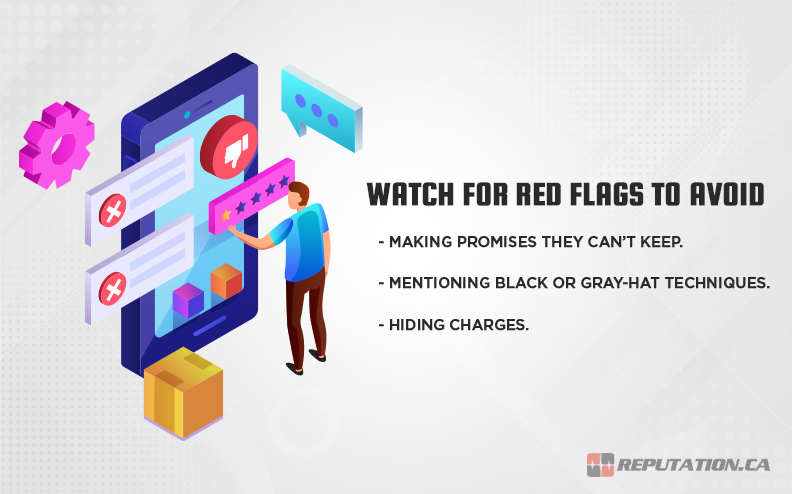 Making promises they can't keep. Fast, guaranteed results are almost always fake.
Mentioning black or gray-hat techniques. "Review generation," for example, needs to be done very carefully.
Hiding charges. If there are fees or charges associated with performance or lack thereof that are hidden, walk away.
You may also want to trust your gut instinct. Often, shady reputation consultants feel off somehow that you might not be able to pin down.
Watch for signs of astroturfing.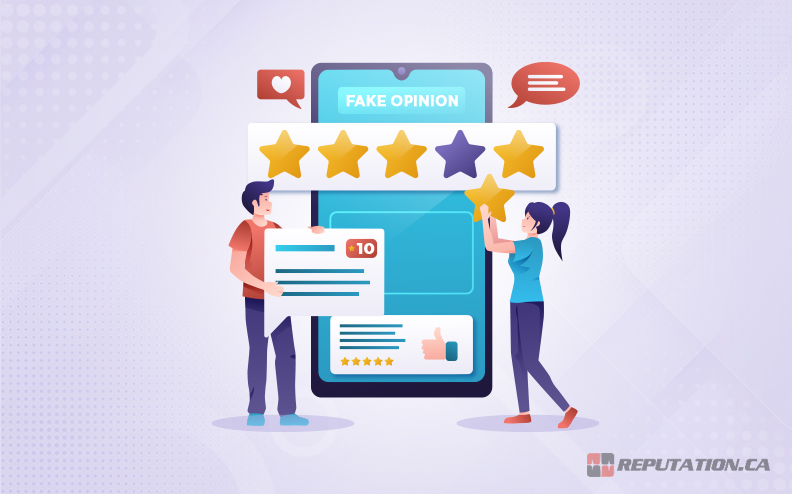 One of the worst things a reputation management company can do is astroturf a better reputation. Astroturfing means creating a fake public opinion, usually using large groups of fake accounts on social media, Reddit, and review sites, to make it look more legitimate. Not only can these be spotted and removed, but they can also be called out and lumped into a further bad reputation for you.
Should You Hire a Reputation Management Consultant?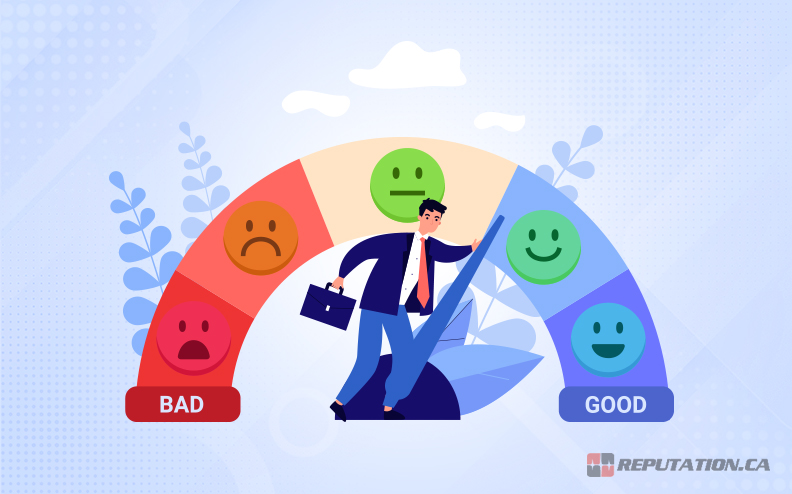 When you have the choice between a reputation management company and an individual reputation management consultant, which should you choose? The answer is: it depends. Sometimes a consultant can provide adequate services at a fraction of the cost of a company. Sometimes the problems you face are bigger than one consultant alone can handle. It all depends on your situation and the scale of your reputation. If you have any questions or concerns regarding reputation management consultants, please feel free to contact us. We would be more than happy to answer those questions for you.