Today, the internet is not a novelty you can ignore. As a law firm, you need to attract new clients, and traditional marketing channels can only do so much. If you're the kind of law firm advertising primarily on the radio, on billboards, and TV, you might be garnering a bad reputation. Many young people are inherently skeptical of those kinds of law firms.
Virtually everyone, when faced with the need to find a law firm, will take to the internet. They'll search for law firms in their area, and they'll read reviews and testimonials, looking to get a full picture of the quality of service of the firm.
Thus, it is of critical importance that:
You can be found online.
You have a positive reputation online.
You can refute, suppress, or remove negative content about you online.
It's all about reputation management, and it's critical to the success of a modern law firm. To assist you with this, we've put together a list of ten tips you can use to ensure a positive, successful reputation.
#1: Hire a Reputation Management Specialist
First and foremost, the best thing you can do for your law firm is to hire a reputation management firm to handle your online reputation. A reputation management firm like us can:
Scan the internet for noteworthy elements of your reputation, positive and negative.
Suppress, or remove negative reputation pages.
Promote and encourage more positive reputation reporting.
Actively monitor for ongoing reputation issues, and counteract them if necessary.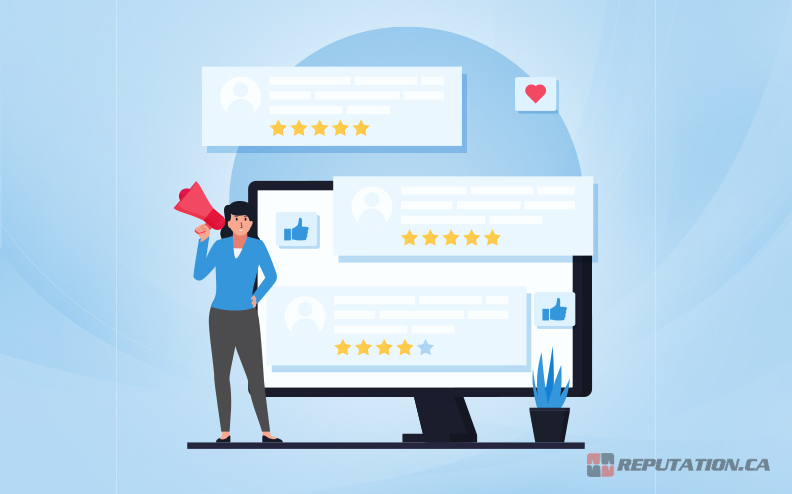 Today, a law firm is just like any other business. It needs to attract clients, it needs to sculpt its reputation, and it needs to be visible in web searches, particularly local searches. Through SEO, reputation management, and marketing, you can achieve the top-ranked positions in your area, but only with the assistance of the experts.
#2: Actively Monitor Your Reputation
Whether you're going to DIY your reputation management, or you just want to keep on top of what your chosen firm is doing, you must set up reputation monitoring.
You can do this in several ways. The first and easiest is to simply Google Search yourself regularly. Most users who search for you will only be looking at the first page or two of Google search results, and won't likely dig much further. Anything that comes up in the top few pages is worth caring about.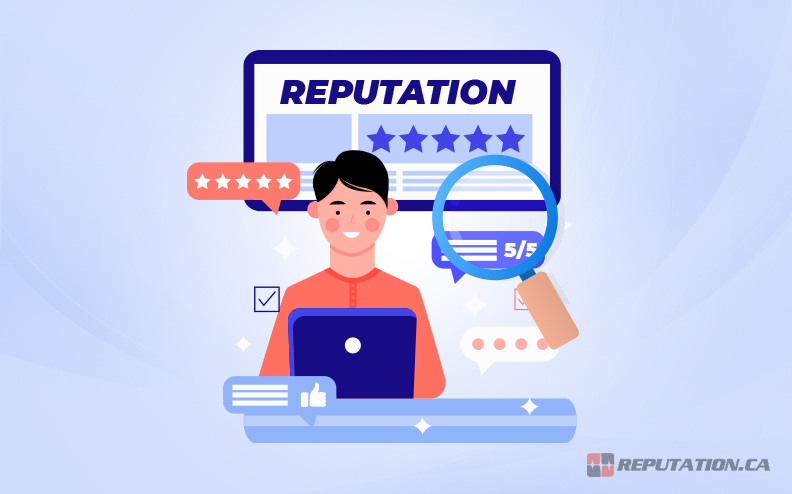 You can also use tools to help notify you when new content is indexed that is relevant to you. The most popular option is to use Google Alerts. Set up alerts for your law firm's name, and you will be sent an email whenever new content is indexed that mentions your name. This is one of the best ways to see what Google sees, as soon as they see it, so you can act on it as soon as possible.
You can also use specialized reputation monitoring services. The reputation tracking software monitors not just Google searches, but other search engines, social platforms, and specialized directories that may be relevant to your brand. It's all part of building awareness of your brand and reputation as it currently stands and keeping that awareness up to date at all times.
#3: Monitor Reputations for Individual Lawyers Too
Most law firms have more than just a single lawyer working for them. In these cases, you need to monitor more than just the name of your law firm. If a user finds your law firm, identifies the lawyer they are most likely to be working with and searches for that lawyer's name, what will they find?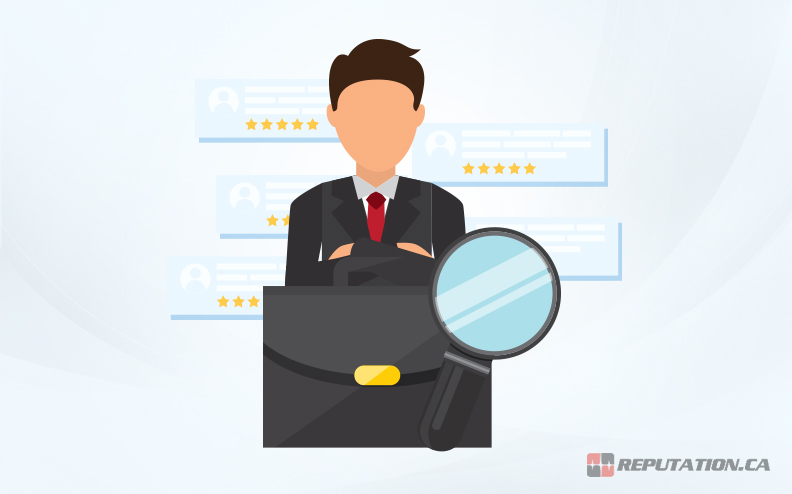 This means that, when setting up alerts and monitoring, you need to monitor:
The name of your law firm.
The names of your prominent lawyers.
The names of other high-profile individuals in your firm.
You may also want to monitor the legal filing name for major cases you've been involved in. While some legal documents are public information and cannot be sealed or redacted without a court order, reporting on those cases should be monitored to see what public opinion has to say on the matter. These may be cases where you can further sculpt your reputation.
#4: Focus on Geographically Relevant SEO
Law firms are typically only empowered to practice law in specific areas (such as copyright, personal injury, or criminal defense) and only in specific court jurisdictions. What this means is that you don't necessarily need to worry about global or even national SEO, or your reputation outside of your jurisdiction. If you're only licensed to practice copyright law in California, it doesn't matter if people in Florida see a different view of you than people in California.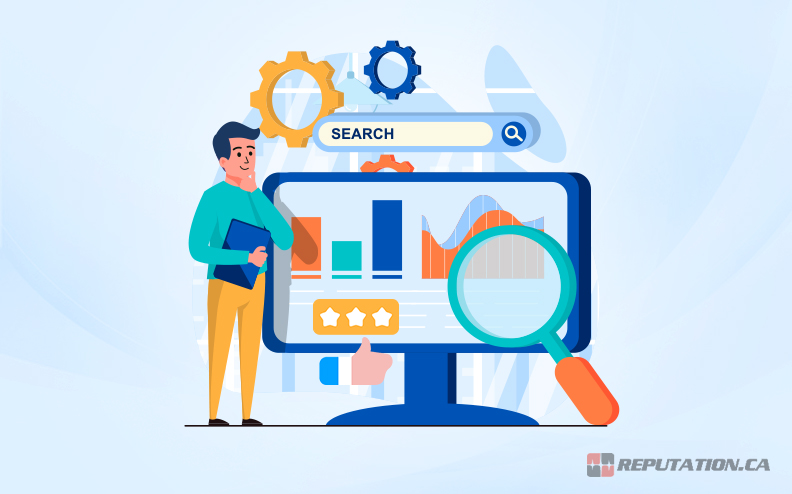 That said, it's always worth dealing with a negative reputation and sculpting a positive profile online. The nature of law itself means that cases can have disparate geographic participants. It's a tricky situation, to be sure.
It's worth monitoring geographically relevant keywords, using geographic keywords in your SEO, and focusing on local search relevance.
#5: Actively Solicit Positive Testimonials
The lifeblood of any business is its reputation, and there are two ways to sculpt your reputation. The first is to suppress, remove, or counteract negative reviews. We'll discuss that further in a different tip. The other is to solicit, highlight, and encourage positive reviews.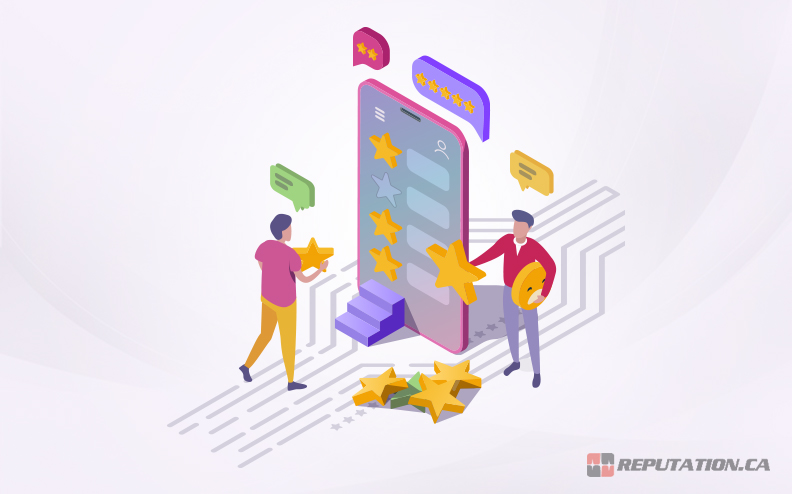 There are a lot of ways you can do this. As a law firm, you will have a close relationship with your clients. You can only reveal so much of any given case, due to confidentiality agreements, but you should strive to solicit positive reviews. Whenever you complete a case with a client who is satisfied with the outcome, ask them to leave you a testimonial. You can ask for that testimonial to be written on your site or one of the many review sites for business in general or law firms specifically.
One thing you should avoid doing is faking or "astroturfing" positive reviews. This is almost always more obvious than you think it is. It's also difficult in a legal situation because the people involved can discover if you've written in their name, and if you've faked names, the cases can be identified as fake. Getting caught is much more devastating than not doing it in the first place, so avoid it.
#6: Highlight and Augment Positive Reviews
Positive reviews are important resources. When a client leaves a positive review on a site like Avvo or Lawyers.com, you can then copy and highlight that review on your website as a testimonial. You can link to it on Facebook. You can reach out and ask for a more detailed version of the review for your testimonials page. There are a lot of different options available to you.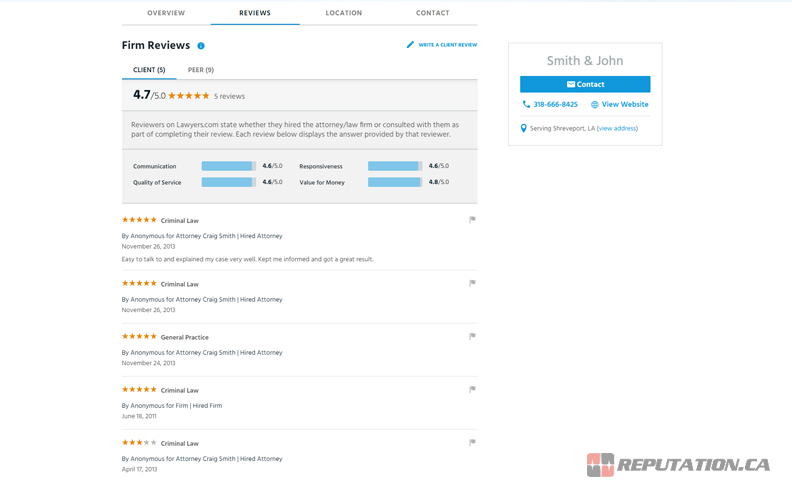 Any time you can highlight or augment a positive review amplifies the power of that review. Usually, you might be concerned about duplicate content. However, with something as small as a review, on a page with multiple reviews, you're unlikely to have SEO issues.
On occasion, it can be difficult to highlight reviews. You might run into problems with review sites not allowing copying or syndicating reviews, or clients who resist having their cases used as promotion. That's fine; you don't need to force it, just take advantage of them when you can.
#7: Address and Refute Negative Reviews
The true key to reputation management is addressing negative reviews. Generally, this is a two-step process.
The first step is identifying reviews. Name searches, reputation monitoring, and alerts all help you do this. You will also want to manually check sites such as Avvo or Lawyers.com to make sure you're finding everything, even if it doesn't show up directly on a Google search.
The second step is to verify what you can about the negative review. Is it real, or is it faked? If it's real, are the facts accurate, or are they exaggerated or falsified to make a point?
The third step is to take action.
If the review is fake, take any steps appropriate to get it removed. The options you have available to you vary depending on the platform or site hosting the review, and range from a codified removals process to a takedown letter sent to the web host of the site.
If the review is exaggerated, do what you can to refute the facts. However, keep in mind the next tip on our list.
If the review is accurate and simply negative, express your sympathies and offer to make recompense if possible. You won't always be able to satisfy every dissatisfied user, but you can help mitigate some negative reviews in this manner. Be certain not to violate ethical codes of conduct while doing so, however.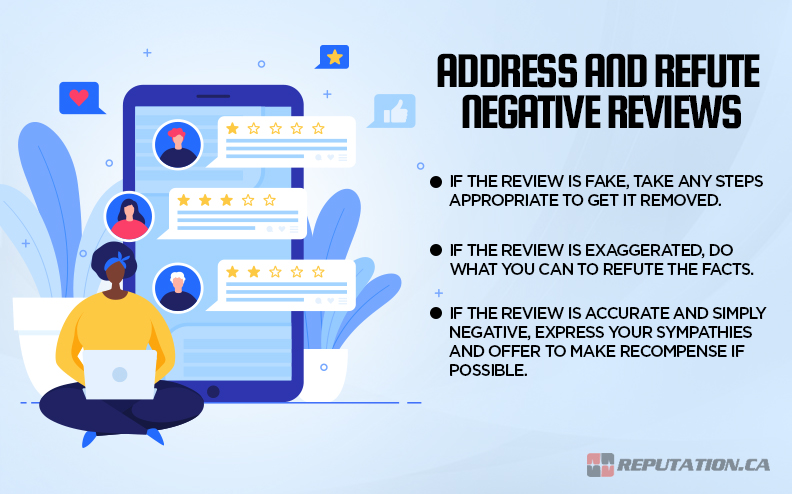 A reputation management firm that specializes in law can help on this front, as they will have experience in reaching out to dissatisfied customers within the bounds of ethics and legality.
#8: When Addressing Negative Reviews, Remember Confidentiality
As mentioned above, law firms are beholden to specific rules in terms of what they can and cannot do when conducting themselves, marketing themselves, and interacting with the public. Above and beyond the legal restrictions placed on your firm, you also need to keep in mind confidentiality agreements with clients, past and present, as well as ethical conduct.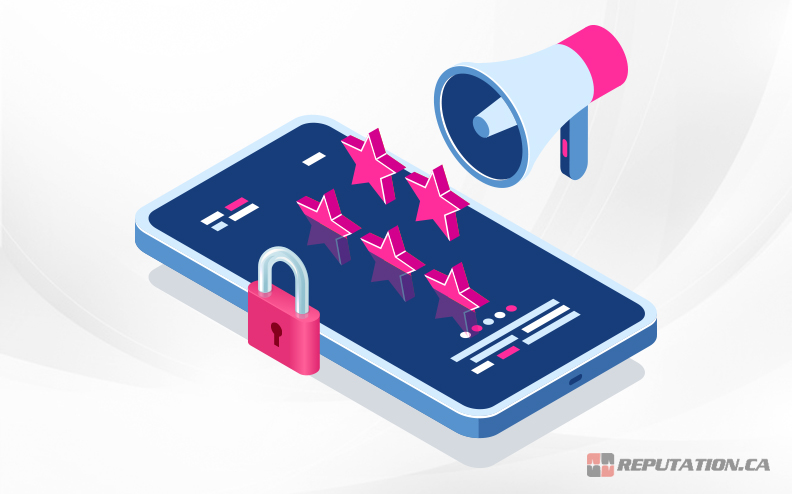 When addressing negative reviews, you mustn't cause a legal incident yourself by revealing information that is meant to be confidential or privileged. This can make it difficult to refute the claims made in negative reviews, which is why more drastic actions such as removals are often the correct course of action. Each situation must be considered independently, however, to make the choices that are correct for that situation.
Part of reputation management is building a positive reputation, and to do that, you need to control as many profiles and directories as are relevant. Sites worth considering include:
Google Reviews. Google has business listings through Google My Business, so you should claim that profile to optimize.
Yelp. While somewhat outside the scope of traditional businesses, Yelp is often one source of reviews for law firms as well as other forms of business.
Avvo. Designed as a lawyer search site, Avvo allows reviews of lawyers and law firms and is very comprehensive in its coverage.
Martindale-Hubbell. One of the oldest law firm directories in the world, this site is a comprehensive and trustworthy directory with reviews.
Lawyers.com. One of the more common sites for free legal advice, this directory also lists law firms and lawyers for users to find.
Facebook. The most popular social network in the world, Facebook stands out, so you should claim your profile at the bare minimum.
Nolo.com. Another common legal directory that can be worth claiming your profile and optimizing.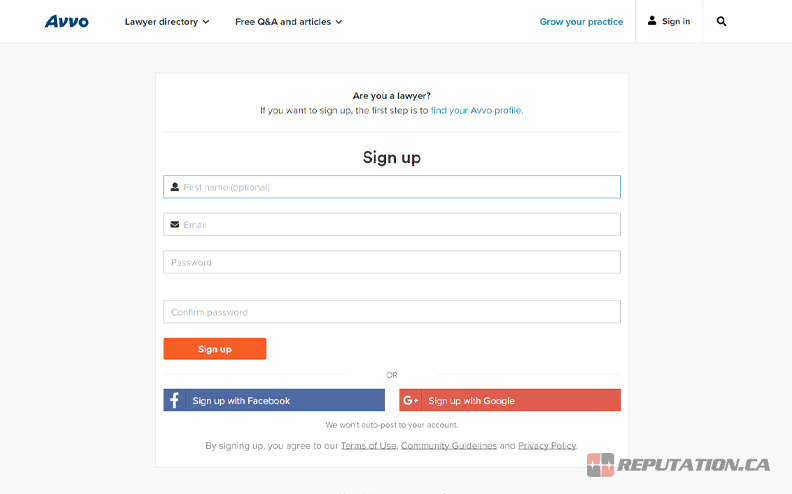 Other sites that might be worth investigating include the Better Business Bureau, Twitter, 'LinkedIn', and regional directories such as CanadianLawList, Lexpert.ca, Legaltree.ca, and CanadaLawyerList.
#10: Provide High-Quality Services
At the end of the day, the key to gaining and maintaining a positive reputation is minimizing the reason clients have to post negative reviews in the first place. If all of your clients are satisfied with their experiences with you, they won't leave negative reviews. This also means that negative reviews that do crop up are more likely to be faked (possibly by competitors), and can be removed as such.
Providing high-quality services is the key to building a positive reputation. While you don't need us to tell you how to do your job, it can be worthwhile to step back and look for issues in your processes, reasons why clients might be dissatisfied, and addressing them.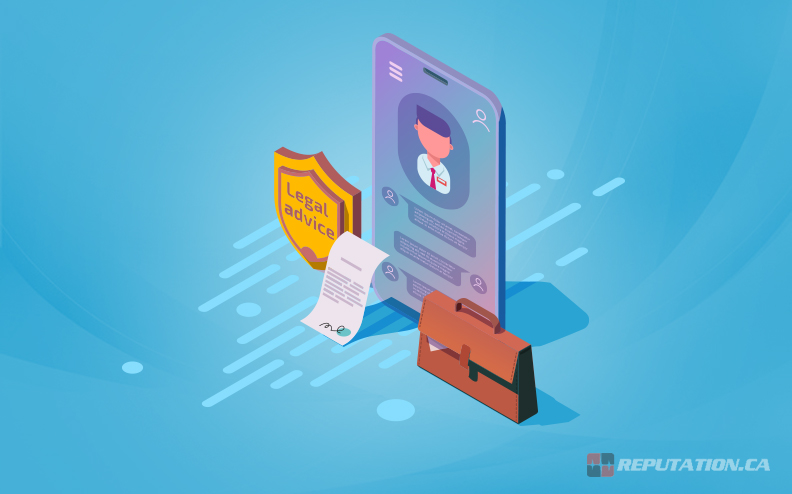 By layering all of these tips together, you'll be able to sculpt a high-quality positive reputation, minimize the incidence and severity of negative reviews, and encourage further potential clients to reach out to you as a trustworthy and effective legal practitioner for their needs.
If you ever have any comments, questions, or concerns, please feel free to reach out at any time.