It is no secret that modern consumers want to know as much as possible about the companies they are considering using. Information is power, which provides security to customers and prevents them from making ill-advised purchases. People look up companies on Wikipedia or Google to look into their histories, products, and reviews. This information helps prospective customers determine whether they want to do business with a specific company.
Additionally, it allows them to learn about any potential misdeeds in the company's history that might make it untrustworthy. Some information is inescapable, but other information has no genuine bearing on how you conduct your business. Unfortunately, our society seems to have a fascination with private information that colors their perspective of the company as a whole. This means information that can be removed from the public sphere should be eliminated immediately.
The fascination with obscure background information has led to a series of data collection websites rising to the forefront of the internet. Some of these websites attempt to be alternate versions of Wikipedia by offering more sensitive information that has no business being spread. One website known for collecting and releasing information is Bizapedia, which doubles down on the attempt to be a corporate Wikipedia counterpart.
The problem is that the information Bizapedia posts can occasionally reveal more than it should and presents a danger to the company or its employees. As a result, many companies are looking into removing their information from Bizapedia's domain to minimize the fallout of their efforts.
What is Bizapedia?
Bizapedia is a glorified data broker website specializing in corporate entities rather than private citizens. While countless websites reveal sensitive information about individuals, Bizapedia is one of the few that is only interested in information about companies. In this sense, Bizapedia is less dangerous to the average person than a high-ranking employee. Nevertheless, the information posted on Bizapedia can do much damage if left unchecked.
Bizapedia was founded in 2010 and is headquartered in Las Vegas, Nevada, but the website has information on companies nationwide. Despite its decade-long existence, Bizapedia is not a well-loved website and has earned the ire of most of its users. Bizapedia's aggregate review score is 2.9 out of 5, and it is not an accredited business (disregarding the Better Business Bureau's recent controversies).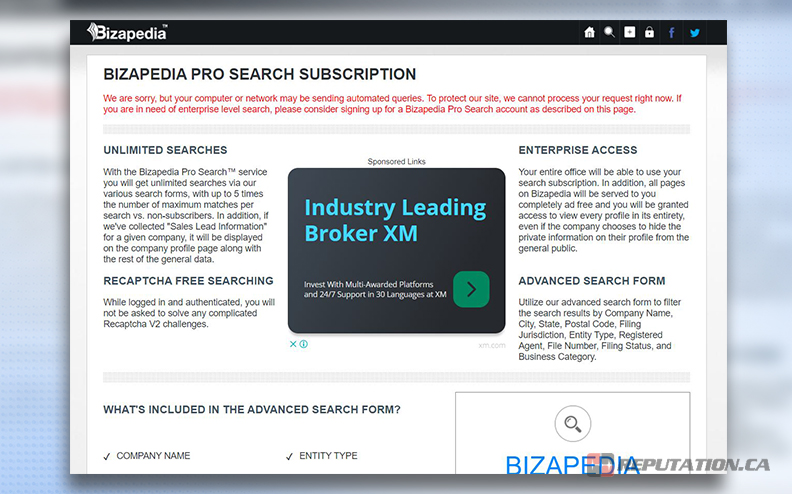 Bizapedia's primary function is to provide important information that customers can use to access a company. One of the key details of this function is providing the business's current address so customers can find them. Many reviews for Bizapedia claim the website posted the personal addresses of business owners and employees instead of the corporate addresses.
This has enabled the more unsavory demographics of their consumer base to readily access their homes and issue threats. The biggest problem people have with Bizapedia is that they post this information without the subject's consent, and occasionally they fail to acknowledge the outrage of the subjects when they demand their information be removed.
As a result, Bizapedia has become an extremely hated company that should not be trusted to handle your personal information. Like any data broker website, Bizapedia is required to offer an opt-out option for professionals, though they are only required to honor it if the information endangers one or more people.
The question most companies are forced to ask is how they can have their information removed from Bizapedia's website. Unfortunately, the process is a good news/bad news scenario that we will cover in the next section.
How to Remove Information From Bizapedia
Removing information from a data broker's website is usually a lottery since these websites use your information to profit. As a result, they are generally hesitant to honor any requests to remove the information and are more likely to find an excuse to keep it. Even if they have no grounds to keep the information, most websites make requesting a takedown difficult.
They either drag the process out with a series of hoops you must jump through, remove any automated methods in favor of submitting a ticket, or they hide the request page by making the font small or giving it a misleading label. Unfortunately, Bizapedia is notorious for all 3 since they tend to post information without any concern for how it affects the subject. The first obstacle you will face is locating Bizapedia's takedown request page.
When you open the URL, there is not much to see, and the website is fairly barebones, making it seem like there is no page to issue a takedown request. The truth is that it is well hidden and disguised as a completely different feature.
At the bottom of the page, you will see a dark gray section containing copyright information and several options in orange text. One of these options is called 'Contact Us,' which most people view as a portal to customer support. However, clicking on this link will redirect you to a page with 7 options under the heading "Please select the reason you are contacting us from the list below. The options are all different reasons for having the information about your company altered or removed from the website.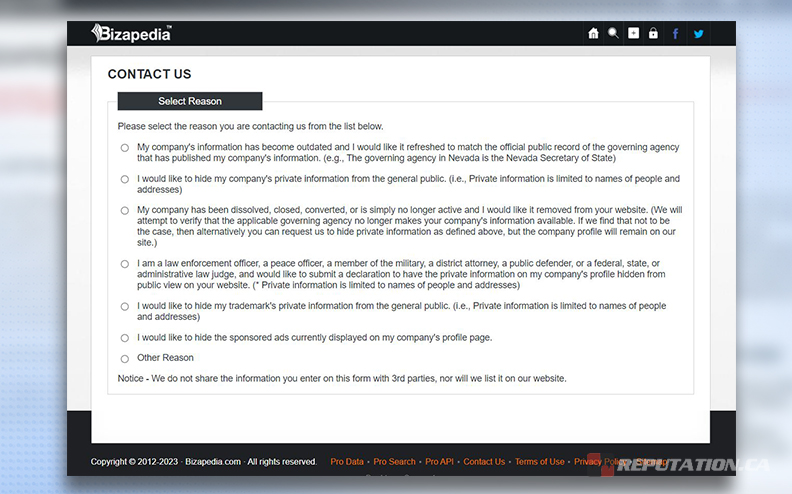 They include:
"My company's information has become outdated, and I would like it refreshed to match the official public record of the governing agency that has published my company's information. (e.g., The governing agency in Nevada is the Nevada Secretary of State)"
"I would like to hide my company's private information from the general public. (i.e., Private information is limited to names of people and addresses)"
"My company has been dissolved, closed, converted, or is simply no longer active, and I would like it removed from your website. (We will attempt to verify that the applicable governing agency no longer makes your company's information available. If we find that not to be the case, then alternatively, you can request us to hide private information as defined above, but the company profile will remain on our site.)"
"I am a law enforcement officer, a peace officer, a member of the military, a district attorney, a public defender, or a federal, state, or administrative law judge, and would like to submit a declaration to have the private information on my company's profile hidden from public view on your website. (* Private information is limited to names of people and addresses)"
"I would like to hide my trademark's private information from the general public. (i.e., Private information is limited to names of people and addresses)"
"I would like to hide the sponsored ads currently displayed on my company's profile page."
"Other reason"
Click the one that applies to you, and a new page section will appear under the list. The new section will include text boxes where you can enter your e-mail address, full name, and the URL to Bizapedia's page for your company. Unfortunately, this generates a brand-new problem that is particularly frustrating. At some point in the past 12 years, Bizapedia removed the ability for users to conduct a free search on their website.
This means paying members of Bizapedia are the only ones who can use their engine to search for a company's information. The most irritating part is that the subjects of Bizapedia's articles are not exempt and must pay for one of their plans to access the page about them. You might already have an account if you have a pre-existing relationship with Bizapedia (i.e., you requested your company's information be posted on their website). Otherwise, you will have to pay for one of their plans temporarily.
Fortunately, Bizapedia realized this was antagonizing irate customers and created a 7-day free trial allowing users to conduct a few free searches under the most basic plan. Theoretically, the basic plan is all you need to find the Bizapedia page about your company and copy the URL. Once you have the URL, paste it into the text box for the takedown request and check the two boxes to confirm you understand the Terms of Use and the penalty of perjury in Nevada. Once you have completed these steps, click the large orange button that says, "Submit Request."
Unfortunately, that is as far as Bizapedia's official instructions go, and the website does not offer an estimated response time. Our best recommendation is to maintain your free trial for the full 7 days and continue monitoring the URL. If the page is not removed by the end of your free trial, you might have to resubmit the request or attempt to get in contact with an official Bizapedia employee.
The latter is more challenging since, at the last count, only 124 people are working for Bizapedia, and potentially hundreds of requests are submitted daily. Unfortunately, many of the negative reviews for Bizapedia allege that the website does not respond to takedown requests, let alone execute them. Regardless, persistence should eventually wear them down, and you should eventually see a response to your requests.
How Bizapedia Affects Your Reputation
Having private information disclosed on a publicly available website can have serious consequences. It would be one thing if the information they were posting were strictly professional, but there is a growing trend of Bizapedia using your private information on their website.
Several reviews allege that Bizapedia substitutes the business's company address with the owner's private address. This can enable a dangerous demographic to track down the owner of a company that has offended or upset them and puts the owner in danger. It can also mislead potential customers to think the retail location is at the owner's home address, which can infuriate them when they realize they are in the wrong location.
When anger and frustration enter the equation, logic tends to get excluded, and these angry consumers might blame you for the information they acquired being wrong. While the risk of physical harm is infinitely more important, other consequences of Bizapedia's negligence can harm your reputation. One of the bigger issues with Bizapedia is how they handle companies no longer in business.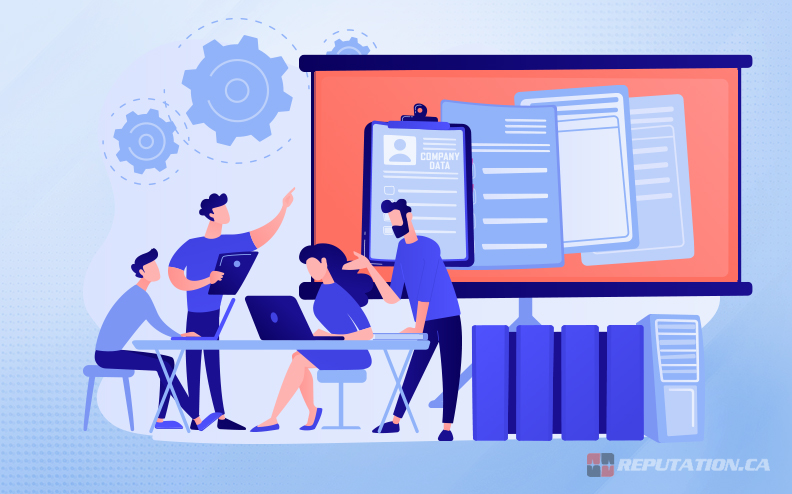 There have been a few cases where Bizapedia has provided information on a defunct company that no longer exists. People who rely on websites like Bizapedia to find reliable providers could believe your company is still operational. If Bizapedia combines this information with your personal contact information and claims it is your company's information, it can lead to a devastating reaction.
Customers could become irate when they hear your business is no longer operational and might launch a smear campaign online outlining your lack of professionalism. This can damage any company your name is attached to going forward or cause potential employers to believe you had an unprofessional disposition while operating your previous business.
Ultimately, the consequences of Bizapedia's negligence seem minor but can compound into a larger issue if left unaddressed. Therefore, you should take every opportunity to ensure the information on Bizapedia is either accurate or removed as the situation demands.
Take Your Reputation Back!
Websites like Bizapedia present a clear danger to companies and their employees when personally identifying information is misrepresented as publicly available data. Bizapedia has a disturbing history of posting a company owner's personal address as the company address, endangering them should any disgruntled customers develop a violent streak.
Furthermore, the presence of companies that are now defunct misrepresents the business and the former owner's professionalism in ways that could damage their corporate standing. Removing information from Bizapedia and websites like it is critical to ensuring your reputation is not damaged. Unfortunately, requesting a takedown is time-consuming and might prevent you from pursuing your professional responsibilities.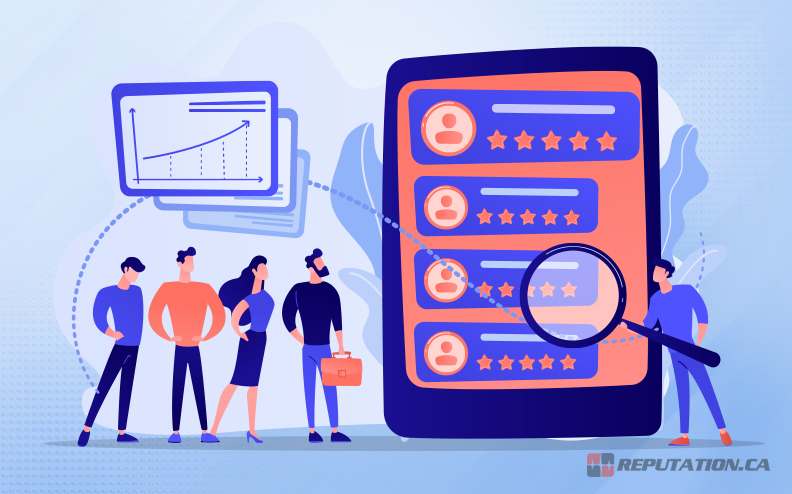 We at Reputation understand how frustrating it can be to have misinformation tied to your or your company's name. That is why we have built a company centered around helping private citizens and corporate entities manage their public image. While we offer several services designed to optimize your reputation, we can also issue takedown requests on your behalf. We are happy to take on Bizapedia and its ilk for you to prevent their misinformation from harming your public image.
There are no shortcuts when managing the public's perception of you, so visit our website and take your reputation back!