Negative reviews are tricky. Obviously, they can hurt your business. If a user is interested in your company and they search for your name, but what they find is a series of negative reviews, they're going to be less likely to make a purchase or sign up. It seems like a no-brainer that Google would take this into consideration when deciding which businesses to rank for a keyword or service in a specific locale, right?
On the other hand, since negative reviews are so easy to fake and difficult to counteract, Google might not want to count them highly, or at all. They do, after all, tend to dislike anything that lets people game the system.
One often-cited part of this discussion is a business from 2010. In that instance, a business ranked highly not despite of, but because of their negative reviews. See, Google operates on a links = votes basis; more links means more votes, meaning a site is better. This fell apart when all of those links had negative context. "We hate X business," people say, with a link to it, to make sure everyone stays away. Except, to Google, there was no qualification for the links.
Of course, this was 11 years ago. Shortly after that incident, Google announced sentiment analysis, as well as several other possible steps they considered taking. One of those steps is "showing ratings and reviews alongside the business," which, as we know today, is the norm.
The world of SEO moves quickly, and anything you read about how it worked 5+ years ago is probably no longer relevant. The core concepts might be the same, but the specifics can change dramatically. So, looking at things from a 2021 perspective, can negative reviews hurt your website's SEO?
The Local Perspective
Businesses, particularly smaller businesses, have to concern themselves with local SEO much more than globalized or internet-based businesses. Your local lawn care or cleaning service has no need to market to people outside of your geographic area. It's worse than useless; it wastes money and effort that would be better spent targeting local users.
From a local perspective, your business might not really care about sites like Yelp or TrustPilot. Instead, you focus on Google reviews, testimonials, and reviews on local directories.
The scale is small, too. One single negative review can greatly impact your business, especially since you may only have a few dozen or a few hundred clients, depending on the scope of your business. Since the numbers are all much smaller, traditional SEO discussions don't work quite as well. There's always a margin of error in large-scale SEO that just isn't present with local SEO.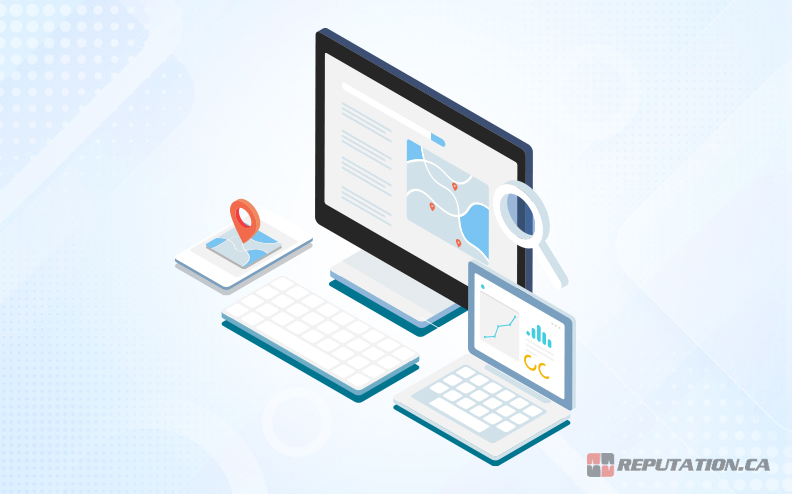 We know that Google pays attention to reviews. For local businesses, they consider three main factors: Relevance, Distance, and Prominence. Relevance is obvious; if someone is searching for lawn care in Toronto, a plumber isn't relevant. Distance is also obvious; a lawn care company in Toronto is proximate, but one in Edmonton isn't. What about prominence, though? Here's how Google describes it.
"Prominence refers to how well known a business is. Some places are more prominent in the offline world, and search results try to reflect this in local ranking. For example, famous museums, landmark hotels, or well-known store brands are also likely to be prominent in local search results.
Prominence is also based on information that Google has about a business, from across the web, like links, articles, and directories. Google review count and review score factor into local search ranking. More reviews and positive ratings can improve your business's local ranking. Your position in web results is also a factor, so search engine optimization (SEO) best practices apply." – Google.
Google says, right there, that review count and review score factor into local search rankings. A business with 0 reviews won't likely rank as well as one with 5 reviews, which won't rank as well as one with 100 reviews; unless those reviews are predominantly negative, in which case a business with 5 reviews might rank higher than one with 100 negative reviews.
The Global Perspective
What about on a global perspective? When we're talking about businesses that can operate across the country or continent, or even anywhere in the world, reviews suddenly have to pit them against other global companies.
Google has said before that reviews matter, but perhaps not as much as some people think. The idea is that few or no reviews isn't bad, but it's not good either. A larger number of reviews is good. If a few of those reviews are bad, well, who cares? If you have a 4.8 out of 5 because of a handful of 1-star reviews, those reviews aren't destroying your SEO. They're just part of the cost of doing business. Very few companies can boast of having perfect service and zero dissatisfied customers.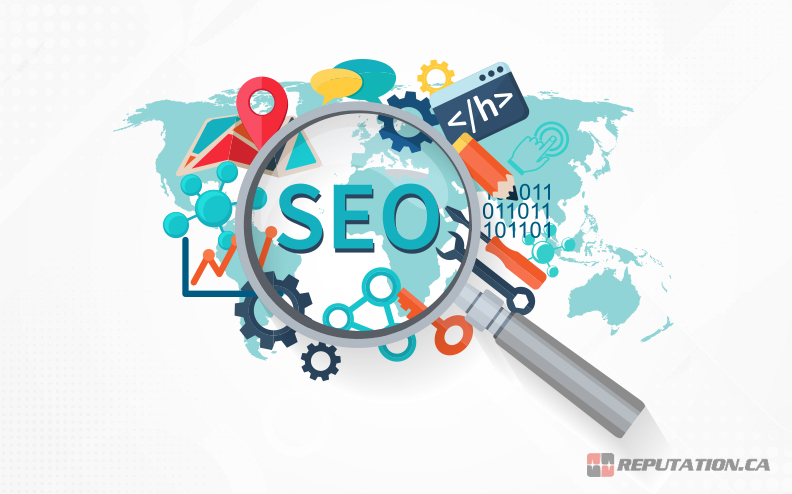 What matters is when the majority of your reviews trend negative. To quote John Mueller:
"…That's something where if all of the signals point in that direction, I could imagine that we might pick that up. But if you're talking about… there are a handful of people that are upset and they're writing these random things online, and there are lots of people that are happy with your site, and everything is normal, then that's not something where I would really worry about."
And, to verify what we said above, Mueller has stated that while Google still cares about sentiment analysis, the specific algorithms and technology they used when they rolled it out in 2010 are almost certainly antiques left in the dust.
Secondary SEO Effects
We know now that reviews affect SEO in a few ways.
More reviews are better than fewer reviews. A business with zero reviews will rank lower than a business with 10 reviews, even if two or three of those reviews are negative.
Negative reviews are primarily only considered when they're significant. A business with 1-5% negative reviews is fairly normal. A business with 50% negative reviews indicates something going on.
Google pays special attention to floods of negative reviews. Their algorithms attempt to detect review bombs and negative SEO attacks and will take some action to block and filter those reviews. However, they aren't perfect, and you'll usually need to help them along if you're experiencing these kinds of issues.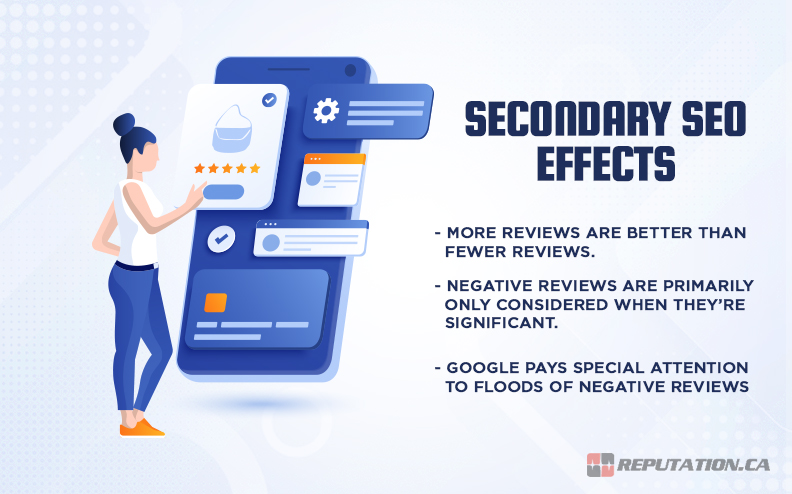 All of this is primary SEO. In other words, it's ways that reviews directly impact your Google search ranking. What about secondary effects, though?
In terms of secondary effects, negative reviews can be somewhat more damaging than they are in primary effects. For example:
Users who search for a service and see your business might notice negative reviews and skip over your listing.
Users who search for a service and see your business might read through negative reviews and then choose to skip your business.
Users who search for a service and see your business might click through and bounce after seeing negative reviews elsewhere.
Additionally, negative reviews can spur others to make their own negative reviews, and while they can generate links, those links are usually nofollowed or given zero weight. A poor reputation makes it harder to gather new customers. People won't want to give you the benefit of the doubt.
Additionally, surveys have indicated that the numerical/star rating your business has affects "local pack" ranking – that is, your position in the infoboxes, map listings, and other geographically regional listings. Worse reviews affect your placement in these boxes, which, while not your usual SEO avenues, are secondary avenues that are of high importance to local businesses in particular.
How to Deal with Negative Reviews and Fix Your SEO
If you're worried about negative reviews hurting your SEO – particularly if you're a small business – what can you do about it? Generally, you can break this down into three parts of a process.
Part One: Auditing
The first step of the process is auditing and awareness. You want to answer a handful of specific questions.
Do you have any reviews for your business?
Are those reviews positive or negative?
Where are those reviews located?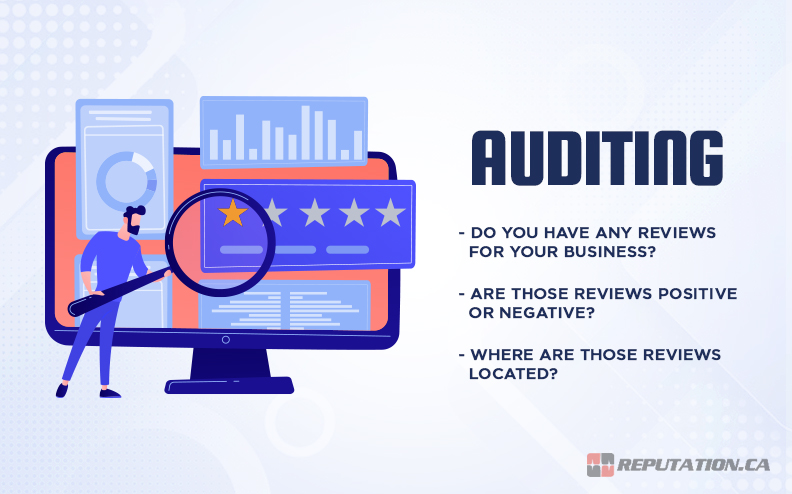 Building a spreadsheet of reviews, particularly recent reviews, can help you keep track of what's going on with your reputation.
In particular, you want to check your Google Business Profile, your results in the Local Pack and general Google search results, and your presence on both local directories and larger general directories (Yelp, Angi, etc).
Remember that older reviews, if they're positive, are good for you. Older reviews, if they're negative, are generally just kind of set in stone. The chances of being able to reach out and fix an issue someone had over a year ago are pretty slim. More recent negative reviews are customer service opportunities.
Part Two: Reporting
The second part requires you to have an awareness of where your reviews are and what sentiment they indicate. In particular, you want to look at your negative reviews, especially the 1- and 2-star reviews. These are the ones most likely to be fake, defamatory, fraudulent, or otherwise in violation of a site policy.
For each negative review, do what you can to determine whether or not it's a real review and whether it complies with site policies. For example, a review left by a real person can still be reported and removed if it contains profanity that slipped through the filters.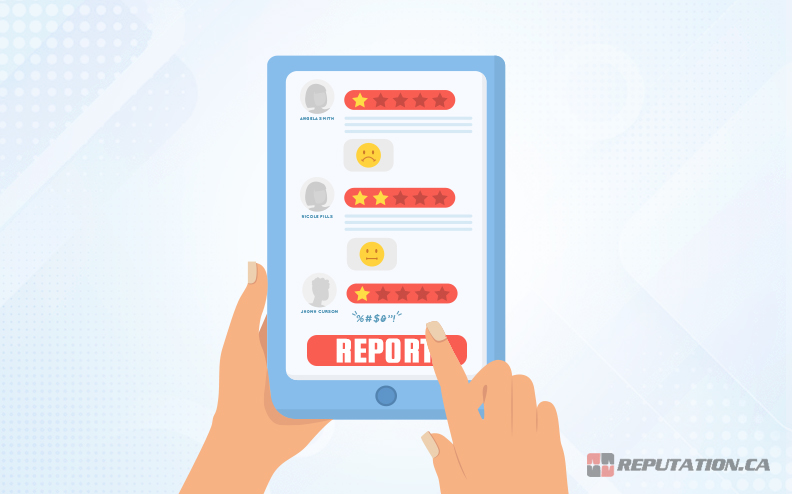 Remember, though, that each different site has a different terms of service. Google, Yelp, TrustPilot, the BBB; all have different lines a review has to cross before it can be removed.
Additionally, see if the review can be proven fake. Something as simple as "we have no record of having ever dealt with this customer" or "our security camera videos show that this user was not present at the time they claim they were" can be enough to prove that a review is fake and get it removed.
Keep in mind that the removals process can be time-consuming. You can report a review and provide information to get it removed, but it might not be removed right away. In the meantime, you need to start working on the third part of the process.
Part Three: Customer Service
Negative reviews are opportunities. They can help you identify problems with your business that need solving. For example, poor packaging being damaged in transit is something that may be solved with a better shipping procedure. A product with a common fault can be returned to R&D, and a version two made to fix it. A problem employee cutting corners with their service can be let go before they damage your business further.
Of course, not all issues are systemic. Many are simply one-off issues, miscommunications, or customers expecting something they should never have in the first place.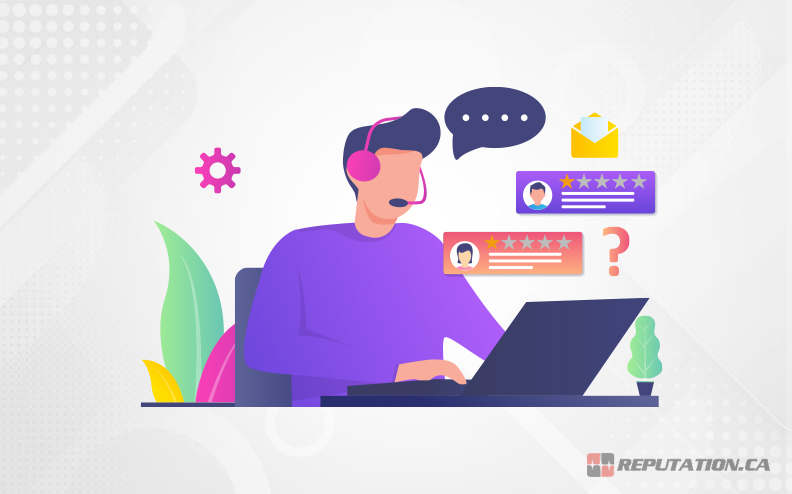 In both cases, the usual step is to take any action you can to remedy the situation, then reach out to the customer to try to calm them down. You may be able to offer some kind of compensation or replacement or even just a refund. In some cases, they may remove the review; in others, they may edit it to be more positive to reflect their total experience. In either case, showing that you've made an effort is better than nothing.
If all of this sounds like a lot of work, well, you're right; it is. Even just the audit can be a time-consuming task for a team, and you might not have the time to afford to spend on it. That's why services like ours exist; we can do all the work for you; faster and more effectively than you can. We have a dedicated removals process with experienced people who know how to spot the fakes, and we can help you identify root causes to fix to prevent them from happening again.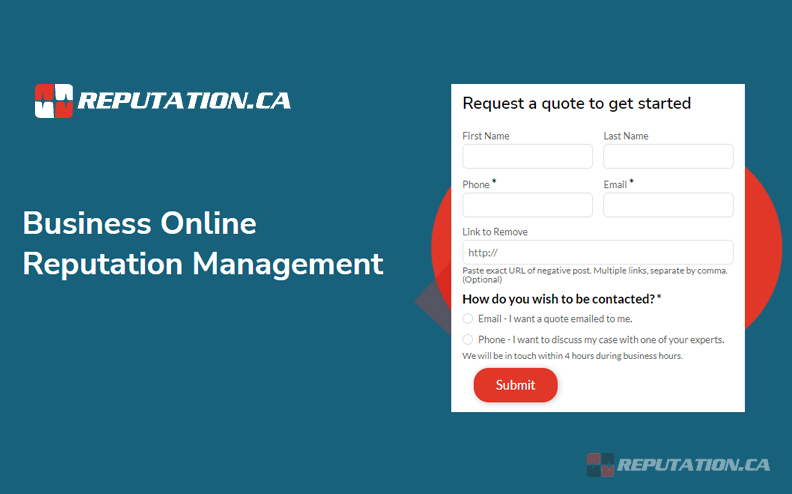 If you're worried about negative reviews hurting your SEO, either for global results or for local search, we highly recommend getting some reputation management on the case. Additionally, if you have any questions about today's topic, please feel free to reach out at any time.