It's difficult to deal with receiving a negative review, particularly for a product or service you've poured your heart and soul into. Yet, negative reviews are an inevitable part of the business. How you handle them says a lot about your company, so it's worth knowing what to do.
One thing to keep in mind is that negative reviews are often much more influential than positive reviews. Most people online are skeptical about positive reviews, since it's so easy to buy them or otherwise solicit them without a real basis in fact. Many consumers look specifically for negative reviews, to get an idea of what kind of flaws or problems there might be with a company, and how much those matter to them.
According to Review Trackers, in fact, 94% of consumers say that a bad review has convinced them to avoid a business, but 44.6% of consumers say that they're more likely to visit a business that responds to negative reviews.
What does responding do for you?
It gives you a chance to defend yourself and state the reality of a situation, particularly in the case of exaggerated reviews.
It allows you to refute claims made against your business (proving that you don't use frozen meals as a restaurant, for example.)
It allows you to try to make things right with a miffed customer, to satisfy them (and demonstrate to other customers that you'll make the attempt if they have a bad experience as well.)
It shows that you're paying attention and making the attempt to improve your business when issues are discovered.
Another benefit is the chance to help filter out fake reviews from real reviews. When you see a negative review, you can do your due diligence and try to contact the person who left it. If there's no record of them actually having patronized your business, it's an easy way to prove that the review is fake or false, and you can get it removed.
The only question is, how should you go about responding to reviews? Luckily, we know-how, and can teach you.
Step 1: Don't Get Mad
It's easy to let emotions run hot when a negative review comes in. Running a business is stressful, and if you have problems, it's entirely possible that a review at the wrong time can set you off. It's easy to get angry, and it's easy to want to defend yourself.
Responding with heightened emotions is a sure-fire way to cause more drama, and can result in cascading repercussions that hurt your business even more.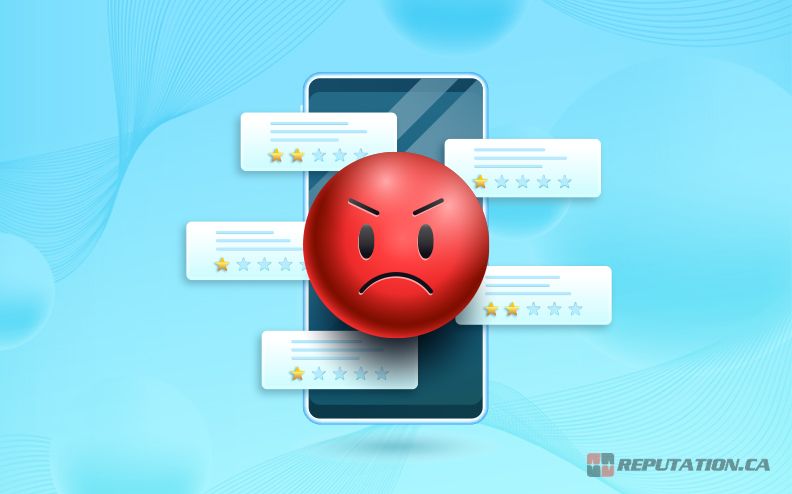 Instead, take a step back. Let emotions cool, and remember that you need to respond professionally. Yes, the internet is full of examples of times a business owner "pwned" a fake reviewer or some other such event, but these are the rarity. Generally, if you try it, you won't have the same positive outcomes, so it's better to avoid it.
Many businesses specifically hire a dedicated community manager. This person's duty is to monitor social media feeds, communities like Facebook groups or web forums, and review sites, and engage with the community. These people are trained to respond professionally and are a layer of protection between you and negative reviews. If this is within the realm of possibility for you, it might be a good idea.
Step 2: Categorize the Review
Before you can appropriately respond to a negative review, you should attempt to categorize it. Generally, negative reviews will fall into a few specific categories.
Issues with your product or service. For example, a defective product, a service outage, or low-quality food at a restaurant.
Issues with order fulfillment that are out of your control. For example, UPS left a package in plain sight on a porch instead of in a dropbox.
Issues with order fulfillment that are in your control. For example, a delay in fulfilling an order.
Minor issues that the customer exaggerates out of anger.
False reviews that are meant to slander your business.
False reviews meant to extort compensation.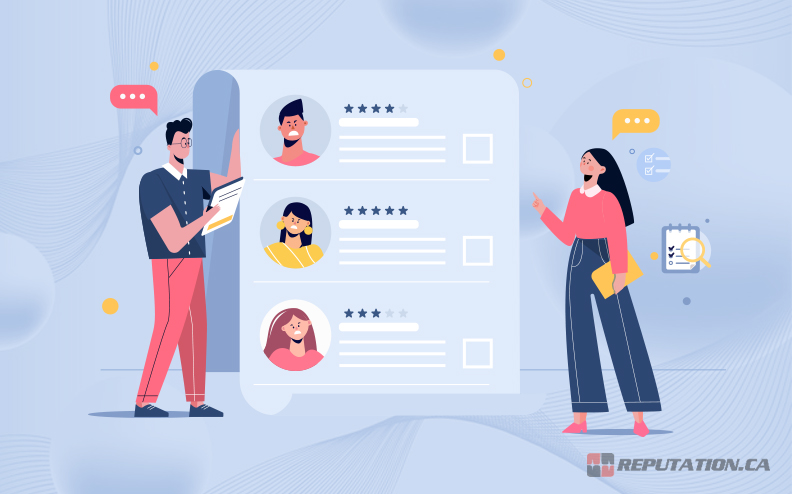 Generally, you want to break reviews down into three primary categories, with a label internally for which kind of negative review you're dealing with. You may not need a full categorization and management system in place if you only get a few negative reviews each week, but if you're dealing with large volumes, it can help to keep track of them.
Category 1: Reviews where you can demonstrate an improvement.
Category 2: Reviews that are out of your hands, but you may be able to compensate for.
Category 3: False or fake reviews.
Each of these will be dealt with in a different way.
Many "how to respond to negative reviews" posts offer a simple template reply you can use but remember that no single reply works for every review. Different kinds of negative reviews require different treatment, and businesses that go through and issue the same reply to everyone look very impersonal.
Step 3: Create an Appropriate Reply
A good response to a negative review has a few specific qualities. Most templates that circulate around the web share these qualities, but you will probably want to create your own templates to use. Always remember to keep your business's tone in mind; a business that promotes a friendly, personal brand should avoid a stodgy, corporate-speak reply.
Address the reviewer directly. Most negative reviews are left on a platform that has a name available for you to use. Use their name (or their username) when replying. Instead of "Dear customer," write "Dear David," or "Dear ShadowWarrior47," as goofy as it may seem to use a username like that.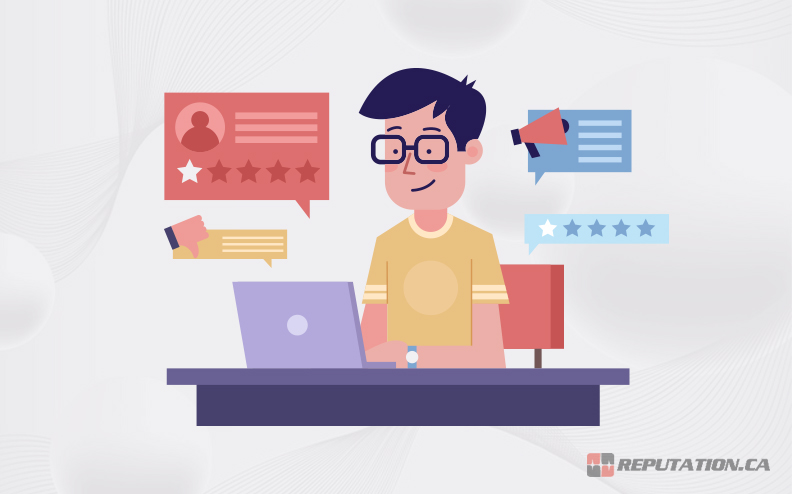 Include an expression of gratitude. Thank the user for their review. Yes, it's a bad review. Bad reviews are opportunities!
"Thank you for your review."
"Thank you for letting us know about this issue."
"Thank you for bringing this to our attention."
You can elaborate on this as well. Take the context of the review into consideration, and extend the thanks.
"Thank you for your review. We're sorry you had this experience, and your feedback will allow us to address this issue in the future."
"Thank you for bringing this to our attention. We will investigate the issue and strive to do better."
"Thank you for letting us know about this issue. We'll address it as soon as possible and change the system that caused it if necessary."
The intent is to express that you recognize the value in their review and that it allows you to identify and address the problem that occurred.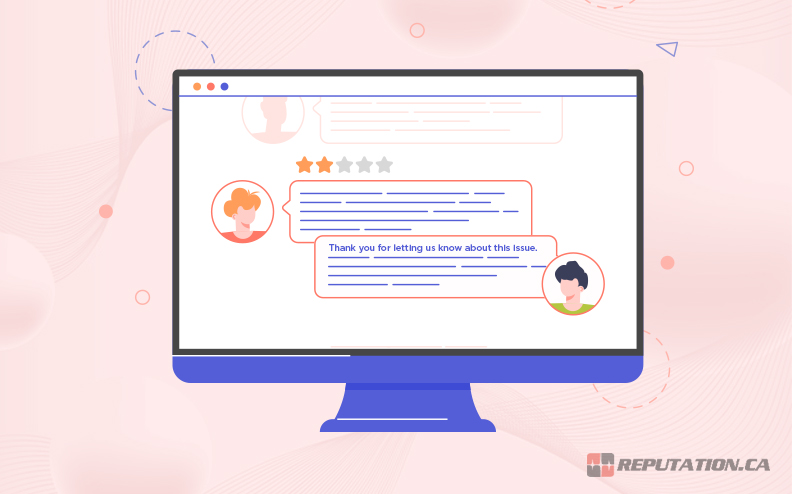 Sympathize. No one wants to have poor service, deal with a poor product, or have a bad experience with shipping.
Even if the issue is not your fault, apologize anyway. If you have a way to blame a third party, you can do so, but try not to throw someone else under the bus. For example:
Do: "This appears to be an issue with the shipping company and is outside of our control. However, we sympathize and would like to refund you for the purchase."
Do not: "It looks like it was the shipping company's issue, so, unfortunately, we cannot do anything to help you. Please contact their customer service."
Good customer service involves making things right, even if you're not the cause of the problem.
Look for issues you can fix. The corollary to the above is that you want to use feedback to address systemic issues if such issues occur. If you get a lot of complaints from customers about shipping, you may want to talk to your shipping company and see if there's an issue that needs to be addressed.
If it's an issue with a third-party company you're contracted with for a service, shipping, or support, talk to that company and address the issue.
If it's an issue with an individual within your business, like a rude server or a salesperson going off-script, investigate and address the issue. You may need to fire a problem employee, so be prepared for that if it's not an isolated issue.
If it's an issue with a product, investigate it and see if it's something you can solve. Poor manufacturing quality, poor assembly or packaging, poor functionality; may require a large shift in your production process, but it's worth doing if it eliminates customer dissatisfaction.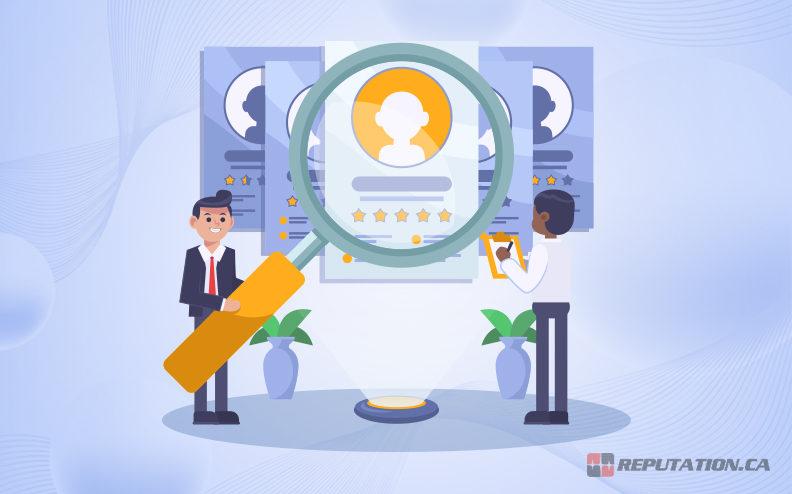 Without actually addressing and fixing the issue, any promises you make in response to bad reviews are hollow, and future bad reviews will reflect that.
Request further details in private. In most cases, you will need more information to help investigate the issue. Offer direct contact with a customer service representative (or someone higher up in the business, empowered to make decisions) and discuss with the aggrieved customer directly. If they've filed a ticket, request the ticket number to look into it directly.
Make things right. Somehow, you want to convert this aggrieved customer into a satisfied, or at least ambivalent, customer instead. This might mean many things:
A refund on the purchase price or shipping cost.
A replacement product.
A gift card they can spend on something else in your store.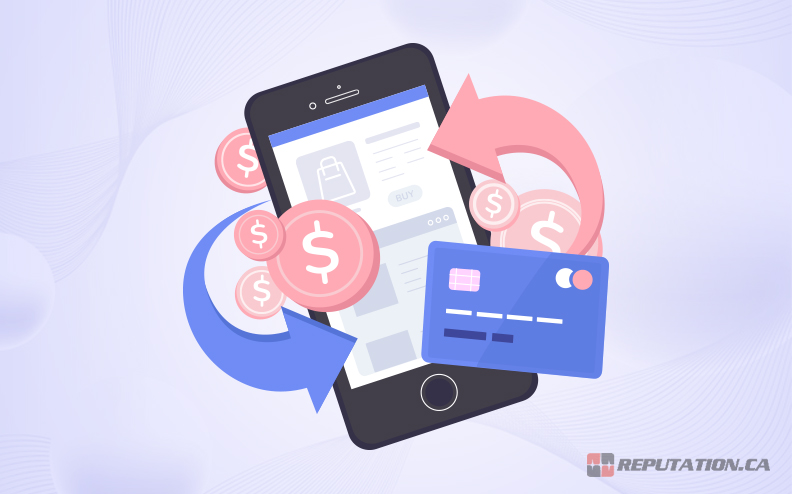 It can be difficult to simply offer money in response to negative reviews, in particular, because some people will start to try to extort your company out of cash through negative reviews. Refunds and replacements are often the best options, but you'll need to negotiate with the individual customer to determine what the best option will be for them.
Examples of Good and Bad Review Responses
Now let's take a look at a few examples of real-life responses to negative reviews, and analyze how the business handled them.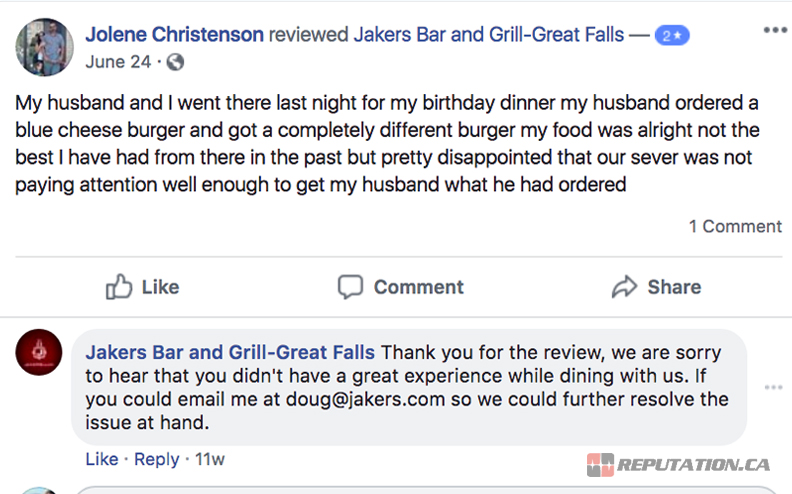 Thanks for the review, taking responsibility, and offering a direct line to discuss the issue and arrange to make things right all make this a good, casual response to a negative review.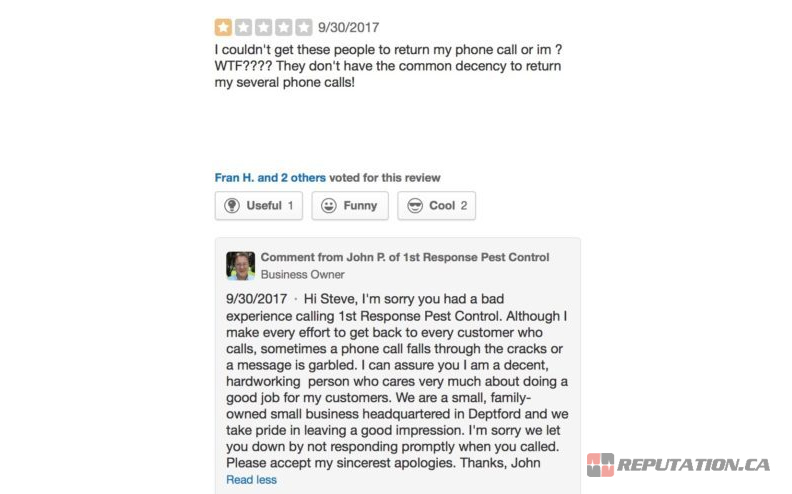 Personalized response, taking responsibility, and apologizing all make this a good response. The only potential issue is the appeal to humanity with the "I'm a good hard-working person" line, which comes across as overly defensive and a little unprofessional.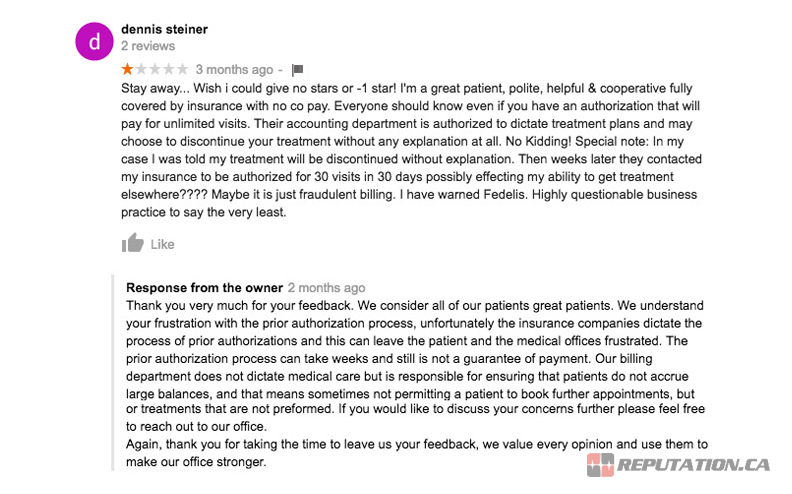 This is a mid-range response. It thanks the user for their review, and it offers a contact to reach out to, but it doesn't truly take responsibility. It explains the issue but doesn't offer a way to make things right. Unfortunately, it comes across as a little too "there's nothing we can do" about it.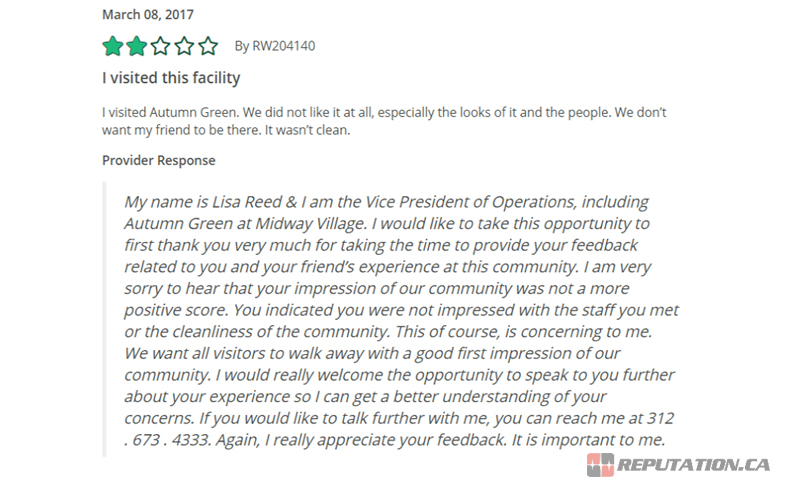 This is also a mid-range response. It can be good to have a high-up official in the company be the one to respond to issues, and the offer of a direct connection to discuss the problem is good. The repeated assurances that the issue is important to them come across as a little disingenuous, however.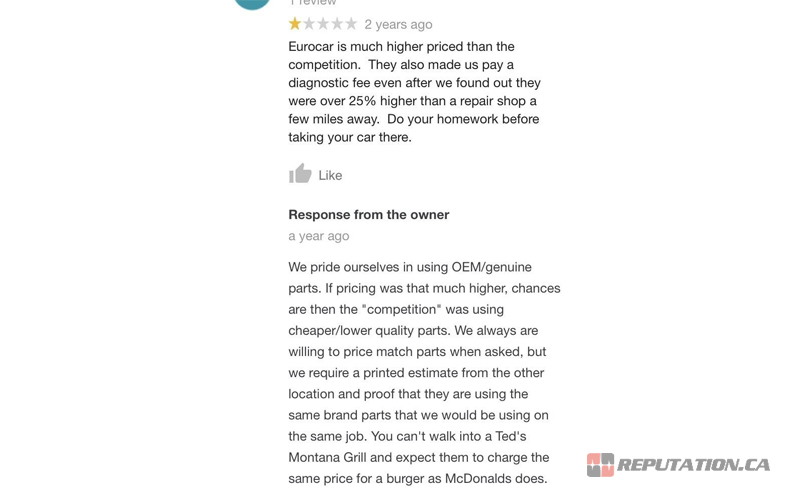 This is a poor response to a negative review. No greeting, no taking responsibility, and an attempt to slam the competition rather than admit to higher pricing are all negative responses. They don't offer recourse, and instead simply defend their existing policies.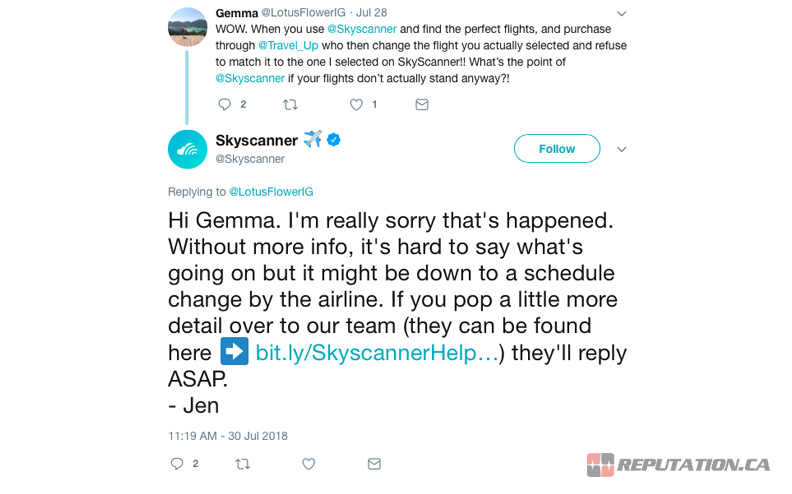 This is a more positive example. Twitter's character limit hampers some customer service, but this has most of the bases covered. It's personalized, it asks for more information, and it offers a direct line to get the issue more directly investigated.
Overall, the range of possible responses you can leave for negative reviews is very broad, and it's that very flexibility that makes it a powerful technique. Once you get the hang of it, write a few templates for yourself, and start getting in the swing of customer service, you'll be able to address issues and streamline your business in no time.
And, of course, if you're not able to do this with your own time or hire an employee to do it, you might consider a reputation manager to do it for you. Consider either a complete reviews management plan or simply using a review tracking application to keep track of everything yourself. The key is to do something and avoid letting negative reviews linger unanswered.
If you ever have any questions feel free to reach out at any time for assistance!