What is Anon-IB?
Anon-IB.ru calls itself "Anonymous Image Board Hosting" but is actually a platform for sharing revenge porn. Plain and simple. More specifically, it's a site where average people (almost entirely men) can post damaging, embarrassing content about others, usually ex-lovers. The content is usually of a sexual nature consisting of naked pictures, videos and anecdotes. It is a form of revenge porn. Revenge porn is the posting of sexually explicit images or videos without the subject's consent. It is 100% illegal under new Canadian laws.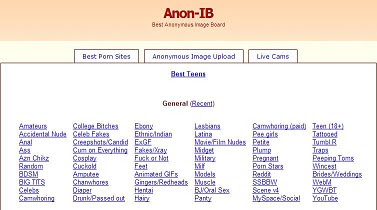 The anonymous posters of Anon-IB post what they describe as "wins." They consider the photos to be trophies of their sexual conquests. A place where morally questionable users cheer each other on and trade naked photos of women and sometimes underage girls.
For the most part, the Internet is an incredibly enriching and powerful space connecting people around the world. Unfortunately, there are some areas of the Internet that are less-than-positive, if not downright seedy – one of those being Anon-IB.
Anon-IB is not just an embarrassment – it's a serious threat to your privacy and reputation.
At Reputation.ca, we understand that having private sexually explicit images posted on Anon-IB is a major concern. We understand that sharing these photos or videos on a public forum is an exposure of your private life and your right to private relationships. This is a blatant betrayal of the trust you had with another person. The photos or videos were intended for one person, not for the global community of Internet users.
We know that this type of exposure can damage a person's professional and personal life. The content posted online can be seen by your friends, coworkers and family. We take this type of illegal activity and your right to privacy very seriously.
Unfortunately, it is very difficult to get content removed from Anon-IB. Due to the site's deliberately anonymous design and .ru Russian URL, it operates beyond the reach of most levels of law enforcement. Also it is easy for the site owners to claim they are not the ones posting the content but just a passive conduit and the real culprits are the users. They can claim there is no way of the site knowing if the content they have posted is done so with consent or not. Even if they do know, they turn a blind eye allowing anonymous posters to post their content free and clear on their site.
This is where Reputation.ca comes into play.
Reputation.ca Removes Embarrassing Content from Anon-IB. Period.
With a method supported by over 50 years of reputation management experience and, more importantly, a method that's worked for the vast majority of the removal cases we accept, Reputation.ca boasts the strongest remedy against Anon-IB in the industry.
We are now able to GUARANTEE our removal services. We guarantee that the photo and your name will be completely removed from the site. If the post about you on Anon-IB is not completely gone from Google and Bing within two weeks, we will refund 100% of your money.
If you've found yourself victimized by embarrassing content on Anon-IB, please complete the form below and our friendly representatives will start on your removal project immediately.