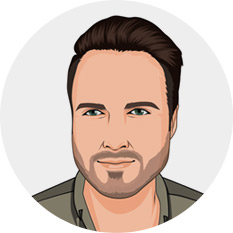 Matt Earle
President & Founder
Matt Earle, Founder of Reputation.ca, is a leading Canadian expert on online reputation management with over 15 years of hands on experience working in the space. Mr. Earle's educational background includes an H.BSc from the University of Toronto and certification as a Google Professional. His expertise has been acknowledged through national television appearances on CBC, PBS and CTV, being a guest host on CBC radio, and numerous quotes in print and online media.
Who is Matt Earle?
Matt Earle is the founder and president of Reputation.ca, an online reputation management firm dedicated to helping clients maintain a positive presence online.
Where is Matt Earle from?
Matt Earle is from Toronto, Canada.
What is Matt Earle's role at Reputation.ca?
As Reputation.ca's founder, Matt Earle develops proprietary software, oversees company processes, develops new strategies and provides consulting to clients, among other responsibilities.
What does Reputation.ca do?
Reputation.ca offers services and software to help Canadian businesses and people manage their online reputations. Repuatioan.ca ensures that when someone Googles you or your company, the search results portray you positively.
How long has Matt Earle been working?
An experienced entrepreneur, Matt is a thought leader in online reputation management (ORM) and search engine optimization (SEO), having worked in both areas for more than 15 years.