Next month, Reputation.ca President Matt Earle, along with a panel of experts, will be participating in a panel discussion hosted by the Ontario Bar Association (OBA). The event will be held on June 9th, 2016 and will focus on the topic of Information Technology and Intellectual Property Law.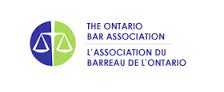 The panel discussion, which is a part of the Ontario Bar Association Continuing Professional Development (CPD) program, will be presented live in Toronto, as well as available for live streaming for those who are unable to attend.  This discussion will also serve as the Information Technology and Intellectual Property Law section's Annual General Meeting.
As a speaker among the group of panel experts, Matt Earle will be discussing the importance of online reputation management in the digital age, best practices for responding to online reputation attacks, as well as the role that intellectual property plays in today's ever-changing digital marketplace.
This panel of legal and digital specialists will be held on Thursday, June 9th, 2016 from 9:00 am – 1:00 pm at Twenty Toronto Street Conferences and Events located in downtown Toronto.
For more information, please visit the Ontario Bar Association website here: https://www.oba.org/Sections/Information-Technology-and-Intellectual-Property-Law