In today's digital-centred world, how you are perceived online, also known as your online reputation, plays a crucial role both professionally and personally.  Looking to apply for a new job?  It's increasingly likely that the hiring manager will look at your Google results.   Searching for private investors for a new business opportunity?  It's possible these investors will comb through your Google search results to get a better feel for who you are as an entrepreneur and your past track record as a business owner.
In understanding the importance of online reputation, what also needs to be understood is the importance of controlling the big pieces that make up one's online reputation.  As much as the online world seems like the Wild Wild West, there are plenty of opportunities for individuals and brands to control how they appear online.  It just takes work, commitment and an understanding of what type of assets typically rank high in Google search results.
Owning the domains in your name is a major step toward gaining control of how you appear online.  But, it's not the only step.
Buy The Domains For Your Name
Whether you're an individual or a business, buying the domains that match your name does two things.
First, it acts as a protective step.  Once you buy the domains for your name, those are yours and you're free to do anything you wish with them.  Once you purchase these domains, they're off the market and unavailable to anyone else.  That means you're protected from anyone else buying the domains in your name, creating negative content, publishing the content to this domain and having it rank in your name.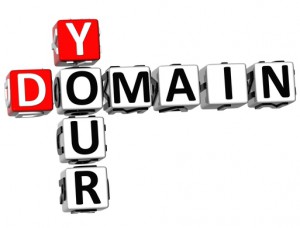 Second, buying the domains that match your name gives you an opportunity to rank a new asset for your Google search results.  Of course, that doesn't mean you have to build out every single domain into a functioning website.
There are lots of available domain extensions – everything from .com to .org to more esoteric ones like .shop and .club.  You don't necessarily have to purchase every single domain extension for your name.  However, certainly consider purchasing the major extensions, such as .com, .org., .net and .ca.
Social Media Domains
Social media websites, like Facebook, Twitter and Instagram, are becoming more popular and more relevant when it comes to online reputation.
That means you should also consider claiming your name on major social media sites like Twitter and Facebook.   Some of us are hesitant to use various social media channels.  However, claiming your name on Facebook or Twitter does not necessarily mean you have to post on Facebook or Twitter every week or even regularly at all.  Once more, it serves as a protective move, so that no one else claims your name on these channels.  It also provides you the option to build up the media profile in your name later on, if you so choose.
Manage Your Hosting
When you go about buying domains in your name and if you decide to build a website on one of these domains, it's recommended that you own the hosting to this website.  Don't let other people manage or purchase the hosting for your website on your behalf.  You should be in control of your hosting and you should definitely be the recipient for any emails that pertain to the hosting of your site.
Calendar and Respond to Expiry Notices
That leads to a final point: just because you have now purchased the domains in your name does not mean that you own them forever.  Domains are often purchased on yearly plans.  That means that when you purchase a domain, a year later it will once again be available to the public.
Of course, GoDaddy or the domain registrar you choose to work with will send you plenty of emails warning you that the year contract for your domain will soon be up.  Respond to those emails and make sure that you remain in control of these domains. 
The same can be said for the hosting of any website you build out.  You want to be the one receiving the emails notifying you that the hosting package for your website is about to expire. You don't want to learn that in a week or a couple days the hosting of your site is about to end and your site will be taken down.