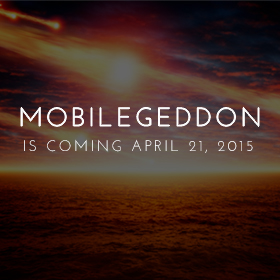 Armageddon is upon us.  Well, perhaps not Armageddon, but Mobilegeddon for sure.  Many of us do not regularly keep up with Google's regular stream of algorithm releases.  But, there's a reason why today's Google release is something everyone should know about. 
Determined to place greater emphasis on mobile search capability (mobile search traffic now makes up 60% of all search traffic (and a significant chunk of Google's revenue)), Google released a new algorithm today giving ranking preference to those websites that are "responsive", which is a fancy term for being mobile-friendly.
What does being mobile-friendly entail? 
That's an important question, especially for businesses.  Fortunately, Google's Webmaster Blog (a handy resource that all businesses should know about) explains exactly what Google means by mobile-friendly.
According to Google, websites are mobile-friendly if websites meet the following criteria:
– Avoid software that is not common on mobile devices, like Flash
– Use text that is readable without zooming
– Size content to the screen so users don't have to scroll horizontally or zoom
– Place links far enough apart so that the correct one can be easily tapped
Understanding that this new algorithm will have a significant impact, especially for small and medium-sized businesses, Google set up a test page allowing people and businesses to test whether their current website is in fact mobile-friendly.
Like in any large algorithm release, there's a lot to know and many fine points that deserve attention.
Some points about the release:  
1. Google's mobile-friendly algorithm will be released globally today, meaning that all languages will be affected by the update (Google.com, Google.ca, Google.fr, etc.).
2. Only mobile phones are affected.  This is a finer point that's been miscommunicated already several times.  Google's mobile-friendly algorithm will only affect search results seen on mobile phones, i.e. Google search results entered from a desktop or a tablet will NOT be affected by the algorithm change.
3. Small and medium-sized businesses are more substantially affected by Google algorithm changes, especially a change like today's.  Businesses should quickly understand how the search results of their websites have changed as a result of today's algorithm and respond quickly.  After all, the highest spot on a search page (SERP) on average attracts 20% to 30% of the search page's clicks.  If a company sees that their website suddenly drops from the top spot on a related search term to #9, that's a significant change that the company should address.
4. Additional tweaks and changes to Google's new algorithm will continue to be released over the next several weeks.
So, Where Does This Leave Online Reputation Management?
First off, it's strongly recommended that businesses take two important steps.  
First, that they test their current website using Google's test page to see if their website meets Google's mobile-friendly criteria.  
Second, it's critical that business owners continually monitor the ranking of their website over the next several weeks to see if the update has made a negative impact on their website's ranking.

With all that said, there is some good news.
The common line of thought is that the "internet never forgets", that what is published on the internet stays there for all to see.  True.  However, with the mobile-friendly update, there is hope that things may change. After all, many older sites that contain old information and haunt people's reputations are not responsive or mobile-friendly.  That means there's now a stronger chance that old sites like these will fall in ranking when viewed on mobile devices.
Investorvoice.ca, a site that has many negative articles that haunt Canadians, is not mobile-friendly.  Same with websites of regulatory bodies, like the OSC, that publish negative and reputation-damaging PDFs.  These PDFs, and the OSC website itself, are not mobile-friendly and, as a result, their ranking may lower.
On the other hand, the content that Reputation.ca publishes on behalf of its clients are generally mobile-friendly, giving Reputation.ca greater ability to help individuals and businesses improve their online image and brand.  
An excellent resource for strengthening online reputation is through the use of profile sites. Common social media sites, like Facebook, Twitter and even Pinterest, provide dynamic and customizable branding tools for companies, allowing them to truly control their brand and online image.  Fortunately, profile sites like these and others are all mobile-friendly, meaning that they will remain strong ranking assets when viewed on mobile phones.  Those who have used profile sites as a branding tool can breathe a small sigh of relief, knowing that the ranking of these sites shouldn't be significantly affected by the new update.

As a final note of advice, in addition to checking on the ranking of their website over the next several weeks, businesses should also continually review their online profile.  Have their positive online assets (social media profiles, positive articles and reviews, etc.) moved up in ranking?  Have they moved down?  Alternatively, have any negative assets become more apparent?  Have negative assets creeped into the top ten?  Doing a regular thorough review of search results, on both a desktop and a smartphone, is key to normal online reputation management.  It's a task that will be even more important over the next several weeks.