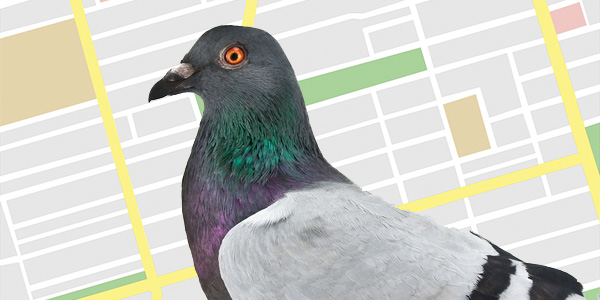 Late last month, in a goal to improve the accuracy and relevance of local search results, Google introduced an algorithm update nicknamed the Pigeon update.
Have you heard of it yet?
If not, then as a business owner or manager, you may want to spend a moment getting a little background on what the update does (or has done), and how it has affected the ranking of your business' website, if at all.
So, the Pigeon Update does two things: one, it cures a Yelp-related ranking mix-up that placed Google local listings above Yelp's local listings when a user explicitly included 'Yelp' in a search term.
Second, with the update, Google has tried to tie local search results more directly to standard web rankings.  That's arguably the most important part of the update, but what exactly does 'tying local search results more directly with standard web ranking' mean?  What it means, very basically, is that local directory sites, sites like Yelp and OpenTable and TripAdvisor, will have stronger visibility in Google's rankings when a user enters a local-related search term.  So, say for example, a user enters the name of a local restaurant, through the Pigeon update, Google's search results are more likely now to contain Yelp or OpenTable or other major local directory sites that link to the restaurant, and these local directory site links are more likely to be of a higher ranking.
Make sense?  The question is – has this update influenced your business' referral numbers and leads and your general traffic.  And has the update influenced the ranking of your business' website?  If so, then under what search terms?
To read a little more on the Pigeon update, take a look at this recent, more in-depth coverage.